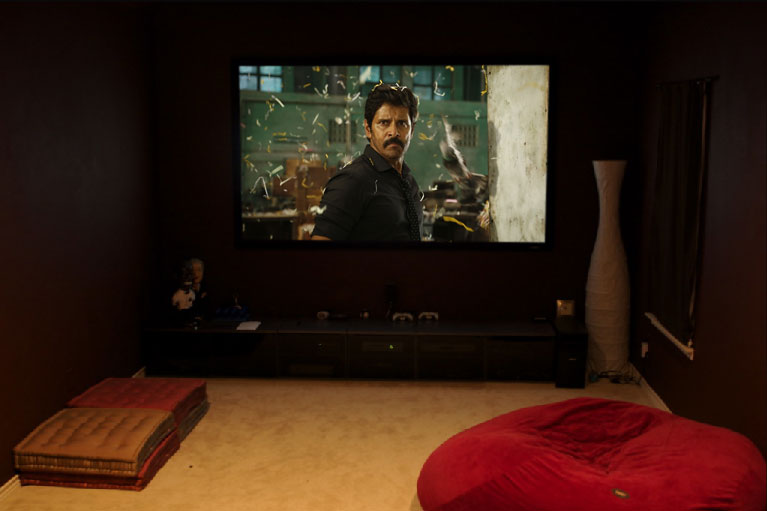 The possibility of having your very own home theater sounds amazing. But where will you start? Today's post is all about designing your own Home Theater room. Before any planning happens, think about your ideal Home Theater: how big it is, how many people can be in it at once, the finishes you might want… then write this all down. From this list, you can now start designing your room!
Budget wisely.
Create a budget for your theater, and break it down by expense. For example, you might want to invest more in a screen, and get more modest audio equipment. At the end, you will have a better idea of what you will be spending for each item, and more or less what your total cost will be.
Choose the dimensions
This only applies if you're building your home Theater as an addition. If you already have a room you'd like to turn into a home theater, this step will only involve measuring that room and making some calculations as to how many people can comfortably fit in it. Otherwise, think how many people you'd like to be seated, as well as the room for extras like a minibar, an aisle or anything else.
Pick your equipment
This is where you get all the goodies. Considering your budget and what part of the viewing experience is your priority, choose equipment that is good quality while fitting your budget. From a screen to the speakers and the electrical outlets, think about all the specification you want before making any purchase. With a little bit of luck you can find experts in your area that can counsel you on what brands might be better for your needs and the space you have.
Choose the seats
Forget that old lumpy couch, if you're already building a Home Theater, go all in and get some real Theater seats. Not the kind you see in your local Cinema! Theater seats can be much more comfortable than those. Pick a model that offers support and is stylish at the same time, you will be amazed at the amount of options available!
Design the inside of your room
This is where you can really express your style and taste. Whether you want a modern room, or would rather enjoy a traditional vibe, the world is your oyster! Search only for inspiration: you will surely find some great ideas that also fit your budget!
Go for it!
Now that you have everything planned out and the equipment selected, it's time to go all in and do it. Whether you want to do it yourself or would rather have an expert do the dirty work instead, all of this will make setting up your Home Theater as easy as it can get!