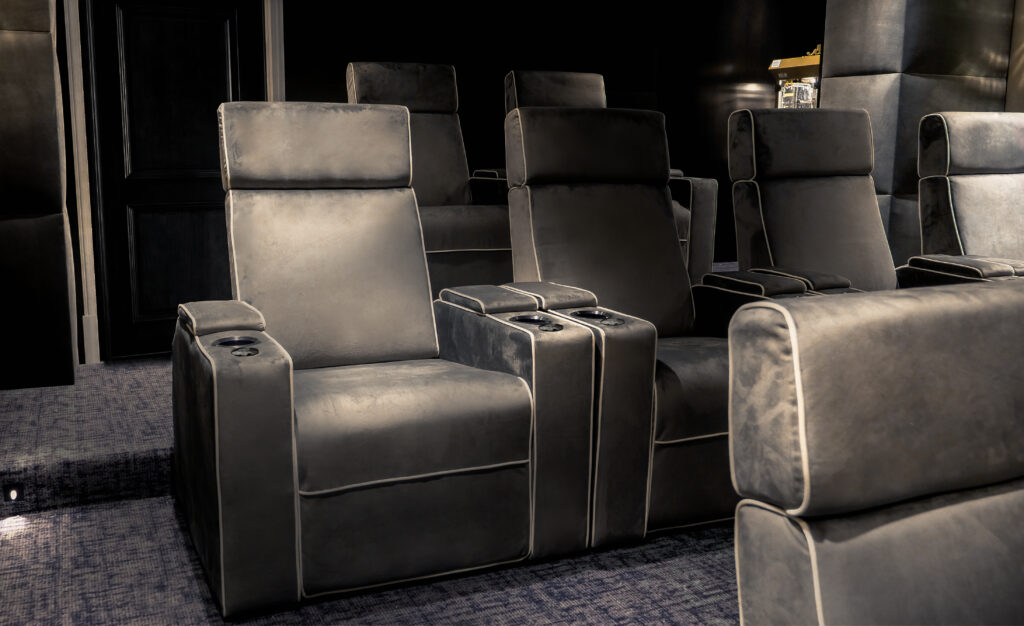 When creating a movie room in your home, you likely envision stadium-style rows of elevated leather theater chairs leading to a giant projector screen where you'll watch hundreds of movies with your family and friends. And don't get us wrong – curated, luxurious leather multimedia furniture is our specialty – but we also know leather isn't for everyone. Whether it's not your design aesthetic, you disagree with the use of animal products, or you need something a little more up to rowdy kids, fun parties and your Great Dane who doesn't know he's 150lbs, fabric home theater seating is a great option, too.
Non-leather theater seating doesn't mean less-nice theater furniture; it's an unexpected choice that can really elevate a space, as well as make it versatile. Fabric theater seating is very customizable in color and design – get the leather look with vegan leather, get a clean, cozy vibe with microfiber, or go with the look of old royalty with velour-upholstered movie theater seating. But how do you choose? Let's discuss the pros and cons of alternative options to leather for your home theater's seating setup.
Microfiber Multimedia Furniture: Pros & Cons
Microfiber makes some of the most comfortable theater seating out there. Its suede-like appearance is soft to the touch, luxuriously comfortable to sit on, and you can get it in a bunch of different colors. Other advantages of microfiber-upholstered theater seating are:
Hypoallergenic
Resists scratches and tears
Repels water/easy to clean
Fade-resistant
There are some characteristics of microfiber media room furniture that aren't for everyone. One is that some people just don't like the feel of it on their skin. Another is that, while microfiber is somewhat spill-resistant, if you really want that bead-up-and-roll-off-the-chair waterproof quality, you'll have to use treated microfiber. 
Microfiber also doesn't wear as well as leather, which looks better with age, as opposed to worn. However, there are leather look-alike microfibers for home theater seating. And another thing you can't overlook when comparing microfiber fabric to leather seating is that microfiber is virtually no-maintenance, and it repels dust and lint particles, making it an excellent choice for those who have allergies.
Vegan Leather Theater Seating: Pros & Cons
Faux leather upholstery for movie chairs and other entertainment room seating has come a long way in the last few years. And believe it or not, this technically-not-leather theater seating not only mimics the look and feel of leather, but has other advantages as well:
Wide array of color options
Low-maintenance
Doesn't wear over time like leather
Super-durable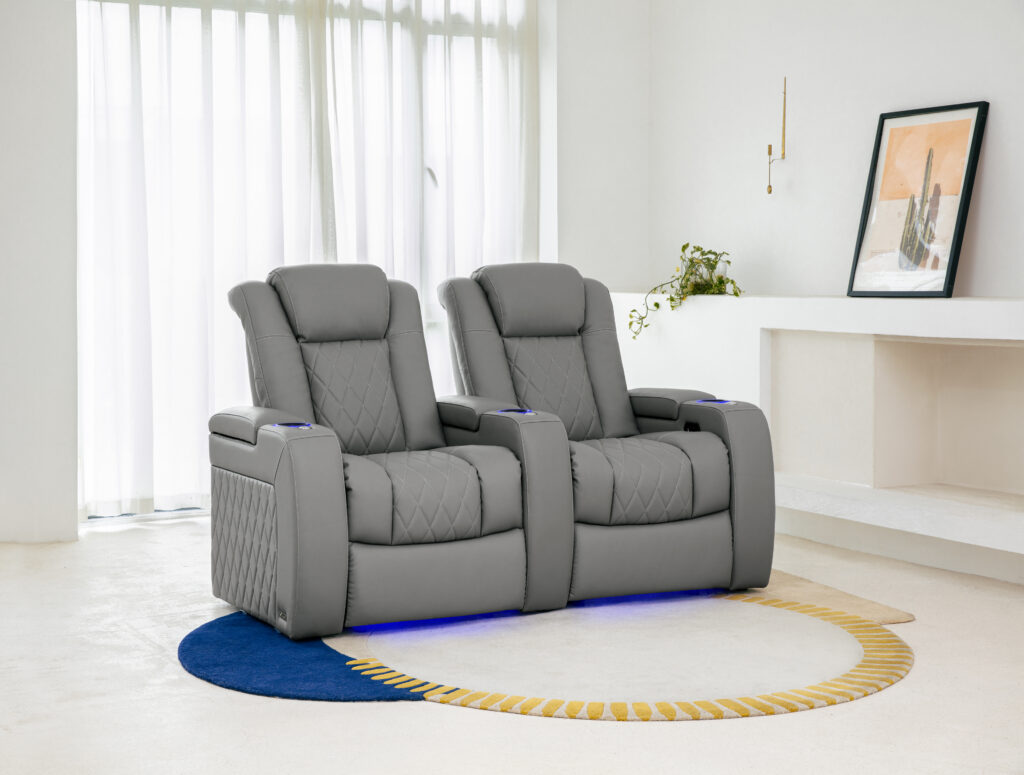 A couple drawbacks to vegan leather are its lack of breathability – you can get a bit sweaty sitting in a vegan leather theater chair for too long. And some people like the way leather ages; you don't get that with non-leather upholstered movie theater seats. Unlike the real deal, vegan leather is mostly resistant to water and other liquids, given that it's not porous like real leather—naturally, this means your faux leather theater seating will be simple enough to clean. Faux leather media furniture also doesn't last as long as genuine leather that's properly maintained. But the price tag for vegan leather over leather makes it a great choice for budget-friendly home cinema seating.
Velour Movie Chairs: Pros & Cons
Typically made from short-pile cotton, but sometimes made synthetically as well, the thing about this type of theater seating is that, from the moment you see it, you recognize exactly what it is. Velour is an iconic fabric, and part of that recognition is the soft, velvety, high-end look. Other advantages to choosing velour as the fabric to upholster your home theater chairs in are:
Stretchy and soft
Low-maintenance
Durable
Available in many textures and colors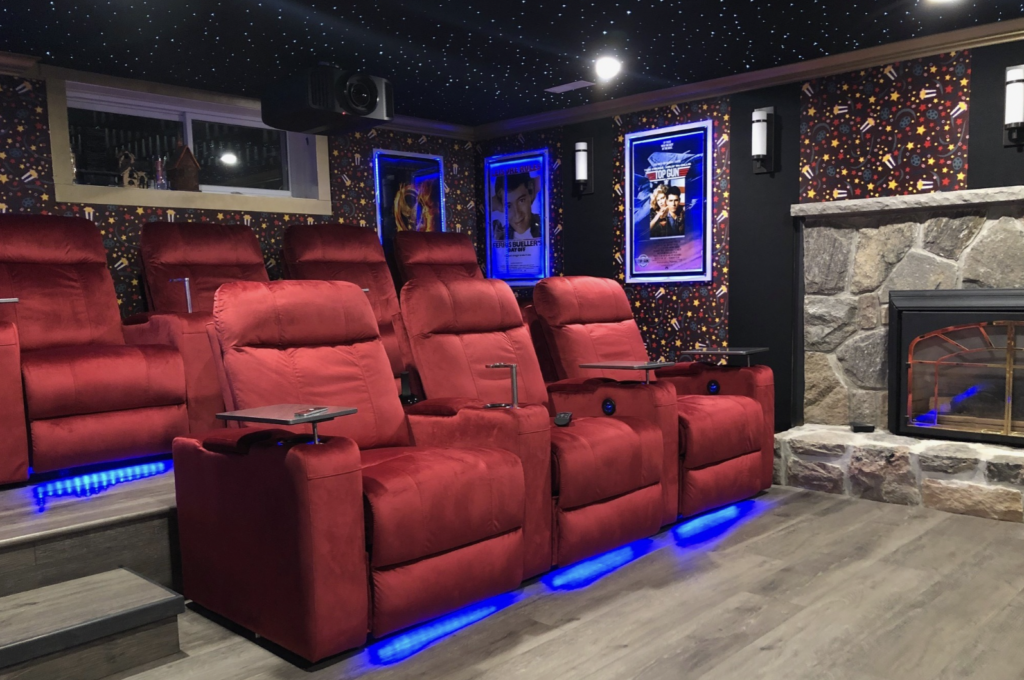 Some cons to velour multimedia furniture are its susceptibility to being stained by liquid spills, and attracting things like pet hair, dander, and dust. The other issue with velour, which shouldn't be a problem in a home theater room, is that furniture covered in a fabric like velour is easily damaged by sun exposure. However, since it's technically a knit, it can handle rowdy kids, so long as no one has a sippy cup full of grape juice.
Already thinking about incorporating velour media seating in your home theater? Read up on its rich history in movie theaters and how and why it should play a role in yours.
Valencia's Fabric Home Theater Seating: Quality, Luxury, Comfort
Just as we carefully curate all our leather collections, so, too, do we put care and thought into the fabric options we offer for custom home theater seating. Regardless of your choice of upholstery, the construction of our media room furniture is what makes Valencia's home movie room seating so comfortable. But what makes it the most comfortable home theater furniture is that care and curation that goes into every option we offer for leather or fabric theater chairs, sectionals, sofas, chaise lounges – you name it. 
Fabric and other non-leather home theater seating is just as dynamic and designer of an option as its leather counterparts, and in some cases, like media rooms that are multi-use spaces, can be a better choice for look, feel, comfort, and function. So take a look at our 3D Build feature and play around with customizing your multimedia seating with non-leather options.