Okay, so you're planning and building a DIY home theater, media room, gaming room – you know, a room that's pretty much just for fun. Big part of that process? The media room furniture you choose. You want it to be comfy and stylish – that's pretty much universal. But what else do you want it to do? What layout and types of theater seating do you need? And what convenience features are you looking for in your multimedia seating?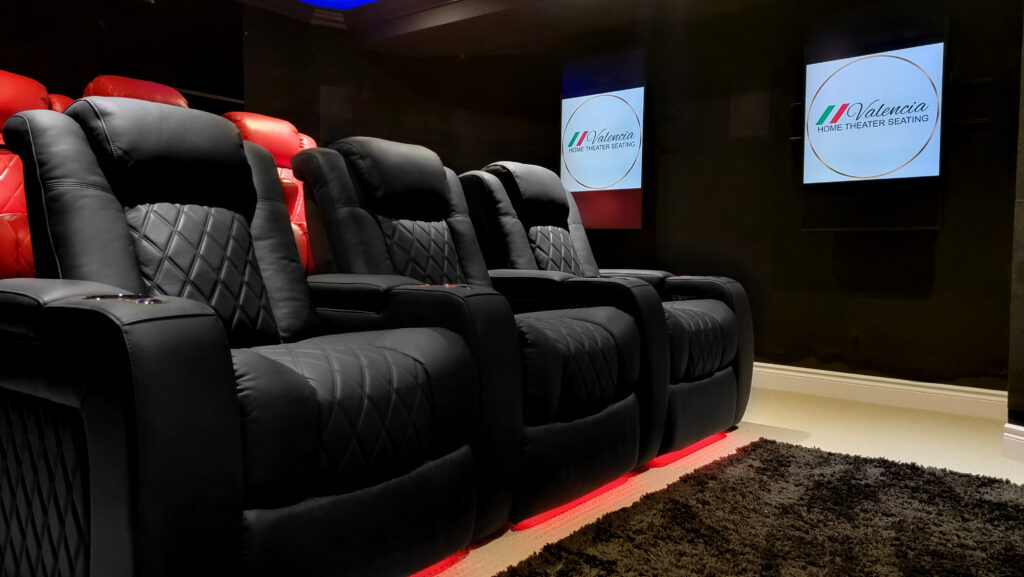 Deciding on the Right Home Theater Room Pieces & Arrangement
The good news is, you're already here, which means whatever ideas you have about your media room furniture, we can make it happen. We offer dozens of models of home theater recliners that come in many different color, leather and fabric options. Not to mention the crazy number of configurations you can customize any of our models into, like home theater sectionals, loveseats, entertainment room couches, and more. And we're not talking your standard entertainment room couch; Valencia home theater seating comes with several customization options for techy features like LED underfoot lighting and powered reclining.
But nobody is trying to order one of everything on the menu; we've got to narrow down the choices so your home cinema feels uniquely you. And for that, we've got to do a bit of planning: 
What's the Purpose of your Multimedia Room?
What exactly is this DIY home theater project? Is it an entertainment room with a wet bar and a mini fridge? A hangout space for the kids? A basement home theater that's doubling as a man cave? Or maybe you just want a truly dedicated movie theater in your house. The purpose of your room is going to determine the type and style of media room furniture you choose.
Desired Layout of Your Media Room Furniture:
Home theater sectional sofas are great for theater rooms that double as living spaces or second family rooms.
Theater loveseat recliners are a great way to have media room furniture that's a little more cozy and casual.
Rows of 3 seat theater seating sat on home theater risers is an easy way to do DIY stadium seating in a room that's dedicated to movie-watching.
Watching horse racing, poker or NASCAR? Media room furniture like an entertainment room couch with two tone leather seats is a great vibe for all things competitive.
Mix and match media room seating is a great option for creating a versatile space that you can switch up whenever it suits you. Grab a home theater sofa and two recliners or a big multimedia sectional with a chaise lounge and a matching loveseat.
Desired Aesthetic for your Media Room Furniture:
Part of the seating design process is choosing the upholstery for your cinema seating pieces. Choose from top and full-grain Nappa leather seating, or fabric furniture options like soft microfiber or Old-World velour. Or if you're looking for a sustainable, ethical option that's just as attractive and high-quality, our proprietary vegan leather movie chairs are the perfect solution.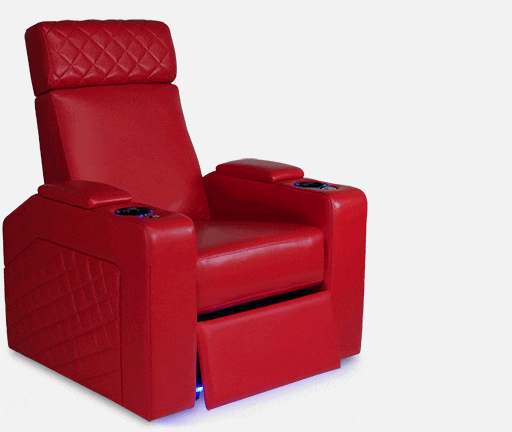 What Kinds of Features do you Want Your Media Room Furniture to Have?
Once you've decided on the type, style and layout of your media room furniture, it's on to the bells and whistles. Valencia offers cool features, upgrades and home theater accessories with any model in any layout you choose. Stuff like:
Powered headrests
Dropdown center seats with extra storage and consoles
Accessories like wine caddies, tablet holders and tray tables
Bass shaker theater seats
LED lighting accents
Different finishes for armrests, cup holders and accessories
Two tone leather piping and headrest embroidery

If you chose the right remote control for your audiovisual set up (or just use your tablet or smartphone), you can design media room furniture that's so convenient, comfy, and immersive that you'll not need to get up during a long movie or a game in overtime. Luxury cinema seating in your DIY home theater… hmm, sounds pretty cool to us!
Making Sure your DIY Home Theater Looks Pro with the Right Media Room Furniture
So there you have it – all the industry secrets to making a home theater super fun and super fancy with media room furniture that's completely tailored to your vision. Long gone are the days of creating a makeshift "home theater" with a couple La-Z-Boys and a mounted TV set. With a little creativity and advice from the professionals at Valencia Home Theater Seating, you can create the media room furniture of your dreams, have it sent right to your door, put it together and have a movie going on less than a few hours after. Great, right? We think so. 
Questions or concerns about your order? Get in touch with us via our contact page or by phone; we're always here to help.