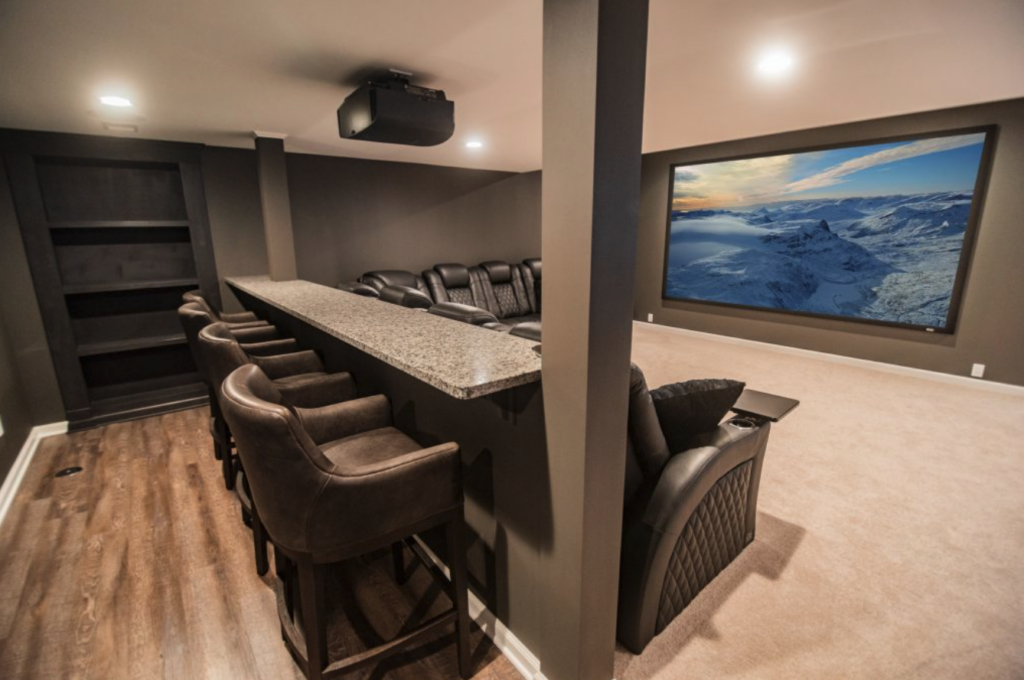 People often underestimate the potential of their half-finished basement. It's dark down there, and the cement is cold. It's laundry and storage… why bother doing anything else with it? But you're wasting the potential for a completely dedicated basement home theater that doesn't sacrifice any of the current occupied space in your house. Adding a bonus room without actually having to do an addition? Yes, please; thanks.
Every home is different, and every homeowner has a different idea of the kind of home movie theater they'd like to transform that unused space into. Cinder block walls can seem daunting; isn't building your own basement media room a lot of construction? Not most of the time! You've already got most of the infrastructure you need for soundproofed walls and areas without outside light intrusion. You likely can't say that for any of the above-ground rooms in your house.
There are a ton of possibilities when it comes to design and layout ideas for a basement home theater – you just have to reconsider your concept of a home movie theater a little bit. Or a lot. But who doesn't love a fresh take on a traditional trope?
Think Positive: Tips for Starting your DIY Basement Home Theater
Before we talk about the thing that's going to bring your home basement theater project together – the multimedia furniture, of course – here are some suggestions to get you started brainstorming. You'll quickly realize that of all the big-time renovations a home can undergo, turning your half-finished basement into a dedicated home theater is one you can definitely pull off yourself. 
And maybe with the help of a couple friends you bribed with food and beer. 
First of all, cinder block walls are perfect for framing before drywalling. You don't need any of the framing to support weight, which means no huge beams or jacks. If you can handle a circular saw, some 2×6's and a nail gun, you're good to go.
After framing, you have the ideal canvas for running electrical. Electric work like that for home theater rooms is pretty simple, but having completely open framing to install it in makes it a total breeze. 
Think about it – in an upstairs room, rewiring requires a whole lot of cutting little windows into the drywall, hoping it's close enough to a wire, and your wrists are small enough, to do what you need to do. Then there's all the patching. But when building a theater room in your basement, even the least experienced of us could figure the electrical out with some basic know-how and the help of Google. 
Do remember to turn off the power first, please.
You'll be surprised what some drywall and paint can do. Add the right flooring and can lighting, and you'll start to see your basement home theater build come to life before you get a single piece of equipment or seating in there. 
The great thing at this step, too, is that as you look around, you might notice a potential seating layout for the theater setup that you hadn't thought of before. Maybe you were thinking of a row of 4 leather multimedia room seats, but now that you're surveying the layout more closely, you're considering adding a theater loveseat and a multimedia room leather recliner for some extra seating options. Since you haven't installed any equipment or things like home theater risers or platforms, if your new idea for the layout of your movie room still works with your electrical setup, you can change your mind and pivot at this step with no extra time, effort or cost.
Take a moment here to look around and decide where the best area for the projector screen and theater seating setup is. Taping out where you'll use theater risers for stadium seating, or the outer edges of rows of theater chairs on the floor can do wonders to your ability to envision actually using your basement as a media room and what sort of space your media room furniture will actually occupy. 
This is also a great way to physically mark where the cone of best viewing angles falls; that way you can ensure your intended seating and tech setup is ideal for every seat in the theater room.
Think about it this way – you're using the thing you dislike most about your basement (its lack of natural light and cold surfaces) to your advantage; you want a dark room with sound-absorbing surfaces like cement floors and stone foundation in a great home theater. 
So, save on soundproofing during the drywall stage with heavy insulation – including the ceiling, and cover the cement floors in thick, padded carpet. Paint the walls a dark color and you're ready to set up your basement home theater – simple as that. There are no huge windows to cover or light pollution from other rooms in the house, because you're in a basement!
Getting Creative: Seating Ideas for Basement Home Theaters
Are any two basements exactly the same? If there are, we haven't seen them. So there's really no "standard" recommendation for how to arrange your home theater furniture in a basement movie room; different rooms require different solutions. 
In more modern houses, where basements are typically finished, there tend to be higher ceilings and large, open spaces, because the builders expected it to be used as a living space. These basement home theaters are the simplest, because you're working with regular ceiling heights, walls already drywalled and insulated, and a large enough space for multiple rows of home theater seating in a traditional stadium-style layout of elevated rows. With open-concept spaces, you're free to organize and move your multimedia room furniture around in different layouts and see what sticks—sounds simple enough to us!
And if that's not the kind of basement you've been dealt? You're still likely set up for a great entertainment space with a movie-watching area, multimedia sectionals around a table, and a wet bar area – if your home is a newer build and you've started out with a bone-dry, normal-ceiling-height, finished basement, you've virtually no obstacles in creating any kind of home theater setup and layout you can dream up.
But what about more unique basements? Many of us live in older houses, where you never know what you're getting into the first time you walk down those basement stairs. But if you can stand up straight in that old fruit cellar and waterproof the corner where the stone foundation leaks, you can turn virtually any space into a basement home theater with the right idea for seating and viewing layout – you just have to go a bit non-traditional and think outside the basement box.
Theater Seating Solutions for Narrow Basement Movie Rooms
Building a basement home theater in a narrow room actually has its advantages. One, the projector screen will likely take up almost the whole viewing wall, and two, your sound system doesn't have to work hard to be clear and immersive. Typical movie theaters are long rectangles for a reason – better viewing angles and better sound saturation. Make it a priority to mount everything you possibly can on the walls or the ceiling, and consider these ideas for the theater seating layout in your narrow basement room: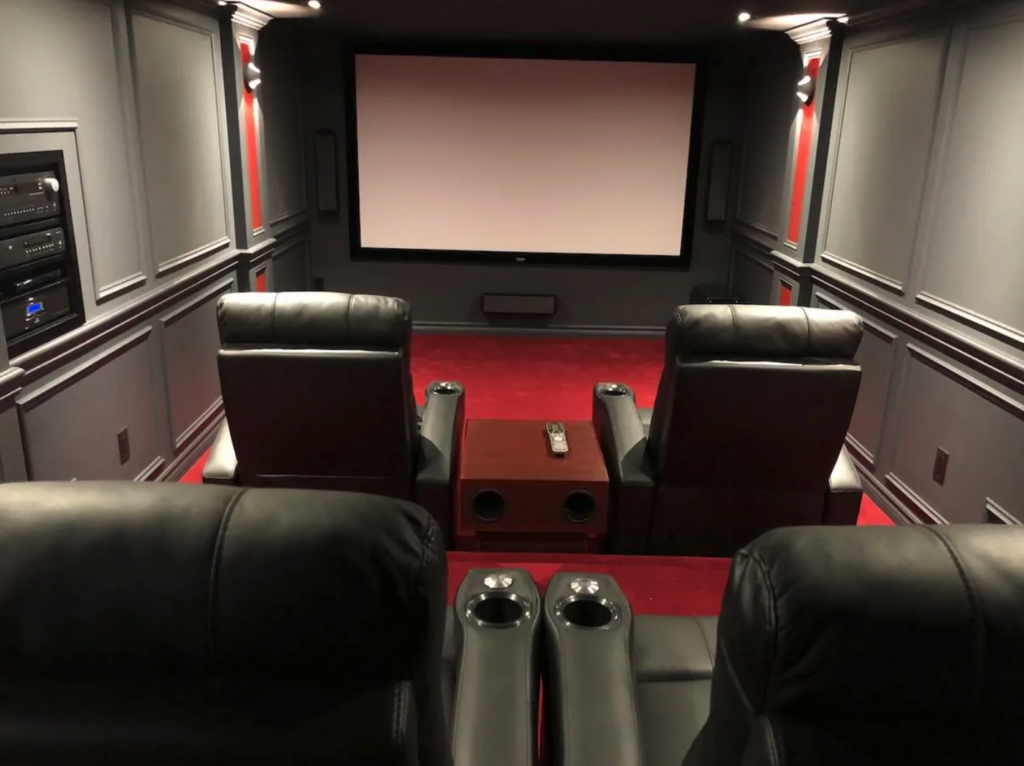 If you still want rows of stadium-style seating, you can likely get at least one home theater riser in there – they're not that high. You'd be surprised what an 8-inch high theater riser does as far as giving you that elevated back row of seating typical of movie theaters. 
Maximize horizontal space with a curved row of home theater recliners. For instance, a row of 3 or 4-seat theater recliners can go from cramped and uncomfortable to walk around, to perfectly-fitted with an interactive vibe and ideal viewing angles if you have the row of seats made curved.
Maximize depth with wall-hugging models of seating. The Leggett-Platt reclining mechanism, for example, is not only ergonomic, sturdy and durable – it saves space behind and in front of each row of theater seats.
If your basement media room is more of a chill space, consider a home theater sectional sofa. It gives you as many seats as 2 rows of 3 home theater recliners, but it makes family movie night a little cozier.
Narrow rooms are not a deal breaker when it comes to creating a state-of-the-art, relaxing home movie room; they're optimal spaces for a great audiovisual experience. And in a big, open basement, they can make a cozy, fancy nook no one would expect.
Making the Most out of Low Ceilings with Convertible Home Theater Sofas
If your house is more than a few decades old, that basement was probably a cellar at some point. Despite the lower ceilings and dated foundation, your DIY basement home theater is still within reach.  You might have a bit more DIY work to do to get it ready for theater seats and a popcorn machine. And sometimes, unless you're trying to jack your entire house up and raise the foundation, which – just don't do that, the ceilings are really low. Like, you can still walk upright, but the ceiling is just a few inches away. No worries. You can still make your basement into a home theater; you just can't use risers. 
You can maximize use of your horizontal space with two home theater couches, both angled toward the projector screen. It maximizes seat numbers within the viewing cone, and you can get convertible dropdown seats and/or armrests to make a theater chair-and-loveseat setup, or vice versa. That means versatility for family night vs. having friends over for the game, and who doesn't like having some options? 
Yeah, the ceilings are low, but you're sat in front of a screen in a really comfy luxury theater chair for 98% of the time you're down there, so why not work with your ceilings instead of against them? A basement seating idea setup like this would also allow the projector to be hung in the middle of the room without interfering with anyone getting up from their seat.
Ideas for Seating in Basement Home Theaters in Multi-Use Spaces
If your basement home theater needs to be other things, too, like a living space or game room, we've still got a couple ideas for you: 
Have a couple dedicated home theater chairs with an entertainment room couch, a wet bar, or even a foosball table behind them. People can choose to get the theater experience during the movie, or instead have the flexibility to play around and talk during. 
Another seating idea for a basement home theater that's also a living space is to get media room furniture that fits in a 'round-the-coffee-table layout. A couple theater-style recliners and sofas can give you a functional living room that can convert into a home theater by turning a couple chairs around. 
At Valencia, second to our love for crafting completely custom, luxury leather home theater furniture, of course, is our love for seeing our customers achieve successful, high-end home theater projects. We push the design boundaries of our multimedia seating for home theaters and media rooms, because there are no limits as far as possibilities. Expanding the concept of what a home theater is, what the seating and viewing layouts can be, and what types of theater-style seating are viable choices, let our customers take full advantage of their space and their creativity. 
You've got options. See? That dark, low-ceilinged basement isn't useless; it's just not basic.