Thinking about revamping your media room into a home theater and/or gaming room? Or maybe you've got a huge entertainment room and you want to have a committed space inside it for movie theater purposes. DIY home improvements are all the rage right now, what with online retailers and YouTube tutorials available for just about everything. And DIY home theaters are no different! You might even be able to get through the entire process without ever leaving your house. No, really.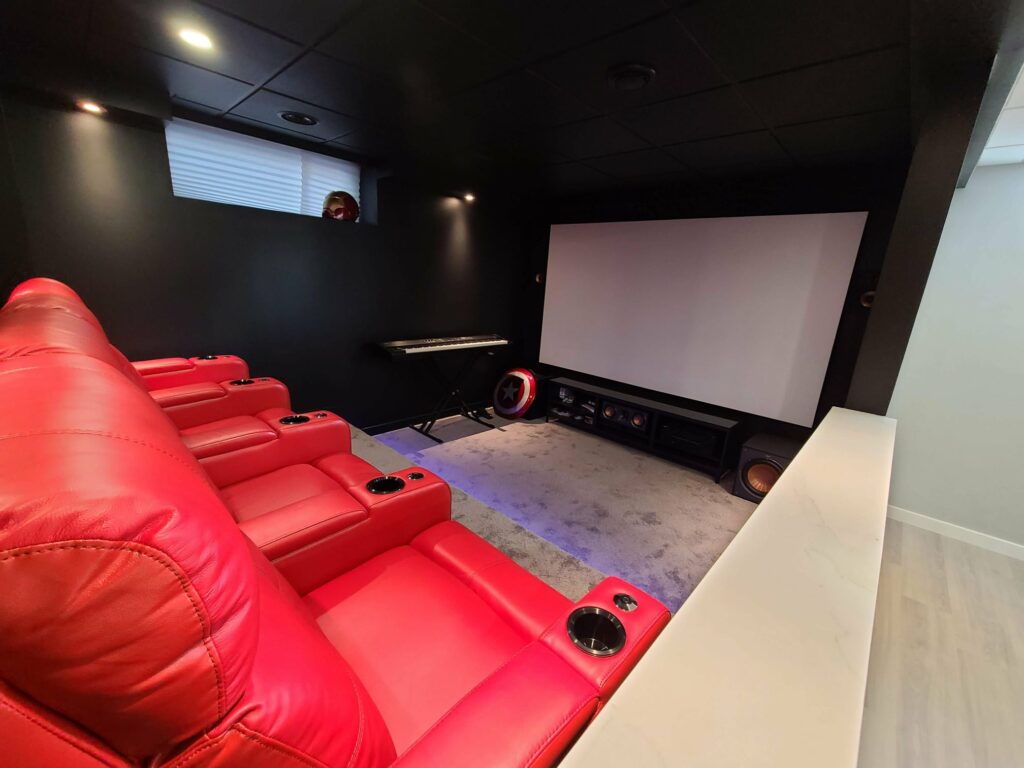 All the audiovisual tech you need you can find at online retailers, and all the options you want for custom, build-your-own home theater seating you can find right here at Valencia! Including theater-construction accessories things home theater risers and equipment to do DIY stadium seating setups. With the online world of theater seating stores at your fingertips, it's easier than ever to overhaul your media room into a dedicated home theater.
But we can't just skip right to the big stuff. Building yourself a great home theater room means carefully planning out each feature and how it fits with the others. You want to make sure you get that totally-immersed, real-feel movie theater experience even though you're just steps away from your kitchen. And while the furniture is a big part of your home theater project, you've got a bit to do first so you can ensure your theater seating completes the look, feel and function of your room.
A Nifty Checklist on Prepping for the Construction Phase of Your Home Theater Project
If you want the end result of your DIY home theater project to be pro-level, it's just as much about prep work as actual construction. The planning and prep work are a lot more involved than retrofitting the media room and putting it together after you've got all your theater seating and audiovisual tech in-hand. 
We have to do the tedious tasks, like measuring everything and remembering high school geometry, before we get to do the fun stuff like choosing a sound system set up or designing customized luxury seating for your self-made home theater room. And if you're looking for even more detailed advice on how to get the best end result of building your own home theater, we've got an in-depth guide with even more information here.
Here's a checklist of things you need to know before you invest in all that fancy media equipment and home theater seating:
Decide exactly what your DIY home theater is going to be for. Movies? Games? Drinks and chats? Sports betting? This will help you make all the subsequent decisions on our list.
Choose the right type of projector and projector screen. (We've got a tutorial here if you need some direction.)
Plan out your connectivity setup: which cords run where, where and how to mount your sound system, running wires to the projector, etc. (Here's a quick guide on HDMI cords, and another on wired vs. wireless speakers.)
Plan your media room furniture layout. What kinds of home theater seating do you want? Do you want to do DIY stadium seating with home theater risers?
Do you need or plan to use sound dampeners on the walls? Acoustic blocks or heavy curtains?
These are the big questions you need to ask yourself before you begin to shop for a single thing. After all, transforming a room into a dedicated home theater is a lot more involved than purchasing a huge TV and a new entertainment room couch. You have projection depth, viewing angles, and back elevated rows of seating to consider. Besides style and quality, the right seating layout can elevate your new home theater way past DIY level.
Why the Positioning of the Theater Seating is Crucial to Viewing Quality
This is part of what we meant when we said you have to do tedious things like measuring everything. Twice. The great thing about DIY'ing a home theater room, is you can do almost anything you want, and you have time to adjust plans at every step of the way, because you're your own contractor.
Here are a few factors about the positioning of the theater seating, projector and sound system that need to be worked out before you build any stadium risers or order any media furniture: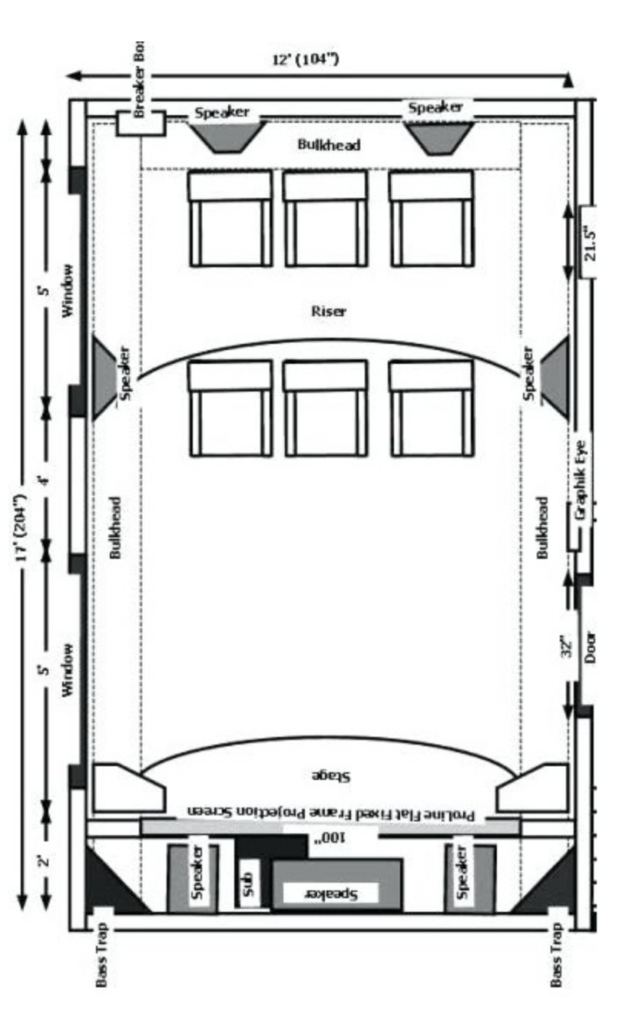 How many seats do you want in the room?
Does the optimal seating arrangement that also maximizes seat number include any elevated back rows or other theater-project accessories like riser platforms?
Where do power sources need to be for the projector, the sound system, and the power-reclined, LED-lit theater-style chairs?
Does every seat in your desired seating layout lay within the optimal viewing cone angles of the projector screen?
Design an arrangement with walk-around room in mind.
These questions will inform your research on what type of projector you need and how to find the best sound system solution for your space. Then, of course, it'll also help inform your research on the best home theater seating solution for your custom project. 
And once you start to think about what kind of seating you want in your new home theater, there's a whole other subset of questions you need answered before you design your custom DIY home theater seating with our 3D customizer feature.
How to Decide on Seating for Your New Home Theater
Making sure you've thought of everything is making sure your DIY home theater turns out looking professional. Like, people will be surprised it was a DIY project at all. Choosing the right seating for your home theater is absolutely key to creating the best movie-watching, sports-viewing or gaming experience. 
Luckily, Valencia constructs each and every model to be the most ergonomical, supportive and comfortable home theater seating you'll find. So, when you're looking through our dozens of designer, diverse and stylish models of home theater chairs, you don't even have to worry about comfort – maximum comfort comes standard in all our theater seating products.
We like lists. Simple. Organized. And they help you cover all your bases. And when it comes to DIY theater seating for your media room makeover, this follow-up prep list is probably just as important as the first one. There's a few things you need to know to really hone your search for the right home theater seating while poking around on our site: 
What's the desired layout of your media room furniture? 
Will your layout include level changes like home theater risers?
What are the measurements: height, width and length, of the area your theater seating will take up?
Reminder: Never forget to leave margins for head space and moving-around space when taking these measurements, or the theater seating you spent so much time designing and putting together will turn out a little, well, wonky. (If this is one of the points you get stuck on, just give us a call. There's nothing about "Do-it Yourself" that says you can't ask for help!)
Another friendly reminder: Never forget to ensure that your desired layout allows every seat to have a great viewing angle!
Consider your Style Goals for Your DIY Theater Project and its Seating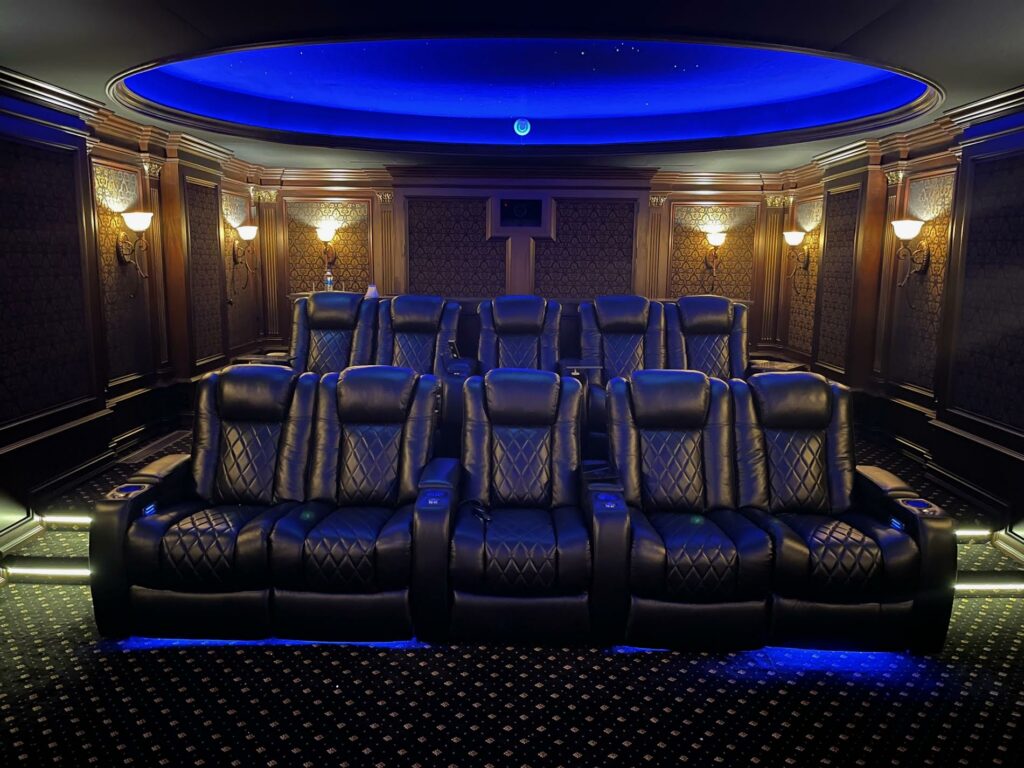 Here's the thing – every single model of home theater sectionals, sofas, loveseats and stadium seating we craft are of the finest quality. Powered headrests, a state-of-the-art reclining mechanism, lumbar support, solid foam construction – there's a long list of comfort and convenience features that set our home theater chairs apart from the rest. So when browsing through our different models, you really don't need to worry about whether the Oslo is more or less comfy than the Pavilion II; it's a tie – they're both built for maximum comfort.
Knowing you've got the comfort factor taken care of is going to allow you to focus on the exciting stuff: style and features. When you planned your home theater project, you probably had a vision. That vision might have even evolved as you started to transform the room into a private movie theater. So ask yourself: What's your style goal for your theater seating, and your DIY home theater at-large? 
Simple black leather theater seating is nowhere near your only option anymore (but we like it – it's a classic!). You can get styles like two tone leather seats, red theater seats, or fabric theater seating. Are you going for a modern look? Farmhouse? A warm, mid-century library feel? Or an adult arcade? DIY theater seating can be anything you want it to be, because you're literally designing and doing it yourself. Now you're your own contractor and your own interior designer!
We have style options like the super-modern, Euro-inspired Zurich. And there are plush, quilted options like the Oxford. When you combine the design of your desired model with your chosen color, you're one step closer to DIY theater seating your friends are going to gawk at when they come for the next movie or game night. And to boot, these home theater chairs will be so comfortable they'll never want to leave. No, really… it might get awkward. Go home, Kyle – the movie's over.
What's Your Desired Layout for the Seating in Your Home Theater Room?
The layout you choose for your DIY theater seating is going to determine how much construction prep you've got ahead of you, and it's going to depend on what type of media room furniture you want. With a home renovation project like this – where you're designing and building the movie room yourself – you should realize you're not limited by options, even when it seems you're limited by space. There are several popular layouts we see our customers utilize in their home theater projects that might give you some inspiration for yours:
Obviously a classic layout is rows of theater seats on risers. But how do you DIY stadium seating? Sounds like a lot of math, construction and levelling. Just kidding – it's not. 
This is where you can really make your DIY theater seating your own. Have teens that want the home theater to double as a hangout space? Get a theater riser platform and stick a huge home theater sectional or sofa on it. Now you've got a front row of theater seating with a raised back row that's a less traditional version of theater seating. We all love things that can multitask. 
Have a narrow room with high ceilings? Buy a few home theater risers and set up several rows of 3 seat theater seating. Voila! DIY stadium style theater seating that looks like you called in a contractor. But for way less of an expense, because you didn't actually need that contractor at all!
Is the goal of your project to add a home theater and another living space to your home? Consider a big flat screen TV instead of a projector, and a mix of multimedia sectional sofas, couches, loveseats, and/or recliners for the best of both worlds.
A few of our popular models that you can easily reconfigure to serve any purpose you need are the Piacenza, the Tuscany and the Verona, if you need a clue on where to get started. Home theater sectional sofas, wall hugger theater seating, theater loveseats – any home theater furniture layout you can imagine for your DIY theater seating – we can make it happen.
A Few Suggestions from the Home Theater Seating Experts at Valencia
Let's sum up what we've talked about. Namely, how to prep for your DIY home theater project and how to best search for your ideal movie theater seating to make your project the best it can be.
DIY Home Theater Prep:
Figure out the purpose of your revamped media room.
Make decisions on the type of audiovisual tech you'll install in your home theater.
Plan out the connectivity set up for all that tech, spatially.
Consider any sound dampening features you want to add when constructing your home theater room.
Take measurements to brainstorm layouts for your new media room furniture.
DIY Theater Seating Prep:
Measurements that include height, width and length margins for easy movement around the seating.
Desired layout with consideration for viewing angles from the projector screen
Desired style, material and color of your new home theater seating
Number of seats you want to fit in your home theater setup.
Whether or not you're trying to build some stadium seating with home theater risers.
That's the real important stuff you need to ensure your DIY home theater and its seating don't seem DIY at all.
Finishing Touches Perfect for Anyone's Home Theater Project
Now to the fun stuff. What kind of cool features do you want to add to your Valencia home theater seating?
Powered headrests and reclining (they actually come standard with most of our models!)
Underfoot LED lighting
Middle seat that doubles as a dropdown console
Home theater accessories like wine caddies or tablet holders
Built-in bass shaker theater seats
Embroidery options
Leather color, type and texture customizations
Cup holder, armrest and accessory options for finishes
Valencia offers the most comfortable, luxury home theater seating on the market. We construct beautiful, designer seating from 5 different leather choices, as well as fabric options for theater chairs, like microfiber. Because when it's time to deal with the theater seating portion of your home theater project, you want to be sure that stuff is super-comfy, ergonomic, really durable, and covered in beautiful, full-grain leather (though we wouldn't fault you for trying the microfiber theater seating – we love how soft it is).There are a few questions we get from a lot of our customers; take a look at those here. And if you can't find the advice you're looking for on our FAQ page or our blog? Or if you just want to talk to a real human being before diving in on ordering your DIY theater seating? Use our contact page, or just give us a call! We'd love to help you start living your best life in your new home theater room