You've scoured the internet for the best vendor of home theater seating, and you've found them. You carefully searched through their collections of luxury recliners, couches, sectionals, and more–all made for home theaters and media rooms. But something's still not right. Yeah, they're really nice and have all the features you want, but maybe black leather seating isn't in fitting in with your aesthetic. Or maybe you just can't get on board with all the seats in your home theater being one solid color. That's where we come in.
Our home theater recliner models that come in full-grain Nappa leather aren't just black or brown. They're also not just grey or white. We offer a full spectrum of 17 different colors – all real, high-quality leather – all vibrant, unique shades. Meaning, if your aesthetic is a funky '70's vibe, we've got orange leather all day. Or if your home theater's design is a nod to racing, we have red leather theater seats, too. Want the classic, luxurious leather look? We offer diamond-stitching on our home theater chairs models, too. With a host of options, you can take your design creativity to the next level by considering alternative colors when you're ordering seating for your home theater.
Go for Contrast: Two-Tone Leather and Punchy Piping
One way to spruce up basic colors is with two-tone leather. Color blocking can be super modern or mid-century retro, depending on the colors you choose and the design of your home theater. Go subtle and mix dark grey with lighter grey on your theater seats, or go bold with a white leather vs. black leather contrast. You could even choose a home theater sectional sofa in one leather color, and mix it with movie-watching recliners in another leather color. With two-tone leather seating, you have endless options on how to customize your space and make your home theater uniquely you.
But if you want a bright pop of color but don't necessarily want bright red theater seats, consider changing the color of just the piping of the leather. White leather seats with red piping, grey theater seats with white piping, brown theater seats with orange piping – the combinations are endless, and it's a great way to add unique character to your media room furniture without going super bold and bright. True design is in the details, and by customizing the piping, you can really elevate the look of your furniture and make it feel even more like premium theater seating.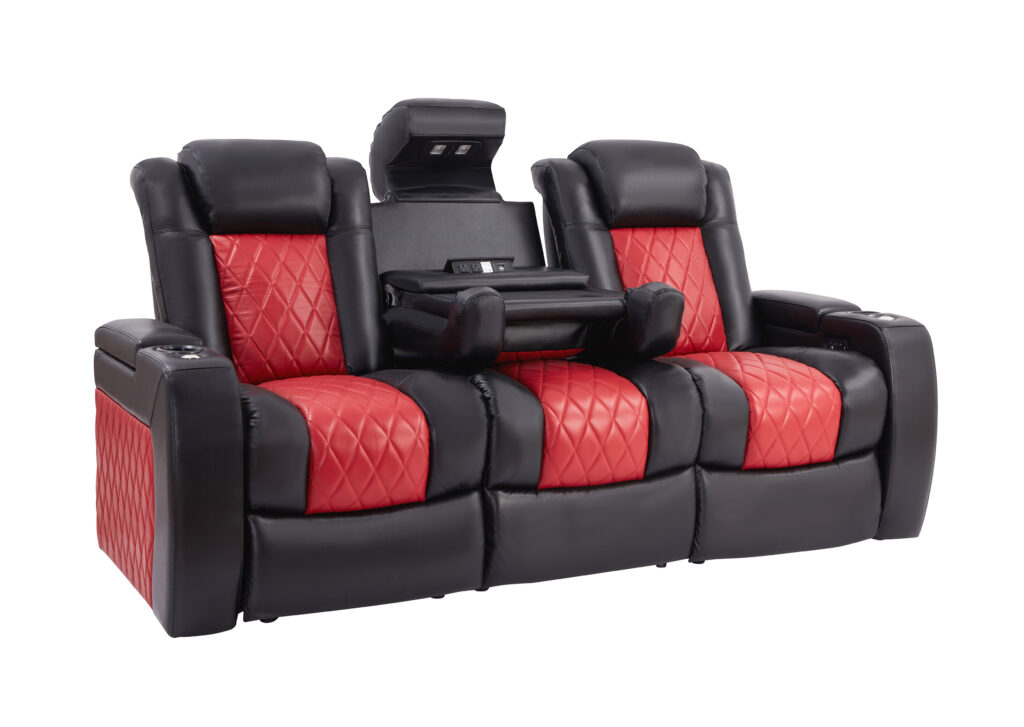 Black and Brown Leather Theater Seats: Classics are Classics for a Reason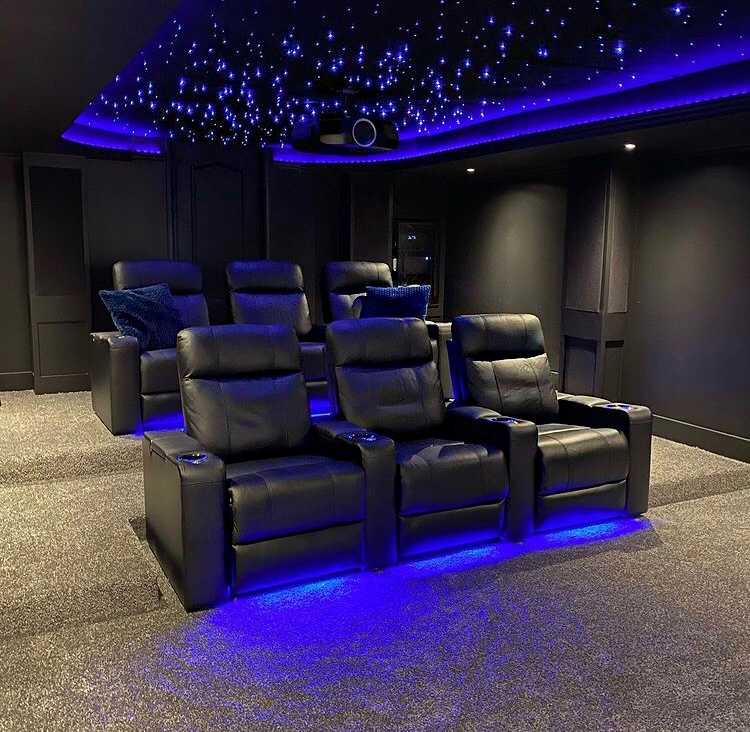 Listen – we're not down on black or brown leather seats; they're classics. And there's nothing wrong with going for a classic look when designing your home theater. Black leather seating has so many advantages, from its versatility to its luxury look to its great ability to hide the remnants of the red wine you spilled last week, there's no question that black leather is a classic, and rightfully so. 
Brown leather seating is warm and inviting, so it's a perfect color for furniture in man caves or basement home theaters. Much like black leather seating, it's also a versatile choice – you could go full-on cigar-jacket-library with it, or stick with a farmhouse/cottage-core vibe in terms of other home decor. 
And here's the thing: just because the colors are classic, doesn't mean black or brown media room furniture is basic or boring. Choose customizations like contrast piping, diamond-stitching, underfoot lining, or embroidery to really make it yours. — Who says you can't do a new spin on a classic? Black and brown leather don't get enough credit nowadays, and by creating your own two-tone leather seating, you can easily incorporate those colors into more modern home decor.
Does Monochromatic Media Room Design Count as Color?
Yes. Neutrals are, in fact, color. Some of us just love the color grey so much that we spell it the right way: grey. There's a lot to be said for a monochromatic color palette in a media room. Or any room, really. It gives everything a cohesive, clean and airy look, especially light grey or white leather seating. Charcoal and slate greys are also classic luxury leather colors – charcoal and gunmetal grey media furniture will always be in style. White and grey home theater seating go with everything, so if you ever want to give your theater room a makeover, you can switch up the look without having to switch up the seating.
Going monochromatic with a home theater is best done in darker colors if the room is a dedicated movie-watching space. But those lighter monochromatic palettes–maybe in a sleek, Euro-inspired model of theater furniture in sectional sofas couches and loveseats–are great for media rooms that are also entertainment room spaces or living spaces.
Here's the thing, too. Monochromatic palettes don't have to be neutrals. Red leather theater seats are only going to be enhanced by red paint, cherry wood flooring, dark red curtains – you get it. Monochromatic décor palettes can sound limiting at first, but sticking with a certain color and all the shades and hues in between can actually be a fun way to design and lead to interesting interior spaces, so go on and try something different with your leather home theater seating and other media room furniture. Monochromatic also doesn't mean monotonal, so you can still do two tone leather seats or that contrasting piping we talked about, with combinations like dark brown and khaki, or dark grey and light grey. 
And don't get us started on the design dynamics of texture. The fact that you can customize the type of upholstery on your home theater's seating just exponentially increases the unique designs you can achieve with just shades of one color and a few contrasting textures. Choose fabrics for your home theater seating, like microfiber or velour. Or, in your choice of leather, maybe you like the softer look of Nubuck leather against the chrome details of your light fixtures and theatre seat details, as opposed to full-grain leather.
We could go on – the combinations of colors, upholstery and accents mean the design of your home theater seating is only limited by ideas.
Virtually Design your own Colorful Home Theater Seating
When you've spent so much time and energy designing your home theater, and probably just as much time and energy into scoping out just the right tech and just the right home theater chairs, you don't want to leave anything to chance. And if you're going to be brave and go with a bright orange Zurich model home theater chair, you probably would like to do more than just imagine what it looks like and hope for the best. We've got you. 
You can use our 3D customizer feature for any of our home theater chair models to explore seat number, fabric choice, leather color choices, extra features, theater seating risers, and more. That way, when your new media room furniture shows up at your door ready to assemble, you already know exactly what the finished result will be. Then you can finally sit down and watch a movie in your super-unique colored leather theater seats.