A Complete Guide to Buying Home Theater Seating
Intro: Crucial Questions to Ask Yourself when Planning a DIY Home Theater
So you're creating a dedicated media room to give your home a whole new vibe. Exciting! But you've got planning to do and questions to answer before the power tools come out.
Will your home theater primarily serve as a place to watch Sunday football games at the highest quality? Will its main purpose be delivering an immersive gaming experience? Or is your space going to be made to provide a top-notch cinematic experience for your friends and family? No matter the type of home theater you have in mind, creating the right feel is critical to the ambiance of your space. But hitting the right tone can present a challenge if you're not prepared.
At the heart of creating your perfect cineplex at home is selecting the ideal home theater seats. You might have a top-tier sound system and TV or projector, but in order to sit back and truly enjoy your home theater – the seats must be just right. There are quite a few things to consider in your search for the perfect home theater seating, from ensuring your ideal capacity for theater viewers while staying in budget, to finding the style, level of comfort, and accessories that align with your vision.
As the home theater seating experts, at Valencia Theater Seating, we're here to help you create the home theater of your dreams. In this complete guide, we've compiled everything you need to know about designing your ideal home theater. From the wide array of media room furniture options available, to optimizing use of space and viewing angles, we've got the answers to all your questions about creating the best home theater space possible.
Maximizing Your Space, Maximizing Your Theater Seating
By following a few simple guidelines, you can turn almost any sized room into the perfect home theater. The design of your theater chairs can help maximize your space and contribute to the desired atmosphere, so it's important to choose carefully. The first step is to consider the ideal number of viewers your home theater will seat. Do you want a theater loveseat recliner for an intimate vibe? Or a large home theater sectional to accommodate family and friends? You've also got to consider the space available. Curved home theater seating works great for narrow rooms. Or, if you need to maximize distance between the screen and the seating, wall hugging theater seating might be the answer. Is your home theater in the basement? Then we've got to think about whether or not we can fit in an elevated back row of theater recliners comfortably.
A few critical components of home theater seating design that are directly affected by room dimensions are (1) viewing distance and angles from the chairs to the screen and (2) standard seating measurements. We can help you design and create an abundance of home theater seating options that will help you account for these elements. All our home theater recliners can be tailored to your style and decked out with your desired customizations. And you never have to worry about quality or function – luxury theater seating should have it all.
| | | | | | |
| --- | --- | --- | --- | --- | --- |
| | | Height | Width | Depth | Depth – Extended |
| | Single | 43½" | 37½" | 39¾" | 69½" |
| | Row of Two | 43½" | 68¼" | 39¾" | 69½" |
| | Row of Three | 43½" | 99″ | 39¾" | 69½" |
| | Row of Four | 43½" | 129¾" | 39.5″ | 69½" |
| | Row of Five | 43½" | 160½" | 39¾" | 69½" |
| | Loveseat | 43½" | 61½" | 39¾" | 69½" |
| | Loveseat Left | 43½" | 92¼" | 39¾" | 69½" |
| | Loveseat Right | 43½" | 92¼" | 39¾" | 69½" |
| | Loveseat Center | 43½" | 123″ | 39¾" | 69½" |
Use these dimensions of the relatively slender Valencia Zurich Home Theater Seating as a reference point. But, say you choose the Tuscany home theater recliner instead – make sure you know its specific dimensions. This is just a baseline guide to help you visualize the different configurations of home theater rows, recliners, loveseats, and couches. 
Now, let's take a look at some ways to maximize your space.
Open Floor Space vs Space for Your Media Room Seating
When planning the number of seats and their configuration in your home theater, think about the room's shape and size, as well as the layout of any other components of the room, such as the speakers, screen, game tables or a wet bar. Ask yourself some questions to determine the approximate space to allow for seating:
Do you prefer sitting close to the screen or further away?
Do you want a spacious home theater seating to seat as many people as possible?
Are you willing to combine styles of seating, such as couches and loveseats, or do you prefer a single type of seating?
Does your media room furniture need to have multiple functions? (i.e. Is your home theater also a hangout space, a family room, or a gaming room?)
The position of your seating plays a big part in how viewers experience the theater. So, to both maximize your space and your enjoyment, consider each of these fundamental elements of your theater:
Audio Quality: Bass Shakers in Your Theater Chairs, Anyone?
The placement of your home theater seating determines how you experience the sound quality of your home cinema. To get the best sound, theater seats should be placed within the sound cone of all the main speakers. Keep this in mind especially if you plan to maximize the viewer capacity in your theater. Ensure that all the seats in your theater have similar audio exposure levels so that every family member or guest is treated to an immersive audio experience to go along with comfortable seating. You can have the most comfortable home theater seating on the market, but if the guy on the end of the row is craning to hear what's going on – that's not comfortable at all. 
Features to think about here:
The placement of the speakers themselves in relation to the projector screen. Perforated projector screens allow speakers to be placed behind the screen, making your viewing field and sound cone overlap perfectly. 
The possibility of adding a home theater riser to elevate and separate the seating space from interfering vibrations and sound.
Including bass shakers in your home theater furniture for a tangibly immersive experience.
Equalizing the Field of View for Every Theater Seat
As you plan your dream home theater, you can't forget about the all-important field of view! After all, it's kind of the whole point of the media room in the first place. The placement of your screen determines the layout of the rest of your theater room. This might be the literal only time in your life your math teacher was telling the truth when she said you'd need to use your geometry knowledge someday. Or fractions… ratios? You should probably go grab a calculator.
To make sure that every seat is the best in the house, aim for a 30-degree field of vision relative to the screen. Also, viewers' eyes should be aligned as closely as possible to the center of the screen. The field of vision can be challenging to calculate and implement in your home theater system. So, as an alternative, strive for a field of view that is 1.5 to 3 times the diagonal screen size and within a 90-degree arc. If your theater room seating involves multiple rows, home theater risers can also be helpful to avoid obstruction of view for each row behind the first. When dealing with multiple rows, another way to maximize space without sacrificing the movie-watching experience of the first row is choosing curved home theater seating for the front row.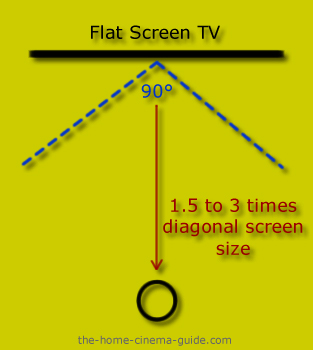 Optimal Viewing Angles for Your Home Theater Seats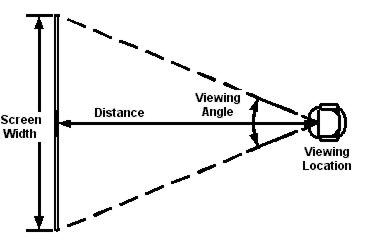 Placement of Home Theater Seats vs Screen Dimensions
The size of your screen also determines how far away your home theater chairs should be from it. Luckily, finding out the minimum and maximum distance is easier than calculating the field of view. The minimum distance between the seats and the screen for comfortable viewing is about 2 times the horizontal length of your screen. The maximum distance is about 5 times the horizontal length of the screen, meaning that viewers that sit further away than this will risk a blurry or low-quality view of the screen.
It's important to note here, as well, that the type of visual tech you choose will also affect the field of view and the picture quality for each theater seat at any given angle. Some projectors have better oblique viewing angles than others. Same with TVs. So while we can all agree that size does matter, these other specs need to be included in all that math you're doing, as well. Show your work – you don't want to end up with a seating configuration for your home theater furniture you think makes sense and then realize you forgot a crucial variable.
Don't worry – that was the last math metaphor.
Your Choice of Entertainment Room Seating Affects its Style
Once you have determined the seating arrangement that gives you the best audio quality and field of view, the next step is finding the home theater seating style that maximizes your space. The sheer number of options may be overwhelming, but the variety means that you are guaranteed to find theater chairs that work for your particular home theater. First, familiarize yourself with the various options for home theater furniture.
A popular choice is the classic single recliner, or a couple rows of 3 seat home theater recliners. But there is no need to limit your home theater to one style. The best home theater seating manufacturers today offer various styles of seating such as loveseats, couches and cinema-style lounge chairs. And you can always add a couple of bar stools behind if you have a bar, or bean bags and ottomans for a more casual vibe. Home theater sectionals are also a great option – they give the look of living room furniture with the feel of a movie theater experience.
Home Theater Recliners: The Archetype in Home Theater Seating
Recliners are the most popular option for home theater seating and are therefore available in a great variety of styles and functions, such as recline settings, individual USB ports, and drink holders. They allow for ultimate comfort, relaxation and personal space, which is why they're a standard choice for home theaters. One of our signature recliners with a classic design is the Valencia Syracuse. The simple design and narrow armrests make it comfortable and sleek, yet compact enough to maximize the number of seats into media rooms with limited space.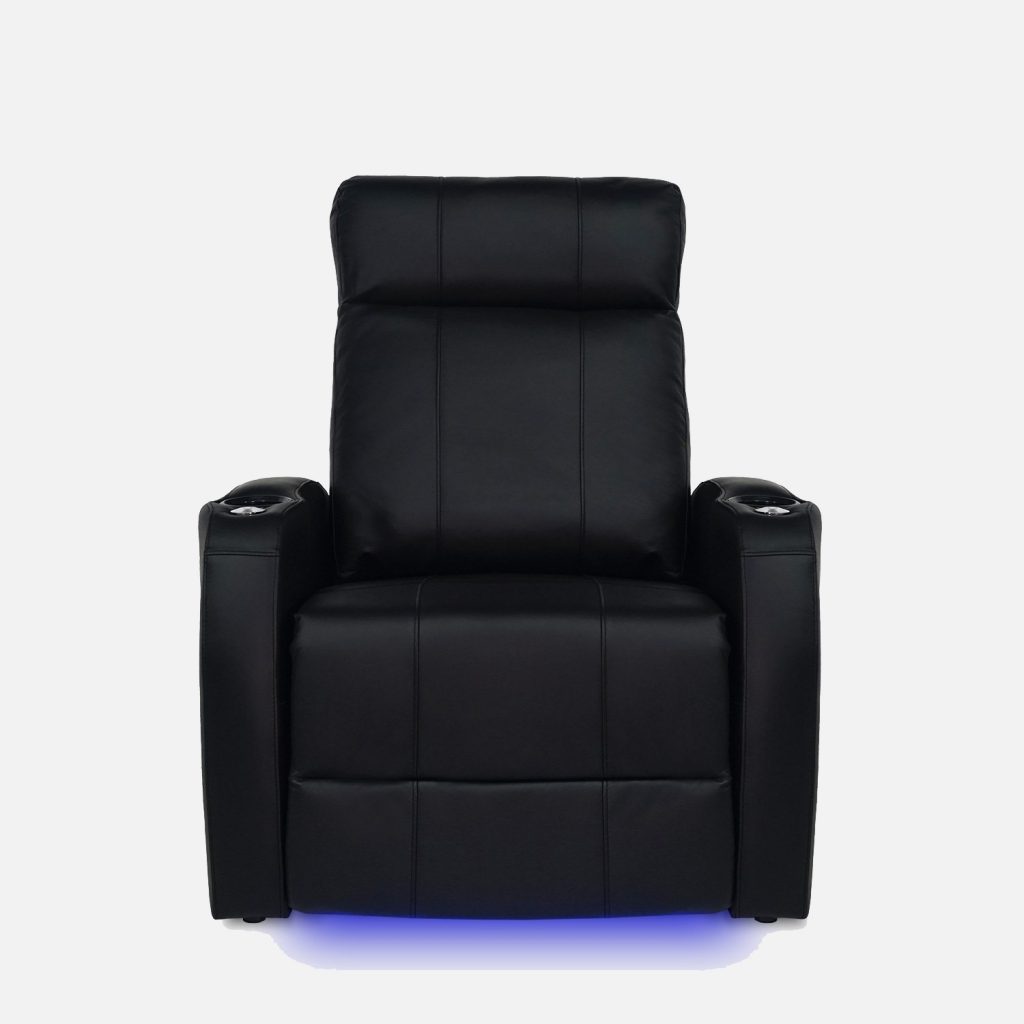 Syracuse Leather Media Room Recliner
Rows of Theater Seating Lend an Authentic Movie Theater Feel
Rows create a classic cinema feel and are useful for fitting as many seats as possible in your home theater room. We offer a diverse selection of home theater furniture that can be installed in rows, with the typical configuration ranging from 2-5 seats per row. For configurations that save space and accommodate every function of the room, you can mix and match recliners, couches, and loveseats. We also manufacture wall hugging home theater seating for more limited spaces.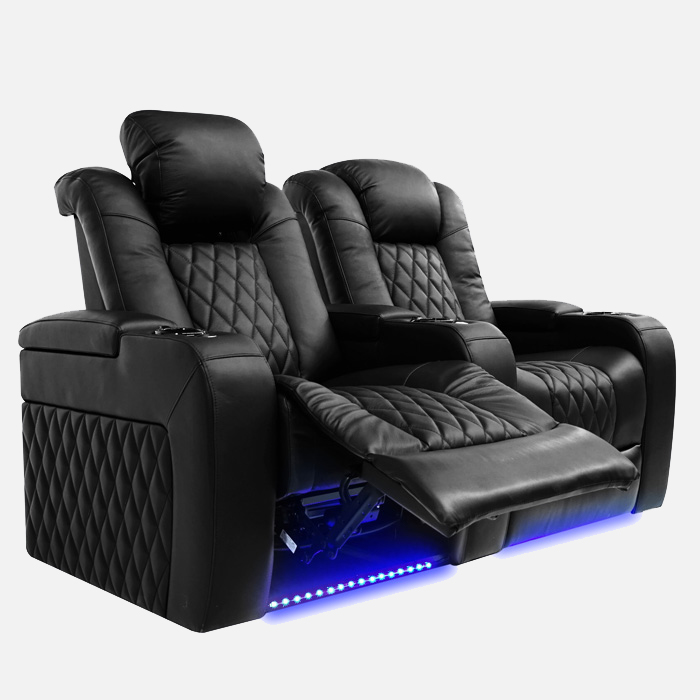 Tuscany 2 Seat Home Theater Recliner
Source: https://www.eastporters.com/product/valencia-tuscany-motorized-seating-top-grain-nappa-leather/
One of our most popular space-saving yet personal configurations includes a row of four theater recliners, with a single loveseat in the middle and two individual seats on each side. To save more space, a single row could consist of two love seats. Home theater loveseats can make for cozier, more flexible seating, adding a casual finish without sacrificing the luxury of theater seating. All of Valencia's media room seating can be configured in any row combination of home theater sofas, loveseats and single chairs. 
Rows of theater seats are the most compact and easiest configuration to arrange and fit in the field of view. If you are designing a theater room to fit just a couple of people, a row of seats with a built-in table will save you space by getting rid of the need for additional end tables. The Valencia Oxford collection offers a three-seat entertainment room couch where the middle seat converts to a shared table and features hideaway storage, LED lights, a USB port, and cup holders. But if space is not an issue, multiple rows of theater seats on risers are a classic stylistic and functional pleaser.
And just so you know, if your DIY home theater is in the basement, that doesn't automatically mean you can't do an elevated back row of home theater seating. Often, theater risers are only about 8" per row. So even if you've got a smaller space that can only fit a 3-seat row of theater recliners, provided you've got the necessary room depth, you can double that into 6-seat recliner capacity with a slightly elevated second row of seating. Basements and home theater riser platforms are not mutually exclusive.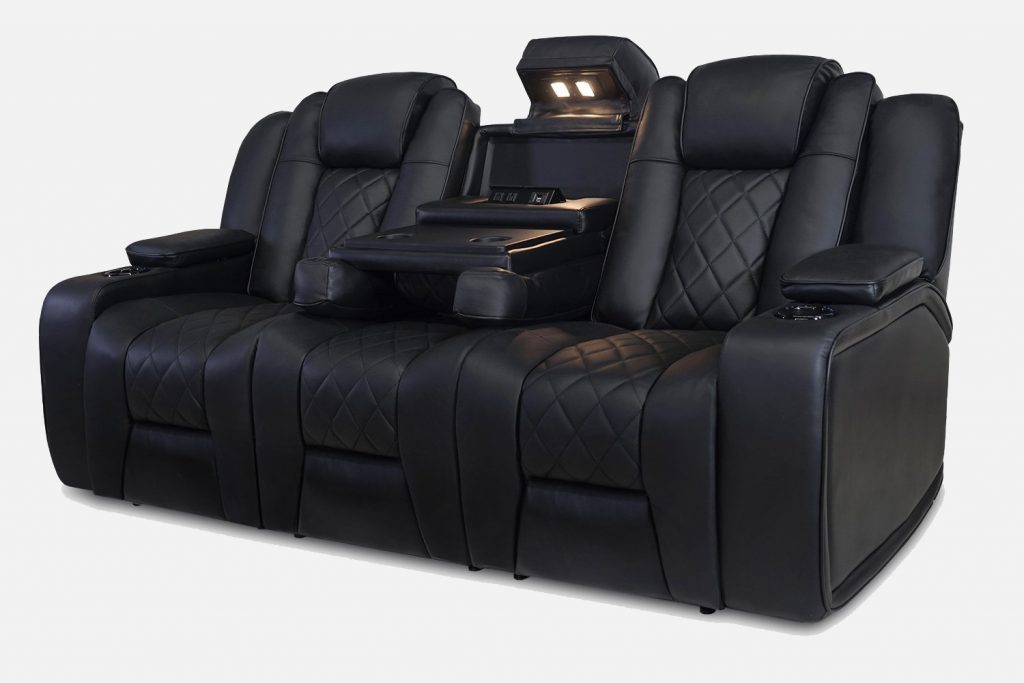 Home Theater Sofa with Drop-down Console
Home Theater Sofas and Chaise Lounges are Multifunctional
Although they can be large, home theater sofas, loveseats and chaise lounges can be quite versatile, especially for families or those who don't have a dedicated home theater room. You can find these types of media room furniture in a wide range of styles, colors, and materials. Depending on the purpose of your theater room, you can rearrange the furniture to accommodate your personal needs. If your room is a multi-use space, changing up your media room with a home theater sectional can give you that cinematic feel with living room function.
Budget Home Theater Seating that Doesn't Sacrifice Luxury
Seating is an integral part of your home theater room and should be well accounted for in your budget. After all, neither pristine audio nor a crystal-clear TV screen can fix the frustration and discomfort of subpar seating. The costs of home theater seats vary greatly depending on the quality, style, and additional features and accessories. A combination of couches, recliners, and other styles of seating can ensure you don't go over budget, while not missing out on the ultimate comfort and relaxation of recliners. Our Leggett-Platt reclining mechanism, ergonomic cushion construction and lumbar support are standard in every home theater seat we create, so less cost never means less comfort.
The Best Home Theater Seating Provides Ultimate Comfort and Convenience
Theater chairs have come a long way since the first home theaters. There are a number of modifications and features you can add to your preferred style to create the perfect chair, custom-made for your theater room. All of Valencia's home theater seating can be customized with different colors and materials, as well as features like LED lighting, powered headrests, drop-down consoles, and more.
Headrests Optimize Viewing and Reclining Comfort
A comfortable headrest can make all the difference. Although numerous Valencia home theater seats feature a motorized headrest adjustment, for those that don't, the addition of a cushioning neck pillow promises the chance to sit back and relax the whole time you're in your home cinema. Valencia neck pillows are fully adjustable and made from top-grain leather. The padding offers great support that will allow you to sit comfortably throughout a movie (or multiple movies!) without straining your neck.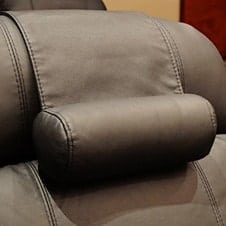 Home Theater Accessories: Ergonomic Neck Pillow
Upholstery and Construction is Key in Quality Home Theater Seats
Whether you're accommodating adults that cherish the ultimate relaxing experience or children that tend to jump and climb, you want chairs that can keep up with your lifestyle. Microfiber theater seating is soft, comfortable and stain-resistant. Leather theater seating gives a more high-end look, but still has great durability. Fabric home theater seating can be perfect for multi-use rooms or homes that have pets that like to cuddle with you during movies and games.
We specialize in luxury Nappa leather home theater furniture, but we can customize your seating's textile to fit any taste. Black leather theater seats are far from your only leather options. We offer full-grain Nappa leather seats in red, grey, brown, white, and a dozen other shades as well. Quality home theater seating is an investment, so its construction should be made to last. Valencia's products consist of steel and wood construction that won't break down over time. Inside to out, top to bottom, every detail is crafted with the utmost attention to detail.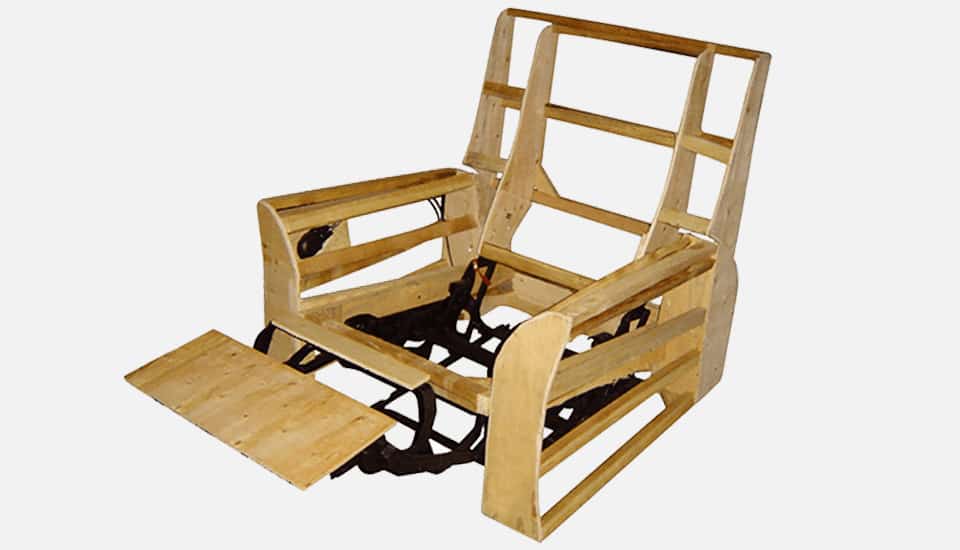 Home Theater Recliner Construction
Recline Functionality that Optimizes Comfort and Use of Space
Choose from motorized, manual, or no reclining function for any style of home theater chair you prefer. The Valencia Premium line features the distinguished Leggett & Platt reclining mechanism, known around the world for its lifetime, comfort and unmatched ease of use. This mechanism is, at the forefront, about ergonomics, but the way we build our theater recliners, it also results in space-saving, wall-hugging home theater seating. So if your media room is shallow, you don't necessarily have to forego the reclining function in your home theater seats.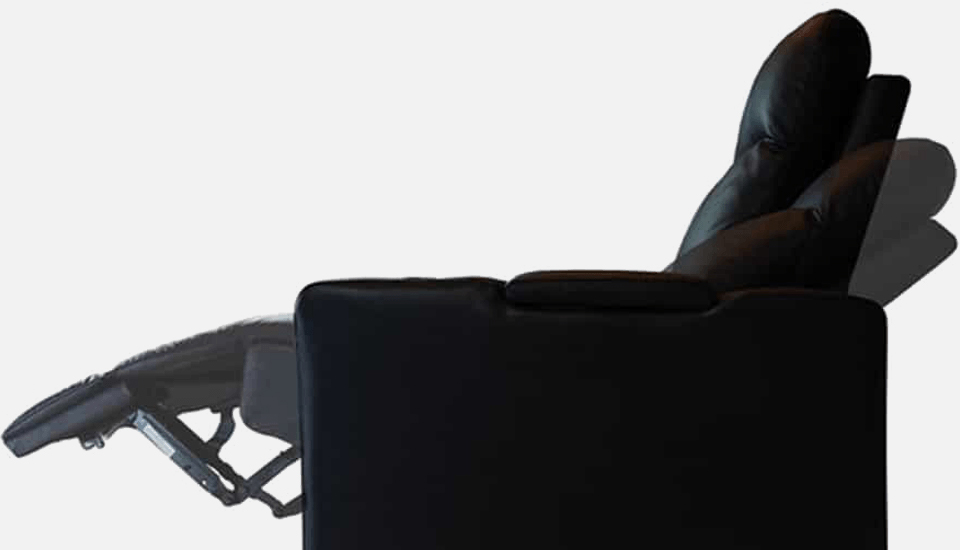 Leather Media Room Recliner
Storage and Cup Holders, because Snacks are Essential
You can save both space and money in your home theater by ditching extra furniture like end tables, and choosing a seating option with built-in storage and cup holders instead. For instance, we make many of our home theater sofas and rows of 3 seat theater seating with convertible tray tables, like our Tuscany Console Edition. If you enjoy a glass of wine with your movie, but worry about accidentally spilling it, a wine glass caddy is a simple solution that works for numerous shapes and sizes of wine glasses.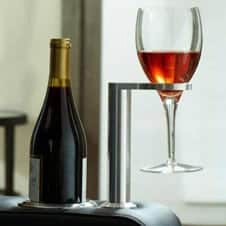 Home Theater Accessories: Wine Glass Caddy
In the same vein, opting for other home theater accessories, like tablet holders or tray tables, makes it even more convenient to enjoy a dinner or a snack with the show, without any of the mess.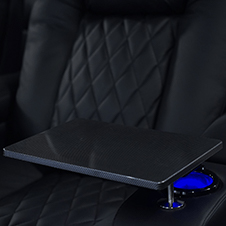 Home Theater Accessories: Tray Tables
Additional Features of Luxury Home Theater Furniture
For a truly cinematic atmosphere, built-in LEDs underneath your seating adds a cool and modern touch. In addition, the subdued lighting can be functional, as it allows for some light to see without abrading the cinematic feel. LED-lit cup holders are also a great way to prevent the kids from missing the cup holder in the dark during a movie and interrupting the whole situation with spilled soda.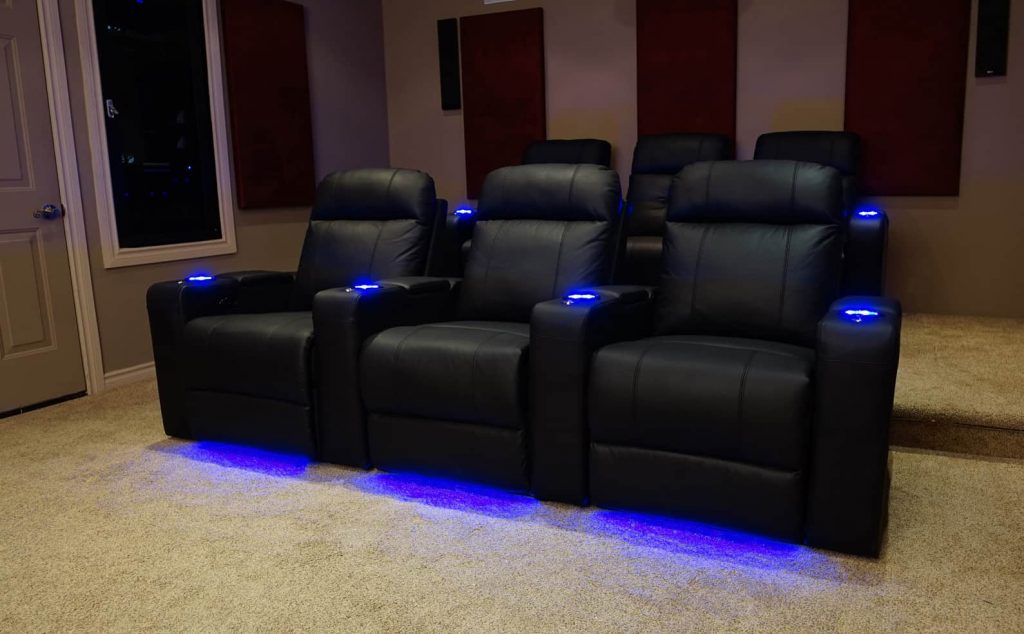 Luxury Home Theater Seating with LED Lighting
USB ports are another amenity in many modern theater chairs today. You won't ever have to pause a movie to go plug your phone in – just charge it right in your seat! If your home theater will be used for gaming, a built-in USB port can ensure your controllers are always fully charged.
Leather vs Fabric Theater Seating: Style and Comfort
Theater seats in fabric or leather? Leather is luxurious and will give your home theater home a chic and elegant ambiance. Compared to fabric theater chairs, leather ones are easier to clean, stain-resistant, don't absorb smells, and last longer. Fabric chairs, on the other hand, are typically more customizable, with a multitude of colors to suit any theater room design. However, fabric theater chairs absorb smells more easily, can be harder to clean, and tend to wear out faster than leather. Consider how much abuse your media room furniture is going to see. For instance, home theater seats made for adults and their friends is going to see a lot less wear and tear than media room furniture in the home theater of a family with three kids and two great danes. So the leather vs fabric theater seating conundrum isn't just about style and comfort, it's also about functionality, maintenance and longevity.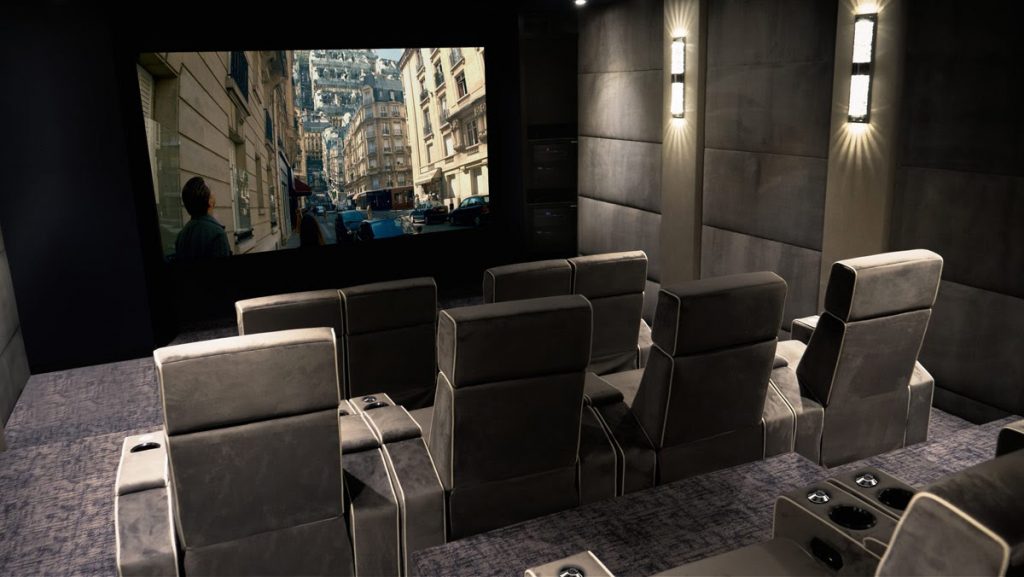 Custom-built Valencia Zurich seats made for a client's home theater.
Clean, Modern Lines or Classic Movie Theater Chic?
Depending on the aesthetic you are going for in your home theater at-large, you may strive for a modern or classic style of movie theater seating. Each offers a high degree of comfort and sophistication, but also serves to change the look and feel of your room. The furniture you choose for your home theater is the main visual impact when you walk into the room, so you've got to make sure you choose home theater recliners that reflect your style. We make a wide variety of stylish media room furniture, so between the choices of models and then all the ways you can customize your choice, we've got you covered.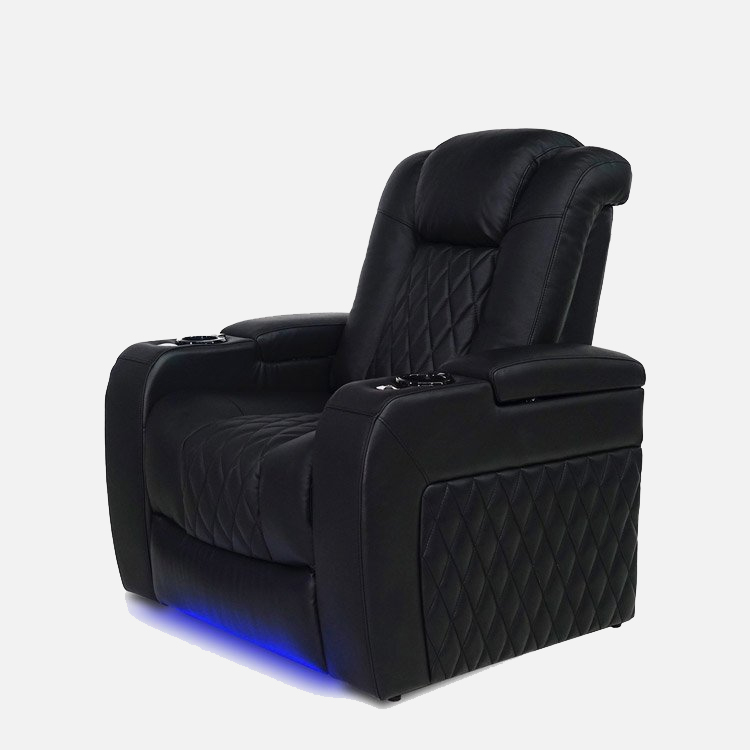 Home Theater Recliner with Quilted Leather
Classic styles like the Valencia Tuscany are a timeless choice and are a safe way to style your theater room. Or if you want to give a little nod to nowadays while keeping with that classic look, the clean lines and solid silhouette of the Verona are perfect for that. If, on the other hand, you want something bold and outside the box, a modern style such as the Manhattan will elevate your room and take it to the next level, both in appearance and enjoyment. A modern home theater chair like this might have a minimalist design, but that doesn't mean it's minimal on features. Modern home theater sectionals, sofas, loveseats and chairs work well for multipurpose spaces, theater rooms, or mixed media rooms. No matter what the purpose is, the Manhattan works as the centerpiece of any room without sacrificing comfort or utility.
The Manhattan Home Theater Recliner
Source: https://www.eastporters.com/product/manhattan/
Design Ideas for Your Perfect Home Cinema
When planning the perfect home theater seating, you want to think about its main purpose. Will you use the room for entertaining during sport functions? Or will it simply be a private cinema experience for you and a few close ones? Your home theater can be any level of elaborate or casual, but it's important to know what you want to use it for in order to ensure your seating will suit every occasion. Check out the seating arrangements in these home theaters below – it might spark some great ideas for your own home theater seating: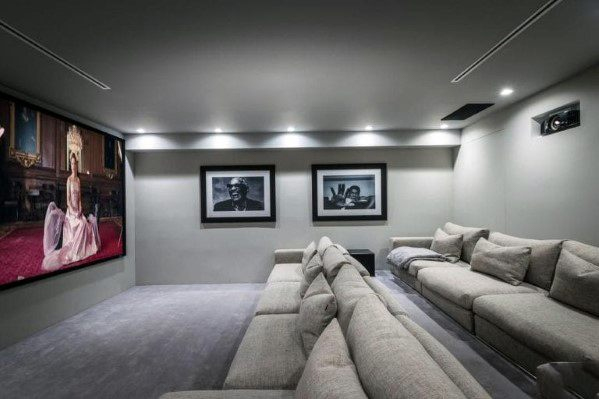 Comfy Entertainment Room Couches
Home theater couches maximize space and are ideal for hosting large groups in your theater. A multimedia sectional, couch or loveseat gives you all the perks of entertainment room furniture with all the bells and whistles of true theater seating.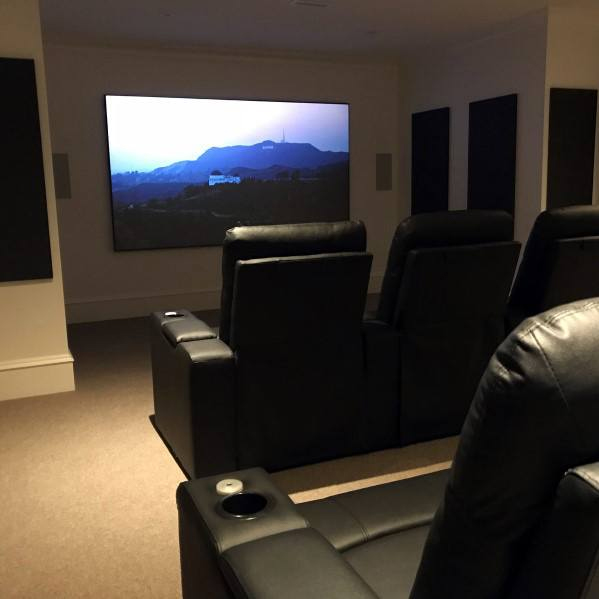 Home Theater Recliner Chairs
Rows of recliners give a sleek and luxurious look to your theater while providing ideal comfort and personal space for each viewer. Rows of theater seating are great for dedicated theater spaces, especially if you want to elevate back rows.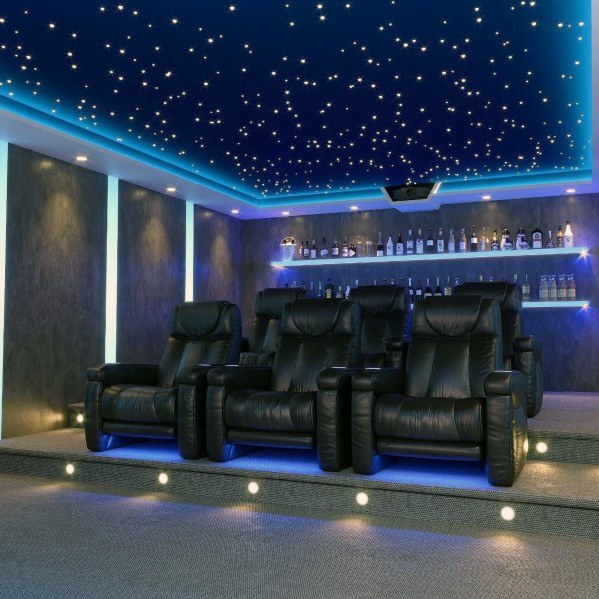 Rows of Seating on Home Theater Risers
Maintaining an open space in front of the first row of seats allows you to supplement with bean bags when wanted, or to get up for drinks or snacks without obstruction. Or say you're using that huge screen to cast what's on your VR so your friends can see. Having floor space in front of a first row of seating elevated on a riser platform allows the space to be multifunctional.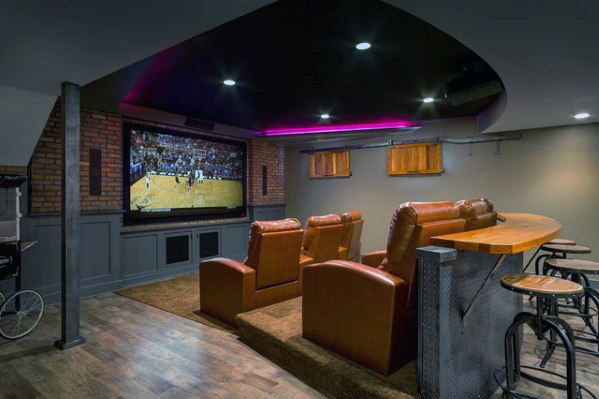 Home Theater Seating
Seating in a slightly circular configuration can create a more spacious and cinematic feel, while a bar provides additional room for entertaining. Curved home theater seating is an especially useful tool for maximizing seat capacity in a narrow room.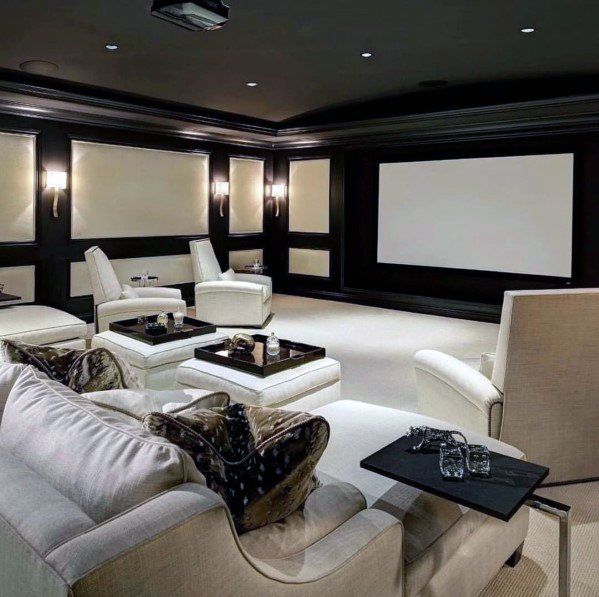 Mix and Match Media Room Furniture
Source: http://nextluxury.com/home-design/home-theater-seating-ideas/
A combination of couches, ottomans, and armchairs can ensure both maximum comfort and capacity in your home cinema without having to install risers and arrange your home theater furniture in row configurations.
Designing your theater room to reflect you and suit your needs can be challenging. But at Valencia Home Theater Seating, we make the best home theater furniture you'll find, because it can be customized to suit both your style and functional needs without ever sacrificing quality. We have a wide selection of in-stock home theater furniture, but we can also custom-build your seats with different colors on the primary, secondary, and piping areas of your seats, all in high-end, full-grain leather.
Home Theater Seating for Entertaining
If you're the kind of person who loves to entertain, you're likely to want to maximize the number of seats you can fit into your theater room. If the primary activity will be watching movies, a relatively simple seating arrangement where all seats face the screen may be right for you. With options like home theater riser platforms and wall hugger reclining seating, you can probably fit more seats than you think. Bonus points if you deck out all the theater seating with accessories like tray tables and wine caddies – that'll ensure your house as the best place to host movie nights for sure. Consider sticking with leather theater seating if you're going to have a lot of guests coming in and out with drinks and food. Not only does it look great, but it doesn't stain or absorb smells the way fabrics do.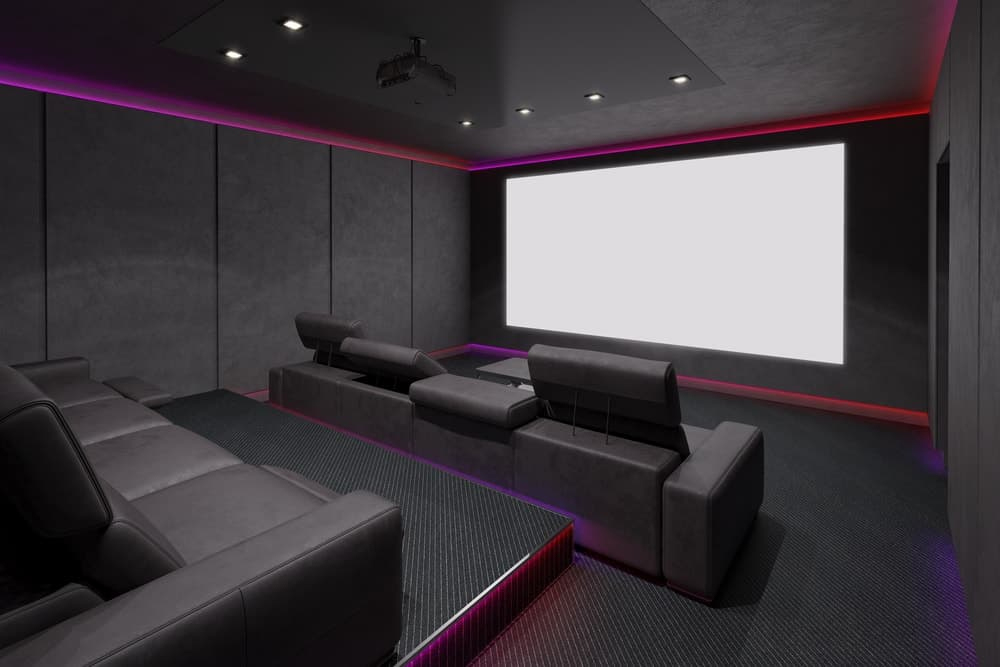 Home Theater Risers and Seating
Source: https://hometheateracademy.com/home-theater-seating-ideas/
Luxury Media Room Furniture for Gaming
You don't have to be a professional e-sports gamer to have a room devoted to gaming. Gaming is becoming an increasingly popular motivation for creating a home theater system, and if it's one of yours, you'll want to factor this into your seating plans. If your home theater seating will be used for gaming, the best experience will come from seating that is right in front of the screen and ideally provides lumbar support. We'd go back to the math section for a minute if we were you – because if viewing angle is important in movies, it's vital in optimizing game play. You've got to ensure the angle of the seats is good for viewing as well as for the gaming system to receive signals from the controllers. The Valencia Tuscany (here it is again – can you tell it's one of our favorites?) is an extremely ergonomic home theater recliner with powered lumbar support and powered headrest position adjustments. It's a great choice for comfort and functionality.
Another option for seating arrangements in a gaming space that allows for flexible purposes like accommodating friends to game with you is to include small, easily movable furniture such as bean bags in your seating configuration.
Versatile Home Theater Seating for Mixed-Media Rooms
Not everyone wants a home theater exclusively for watching movies. You might also want it to work for socializing, gaming, or just listening to music. The main consideration when planning seating arrangements for a mixed-media room is to select furniture that is adaptable and to avoid making the TV the only focal point of the room. Mixed-media rooms can mean that your theater doubles as a family room, which is a great solution for homes without bonus rooms. Whatever the case may be, you want to design a home theater that can adapt to the room's different uses. Whether it's theater-style loveseat configurations or a massive multimedia sectional, sofas for home theaters can function as media room furniture and living room furniture.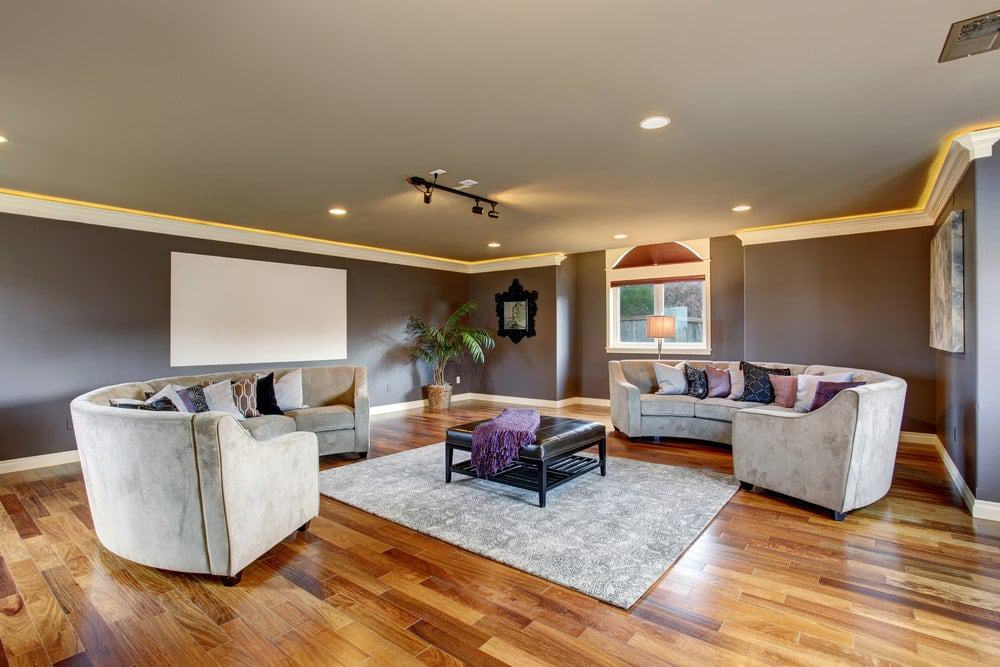 Source: https://hometheateracademy.com/home-theater-seating-ideas/
Home Theater Seating – Canada-Style
If you want your home theater to be Canada theater seating style or any other special design, we can custom-build almost anything! Contact us to discuss.
The DIY Home Theater Process: Bringing it all Together
To summarize, when planning your home theater, it's important to be familiar with the various ways to maximize your space, including the careful selection of the style, type, and configuration of your home theater furniture. The arrangement of your seating should account for the field of view and audio quality. Keep in mind the purpose of your home theater. Will it be just for movie watching? Will it do double-duty as a family room, gaming room, or something else? Whatever the motivations behind your home cinema, make sure that the seating you choose accommodates each of your needs. There are many styles of home theater seating to choose from, and the right arrangement can make a big difference in how much space you have to move around. With the guidelines of this article in mind, you can find or create the perfect seating that will keep up with your lifestyle. Think carefully about any features you'd like as well as the style and ideal configuration of your home movie theater seating. It always helps to poke around at a few different home theater recliner models and use our 3D custom-build feature to virtually design a theater chair all your own. And always feel free to ask the experts at Valencia for advice. If you have any questions or need assistance with selecting the right home theater seating, reach out to us today! Call us at 1-888-533-9991 or send us a message through our website.