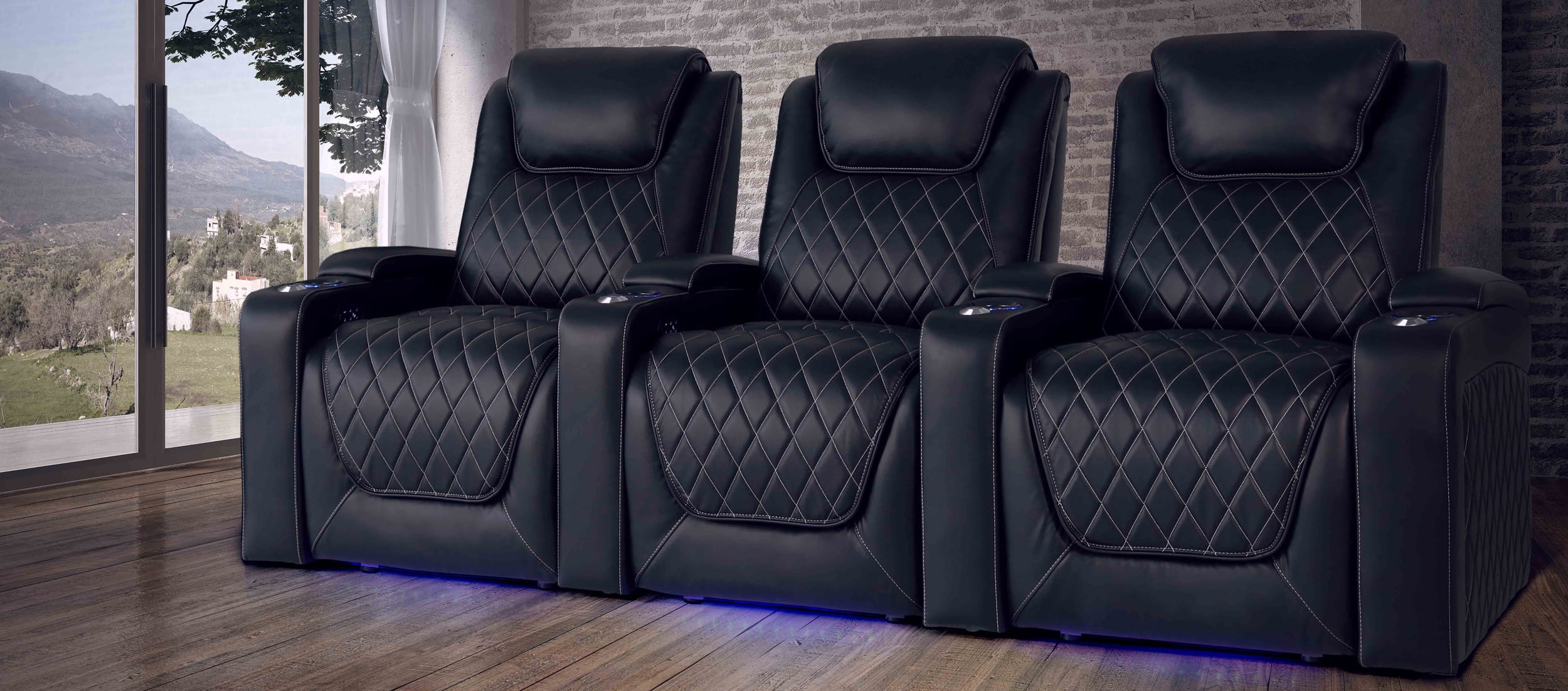 Valencia Oslo Home Theater Seats
The plush cushioning and sharp finishes of our Oslo home theater recliner will fit perfectly with the style of your home theater. This luxury leather theater seating brings the vibe of an upscale movie theater with the comfort of a living room recliner. Customize your Oslo home theater recliner with color options, including two tone leather, number of seats in a row, home theater accessories like a wine caddies, and much more.
The Oslo will become the centerpiece of your home theater room. This line of home theater seating comes standard with lumbar support and powered headrests, making it easier for you to drop down and relax for movie night.
Premium Leather Selection
Click to Expand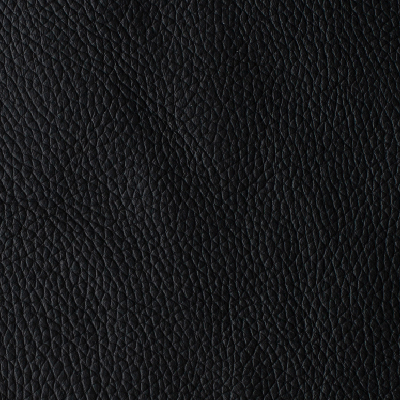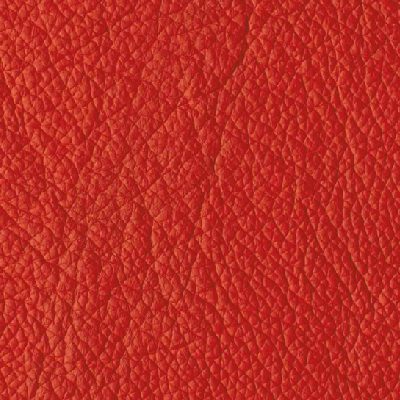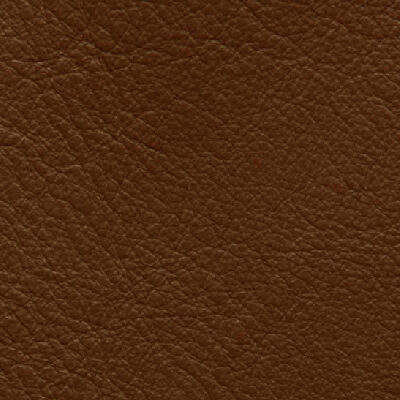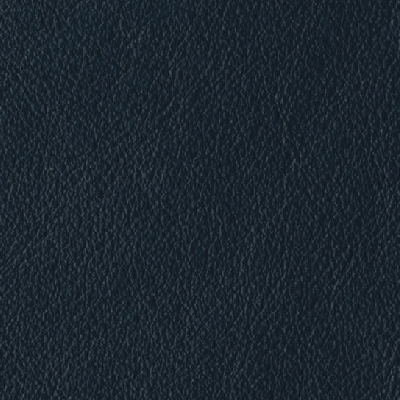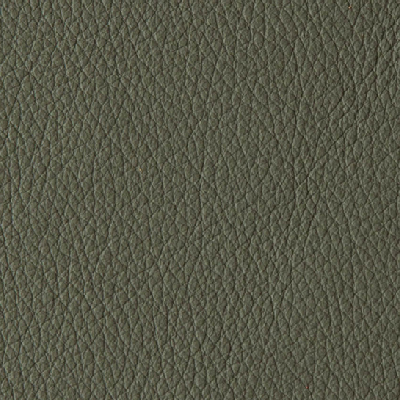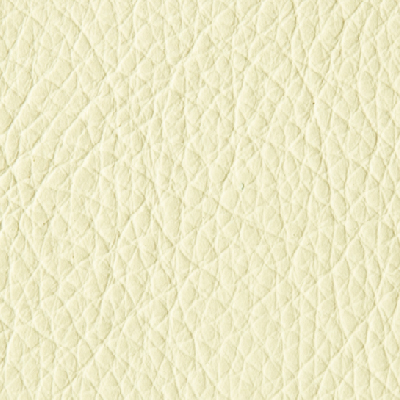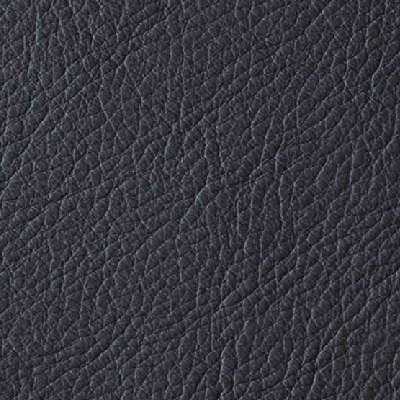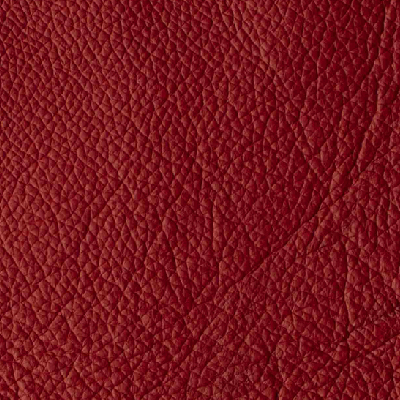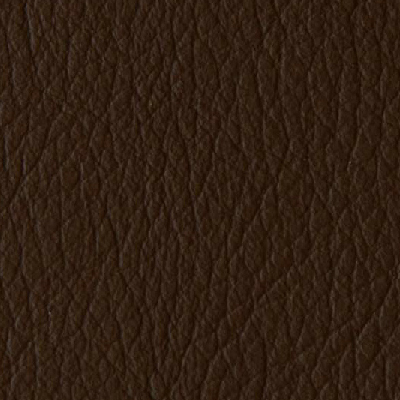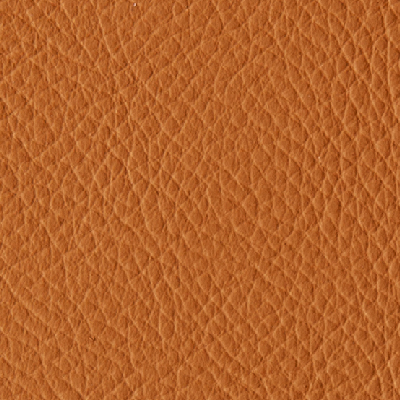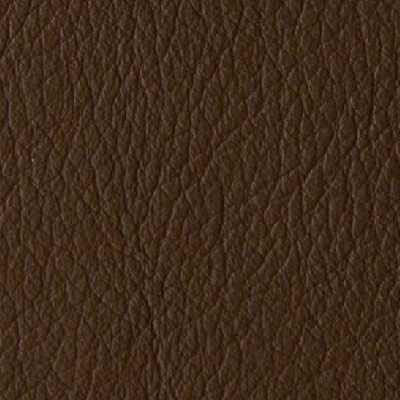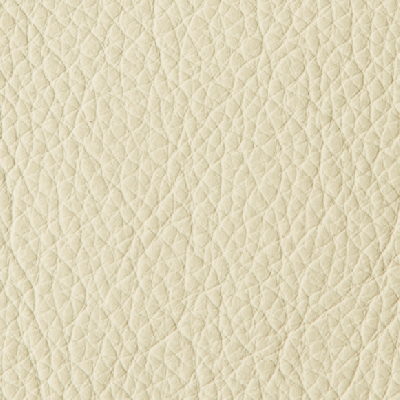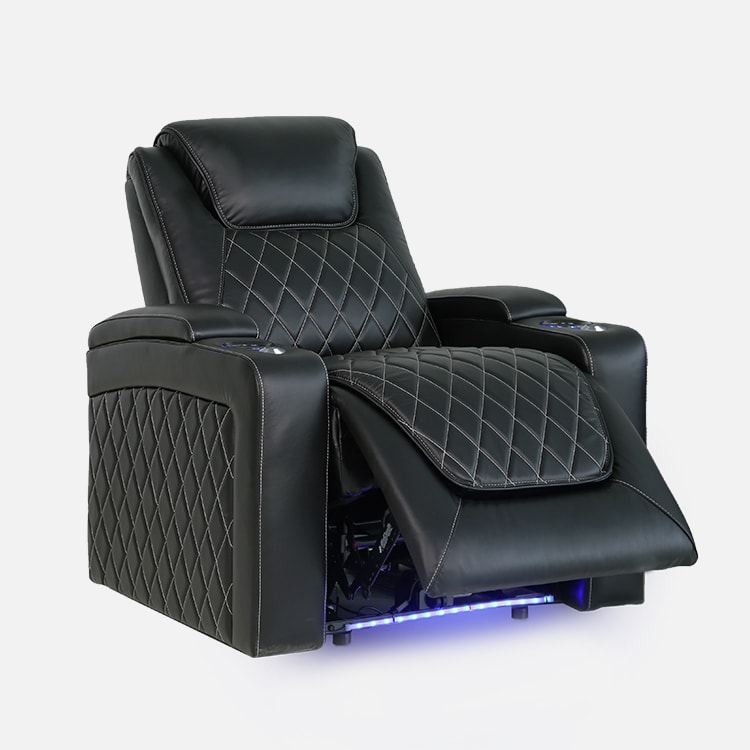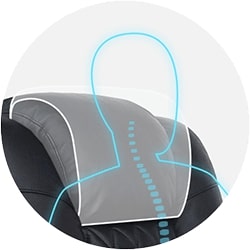 Adjustable Powered Headrest
Customization is the key to a comfortable movie experience. Take control of your comfort with the signature motorized headrest: adjusting your seat to your needs is a breeze!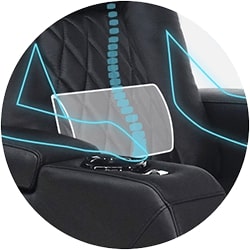 Power Lumbar Support
After a long day, your chair needs to support you in all the right places. The power lumbar support allows you to customize its firmness, supporting the curve of your spine.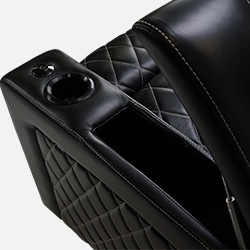 Hide-Away Storage
In your home theater, you want a place close at hand to keep all of your remotes, snacks and other devices. The convenient hideaway storage keeps everything within easy reach.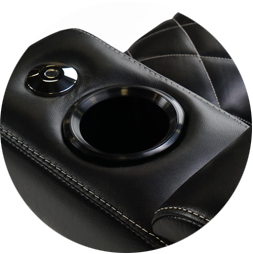 LED Cup Holder
Built-in super-sleek LED cup holders with ambient soft glow, and a USB port is included in the Tactile Control System to charge your phones and tablets.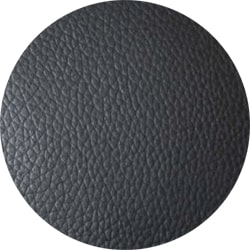 Nappa Top Grain 11000
Delight your senses and reach ultimate luxury with carefully selected full-grain Italian Nappa leather. The Diamond Quilt Stitching offers a plush surface that pampers while looking sharp.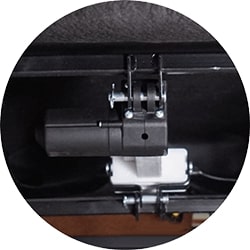 Smooth Motorized Recline
Enjoy a smooth transition from any position with our signature motorized recline system. With a gentle touch of the discreet switch, the electric drive effortlessly reclines.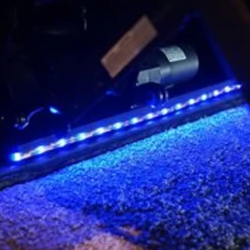 LED Ambient Light
Make your theater stand out even in a dark room. Our fully integrated LED ambient lighting make sure you can always find your your seats without disturbing fellow movie-watchers.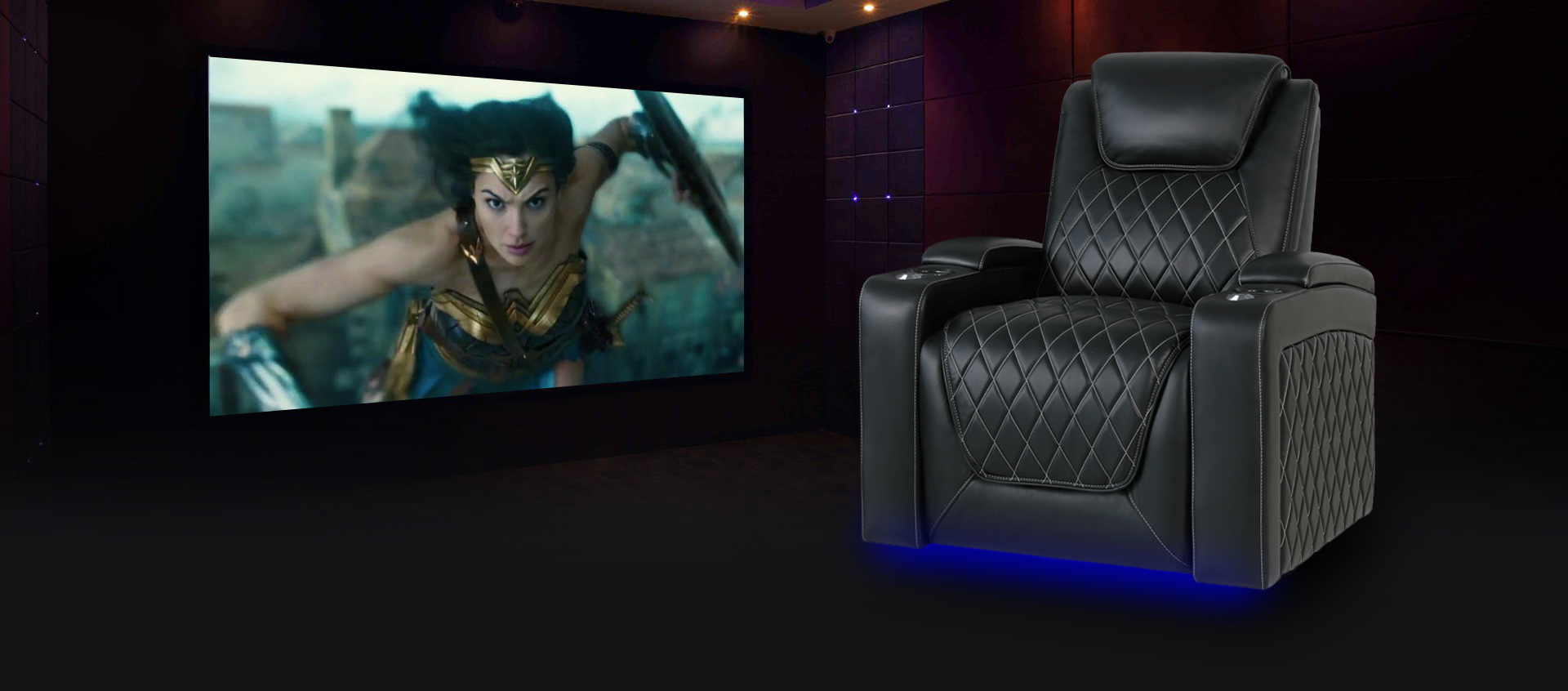 "I used to want to save the world. This beautiful place. But I knew so little then. It is a land of beauty and wonder, worth cherishing in every way."

– Wonder Woman
At Your Convenience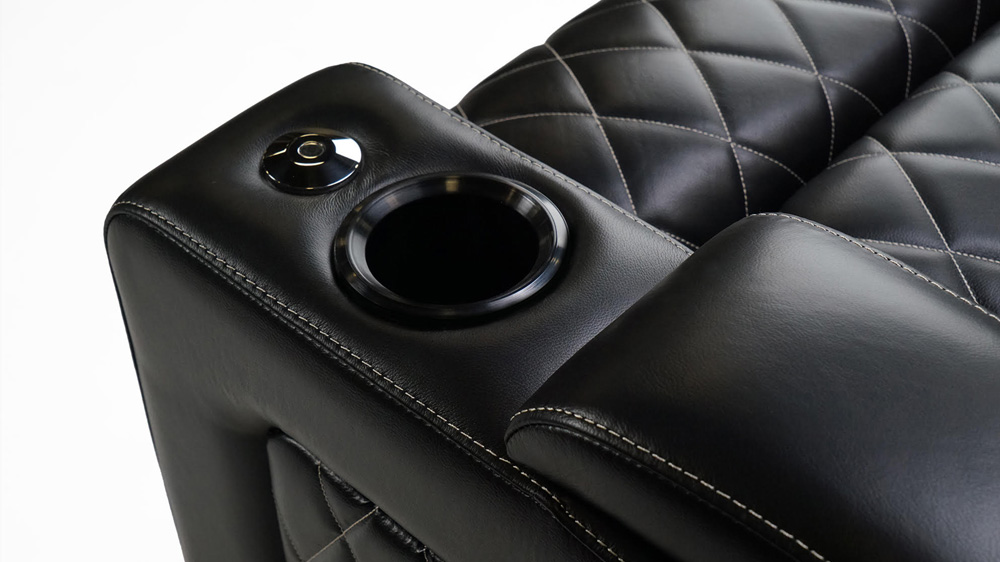 With a USB charging port, accessory mounting point, LED lights and motorized controls, always close at hand on your home theater seating, your next movie night doesn't get much easier.
Leggett & Platt Mechanism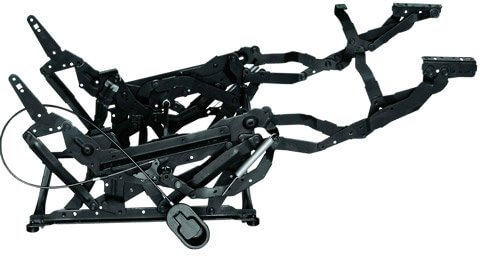 Our premium line features the internationally recognized Leggett & Platt's reclining mechanism. Designed for comfort that lasts a lifetime, and unparalleled ease of use.
Ergonomic Foam Cushions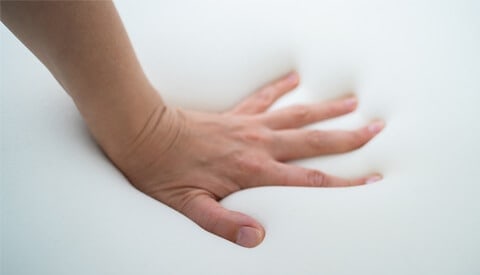 Take your evenings to the next level with Oslo's superior ergonomics. Providing support in all the right places, our double foam cushions were engineered for comfort.
Wall-Hugging Recliner Design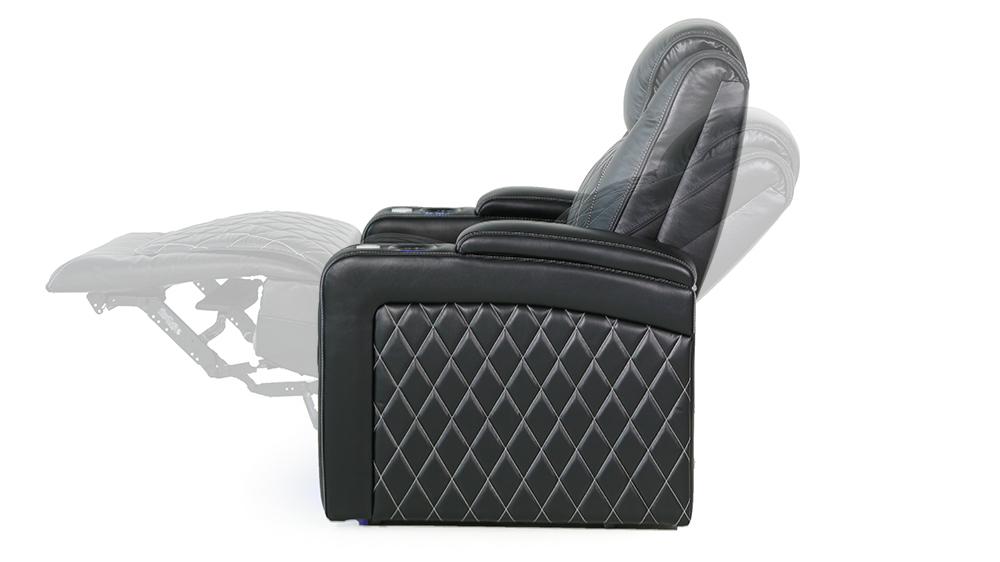 Never waste an inch with our signature wall hugger theater seating designs. Engineered to make the most out of any space while still providing an expansive feeling, even when fully reclined!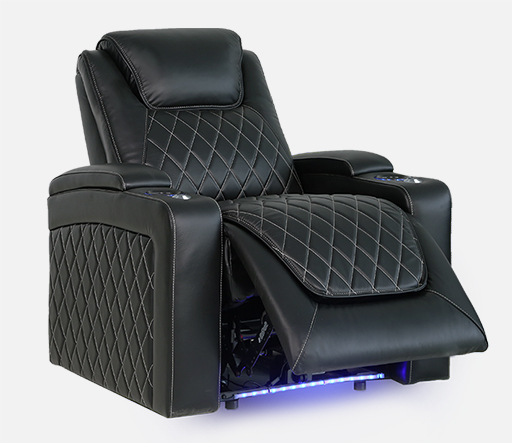 Single
Height
43 in / 109.5 cm
Width
37½ in / 95.5 cm
Depth
39 in / 99 cm
Depth – Extended
68½ in / 174 cm

Row of 2
Height
43 in / 109.5 cm
Width
68¼ in / 84.45 cm
Depth
39 in / 99 cm
Depth – Extended
68½ in / 174 cm

Row of 3
Height
43 in / 109.5 cm
Width
99 in / 251.5 cm
Depth
39 in / 99 cm
Depth – Extended
68½ in / 174 cm

Row of 4
Height
43 in / 109.5 cm
Width
129¾ in / 329.5 cm
Depth
39 in / 99 cm
Depth – Extended
68½ in / 174 cm

Row of 5
Height
43 in / 109.5 cm
Width
160½ in / 408 cm
Depth
39 in / 99 cm
Depth – Extended
68½ in / 174 cm

Loveseat
Height
43 in / 109.5 cm
Width
61½ in / 156.5 cm
Depth
39 in / 99 cm
Depth – Extended
68½ in / 174 cm

Set of 3
Height
43 in / 109.5 cm
Width
85½ in / 217.5 cm
Depth
39 in / 99 cm
Depth – Extended
68½ in / 174 cm

Set of 4
Height
43 in / 109.5 cm
Width
110½ in / 281 cm
Depth
39 in / 99 cm
Depth – Extended
68½ in / 174 cm

Curved Row of 2
Height
43 in / 106 cm
Width
74 in / 188 cm
Depth
40 in / 101.5 cm
Depth – Extended
69 in / 175 cm

Curved Row of 3
Height
43 in / 106 cm
Width
110 in / 279.5 cm
Depth
42½ in / 108 cm
Depth – Extended
70½ in / 179 cm

Curved Row of 4
Height
43 in / 106 cm
Width
146 in / 371 cm
Depth
47 in / 119.5 cm
Depth – Extended
75 in / 190.5 cm
Curved Row of 5
Height
43 in / 106 cm
Width
180½ in / 458.5 cm
Depth
51 in / 129.5 cm
Depth – Extended
79 in / 200.5 cm

Curved Loveseat Center
Height
43 in / 106 cm
Width
134 in / 340.5 cm
Depth
43¾ in / 111.5 cm
Depth – Extended
71¾ in / 182.5 cm

Loveseat Right
Height
43 in / 109.5 cm
Width
92¼ in / 234.5 cm
Depth
39 in / 99 cm
Depth – Extended
68½ in / 174 cm
Loveseat Left
Height
43 in / 109.5 cm
Width
92¼ in / 234.5 cm
Depth
39 in / 99 cm
Depth – Extended
68½ in / 174 cm

Double Loveseat
Height
43 in / 109.5 cm
Width
116¼ in / 295.5 cm
Depth
39 in / 99 cm
Depth – Extended
68½ in / 174 cm

Loveseat Center
Height
43 in / 109.5 cm
Width
123 in / 312.5 cm
Depth
39 in / 99 cm
Depth – Extended
68½ in / 174 cm
3 Year Pro-Rated Manufacturer's Warranty
Where to Buy
(Click on flag to view our buy links)