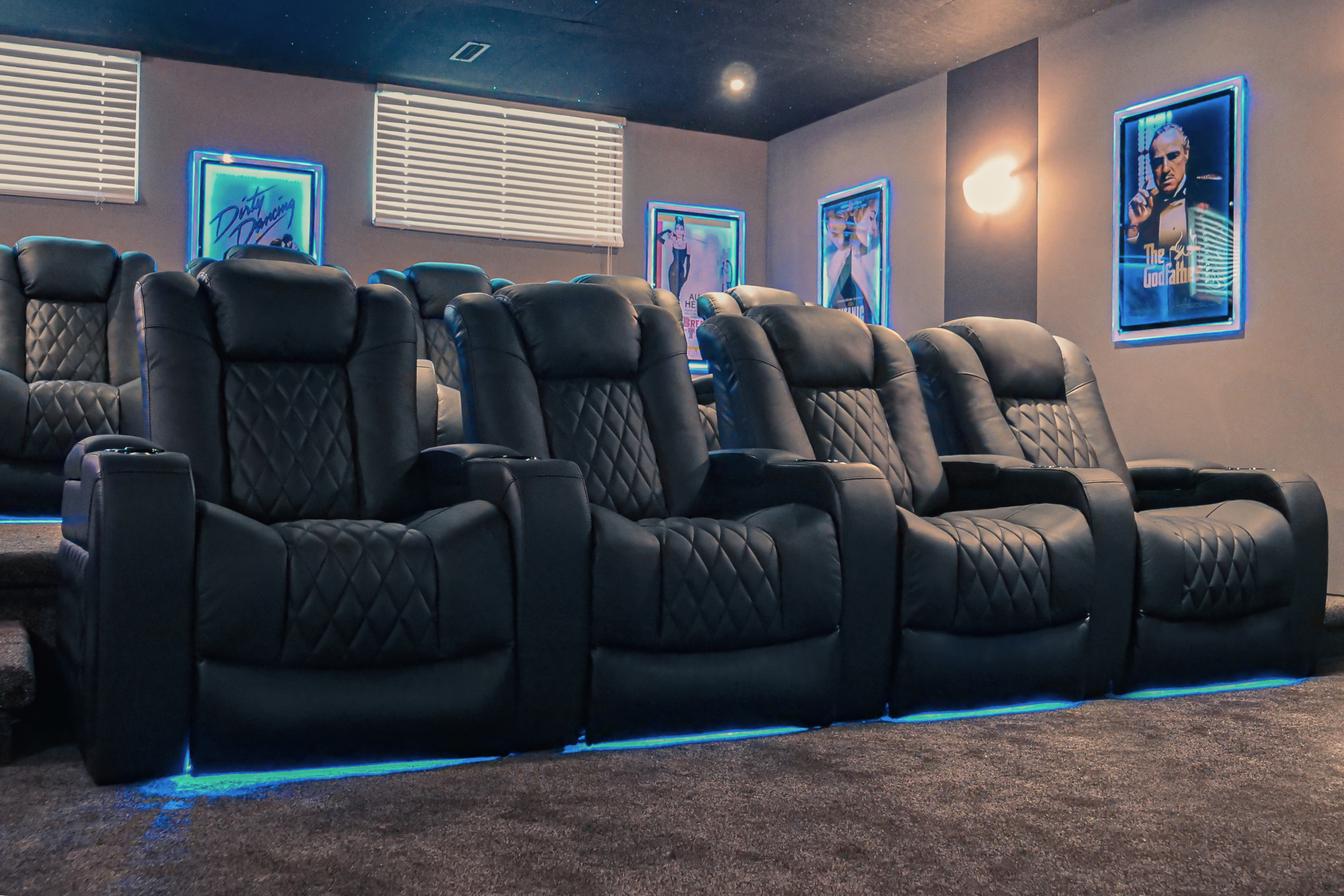 Leather and Leather-Style Options for Home Theater Seating
There are many things to think about when you're creating a home movie theater room. Between the long list of measurements you need to coordinate, and figuring out the ideal audiovisual and seating layout, you might think picking the home theater furniture itself is just a given. But not so; there's a lot more to leather (and non-leather) theater seating. And as one of the most crucial components of your new media room, the process of designing and purchasing your home theater seating should involve a bit of research and a lot of exploration into the world of custom movie theater-style furniture for the home.
Many people focus purely on the design and model of the theater seating they buy; however, it's important to think about what kind of material your home cinema chairs are made with. Non-leather theater seating like microfiber theater seats are sometimes fitting, especially if your media room furniture doubles as living room furniture. But, as leather and look-alike leather are the top choices for home cinema seating, you should know the ins and outs of what types of leather choices there are.
Full-grain, luxury Nappa leather home theater seating is what we specialize in. But we also know how to get the same quality and look of full-grain leather seating in other ways, whether it's a more affordable type of leather, or one that might be more your style. We put together this handy guide to the different types of leather that are available in the home theater seating industry so you know the pros and cons of each before you decide on your home theater furniture design.
And as we're going along, don't forget that there are over a dozen options of colored leather theater seating, as well as options for two tone leather or leather chairs with contrasting piping.
Faux Leather: a Non-Leather Theater Seating Loophole
The improvements in the quality and function of synthetic materials has led to some impressive faux leather options for furniture coverage. It is quite strong, and adds the same modern look to home theater chairs as real leather.
Pros of vegan leather theater seating are:
Faux leather theater chairs are low-maintenance.
It's ideal for budget home theater seating,
Faux leather theater seating is vegan.
Since it's technically not leather, it's easier to work with in the manufacturing process.
It's UV-resistant and doesn't crack like authentic leather-upholstered movie chairs do.
Cons to choosing faux leather media room furniture are:
The long-term durability isn't as good as real leather.
Vegan leather's sheen wears out over time, faster than real leather.
Real leather is hypoallergenic; faux leather may cause allergic reactions for some.
Despite being vegan, it's not environmentally-friendly to create faux-leather-covered home theater seating.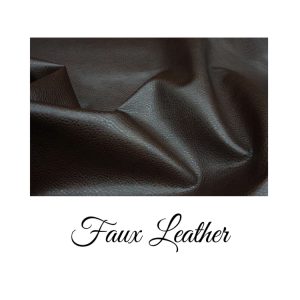 Split Grain Leather: Leather Theater Seating on a Budget
Split grain leather is made when a hide of leather is literally split. When the top outer layer is removed, the hide left is called "split grain." Split grain leather is often used for a variety of media room furniture, purses, jackets, and many other products that require leather coverings.
Pros of choosing split-grain leather for your movie theater chairs are:
This type of leather is economical, making your theater furniture more affordable.
It can be made to appear almost the same as full-grain leather.
It's really durable.
Split grain leather theater seating will stand up to kids and pets better than full-grain.
Because it's flexible, split grain leather media room furniture is comfy.
Cons of split-grain leather as theater seating upholstery are:
It's hard to maintain when compared to higher-quality types of leather.
It's comfortable; but is it the most comfortable home theater seating? No. Split-grain leather seating does have a harder texture than higher-quality leather.
It's more difficult to clean than other leather seating options – there's almost no water resistance whatsoever.
Yes, split grain leather and vegan leather have some downfalls, including a lack of breathability, which is typical of processed materials. But it looks so nice, especially if designed in two-tone leather colors, that no one will know it's budget home theater seating.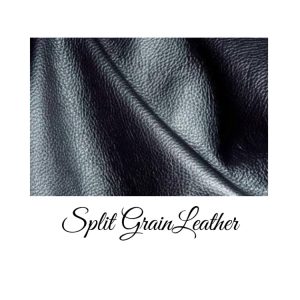 Nubuck Leather: No Pets Allowed on These Home Theater Recliners!
Nubuck leather is where top-grain leather components enter the leather-creation process. Nubuck is made from cattle rawhide, and is often used on media room furniture designs that require a softer textured look. The hides are buffed to give a soft, suede-like appearance, without most of the issues that come with trying to maintain suede.
Pros of nubuck leather theater seating are:
It's nice to the touch – it feels just as soft as it looks.
It's more durable than split-grain and vegan leather-upholstered theater chairs.
Nubuck leather is breathable.
With a simple treatment, you can virtually waterproof Nubuck leather media furniture.
Because the finish is a matte, sanded look, theater recliners made of Nubuck won't throw any intruding light around the theater, interrupting viewing quality.
Cons of choosing Nubuck leather for your home theater chairs are:
Nubuck leather is super easy to stain.
It has almost no UV resistance, so that color contrast leather seating design will fade over time.
The other side of the coin with how soft Nubuck leather theater furniture is that it'll scratch easily.
Oils will stain Nubuck leather movie seats, meaning greasy hands from wings or popcorn are now potential hazards that can ruin the leather.
Home theater chairs and entertainment room couches made of Nubuck leather are best for homes without children or pets; Nubuck is hardy, but everything that happens to it shows.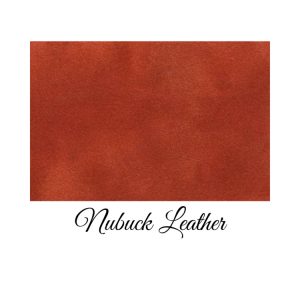 Top Grain Leather: Media Room Furniture that's Soft and Authentic
Top grain leather is very similar to full grain leather – both are created with the natural hide. The main difference between the two types of leather seating is the process that treats the surface. Top grain leather goes through a buffing process that makes it quite soft to the touch. It has a natural and warm appearance perfect for plush brown theater seating or grey theater loveseats.
Advantages of designing home theater furniture in top grain leather are:
You can still choose colors like red, white, orange, or two tone leather for your theater seating.
Top Grain leather is both durable and low-maintenance.
The sanding and buffing process top grain leather goes through make for leather media room seats that are super-resistant to things like wine stains and popcorn butter.
Top Grain leather home theater seating is consistent in texture and color. In fact, if you add a color like orange or two tone black and white patterns on your seating, the leather becomes more resistant to stains.
It's less expensive than full grain leather.
If you take care of them correctly, theater seats covered in top grain leather can last you well over a decade.
Disadvantages of top grain leather are hard to come by, but important to consider:
It's less durable than full grain leather.
Like Nubuck, theatre-style movie seats covered in top grain leather are easily scratched.
If neglected or exposed to too much sun, top grain leather will crack.
When you weigh the absolute giant of a pro that is top grain leather's resistance to oil absorption against the con that is how easily it fades in sun, choosing top grain leather for your home theater sectionals, sofas, loveseats or rows of recliners seems like a pretty good idea. Your home movie theater probably (hopefully) isn't full of windows and natural light… that's sort of, not the point of a movie theater.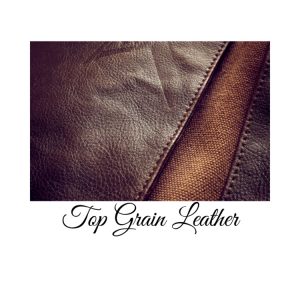 Full Grain Leather: Valencia Home Theater's Pride and Joy
Full grain leather is considered the most authentic leather, typically only used in high-end furniture. Once the animal hair is removed from the hide, it is soaked in natural dye. With no other treatments besides the tanning process, the leather keeps the original texture and look of the actual hide. It is pure, so, naturally, designing home theater seating with full grain leather upholstery is more expensive than the other types of leather and non-leather seating options.
Features that make full grain leather something to consider fitting in the budget for your home theater seating are:
While it might seem a bit stiff at first, over time and use, the leather becomes softer to the touch. That means that, coupled with the foam-core cushion and lumbar support settings, your home theater recliner slowly forms to your body over time, from the inside out.
As long as it gets the care it needs, your media room furniture stays beautiful even as it wears in. See? You don't have to sacrifice great appearance for great ergonomics.
Full grain leather lasts the longest of the 5 types of leather.
Worn-in full grain leather media room recliners are super soft, and make for the most comfortable home theater seating options.
Obviously, full grain leather seating is going to be more expensive than vegan leather movie chairs, and it's also going to take more care. But think about it this way: Do you really think someone drops $100K on a luxury sports car and then leaves it to rot in a dark garage for years? No – you take care of your investments. Regular cleaning and conditioning of full-grain leather is going to result in durable, comfy theater seating that ages gracefully.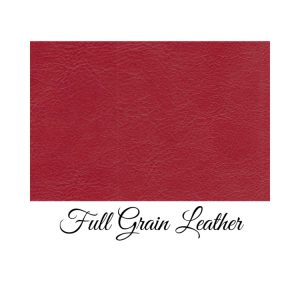 A Commitment to Luxurious Leather Home Theater Furniture
Valencia's theater seating uses the best qualities of top and full grain leather. Our cinema seating uses Nappa 9000 and 11000 leather: soft, full-grain that has a natural look and feel, and a durable finish. Often seen in luxury car interiors, Valencia is proud to offer customers the best in home theater recliners, in comfort, quality and style.
Between the craftsmanship and comfort of your home theater seating from Valencia, anyone who sits on your media room furniture will wonder how in the world you can afford such nice home theater seating.
Browse our collections of designer home theater furniture, and use our 3D Customizer to curate your own media room home theater seating.