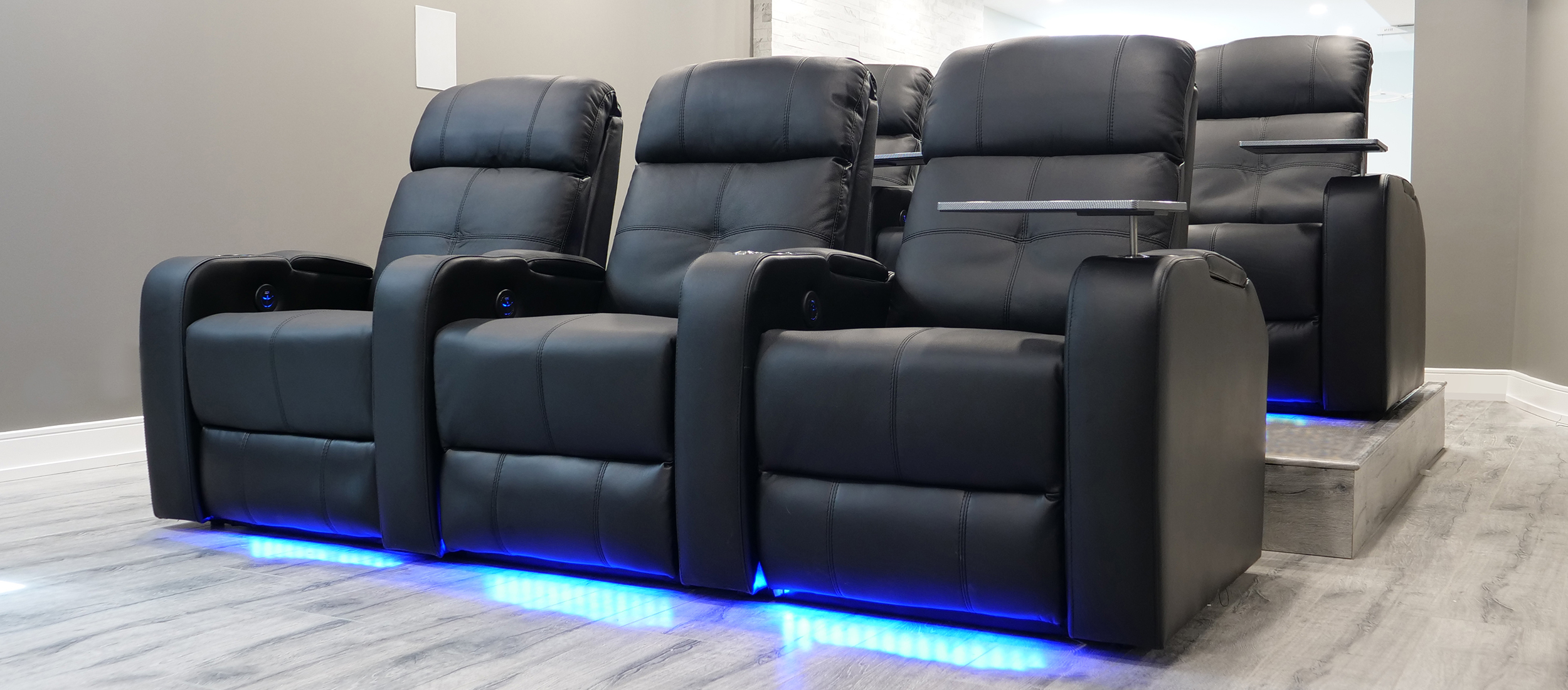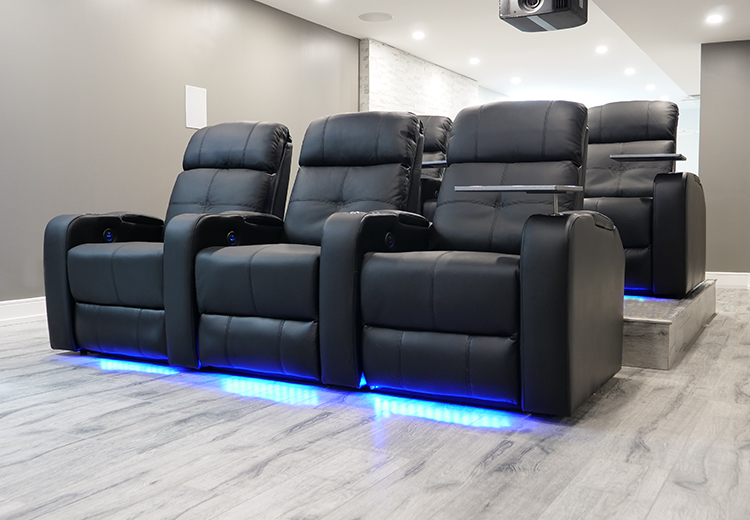 Valencia Verona Home Theater Seats – Powered Headrest
You've created a house that is a masterpiece of design and comfort. You deserve to have the very best in furnishings for your living space. You want comfort and style that blend together seamlessly. Enter the Verona theater seating system. This combination of luxury and modern design compliments any room in your refuge, and will be the envy of your friends and neighbors.
Now, you can have it all; whether to compliment your man cave, or to add a touch of class to your family room, the Verona system fits every taste. The padded cushions provide great lumbar support, and the chaise-style recliner offers you a great way to kick back and relax after a long day, watching your favorite movies or playing exciting video games with your friends and family.
Premium Leather Selection
Click to Expand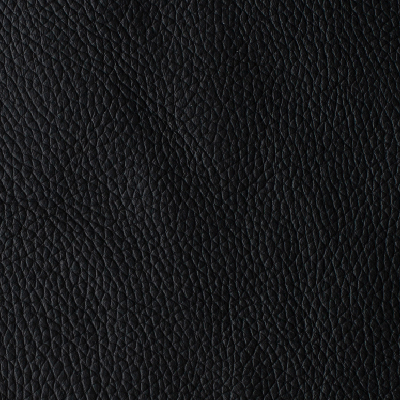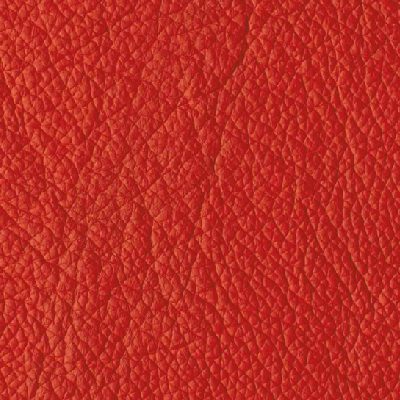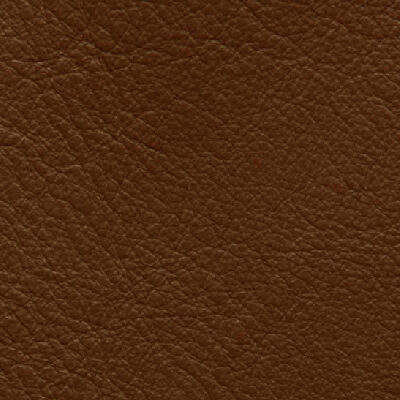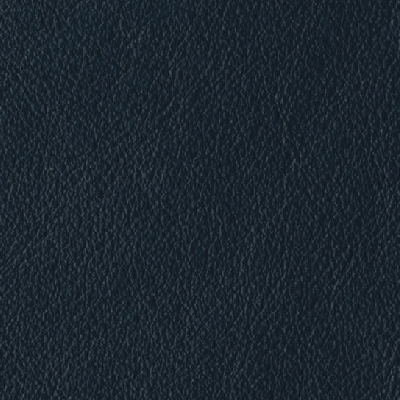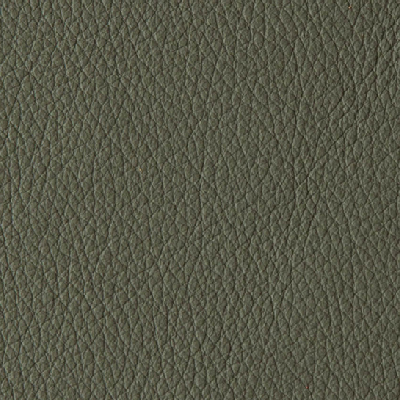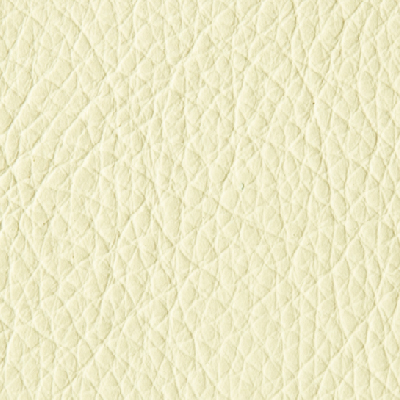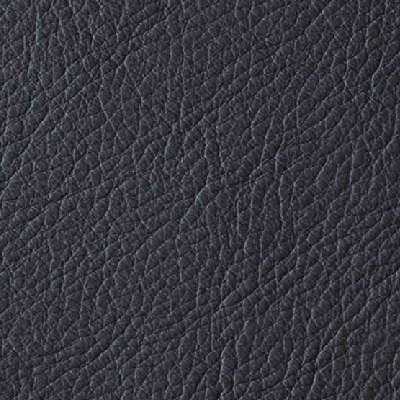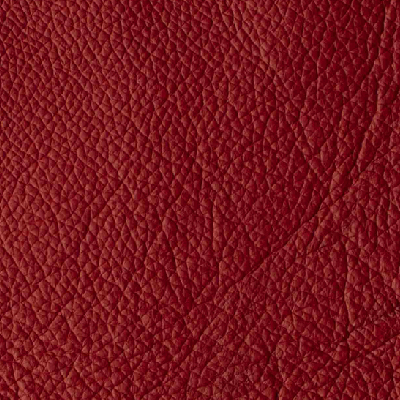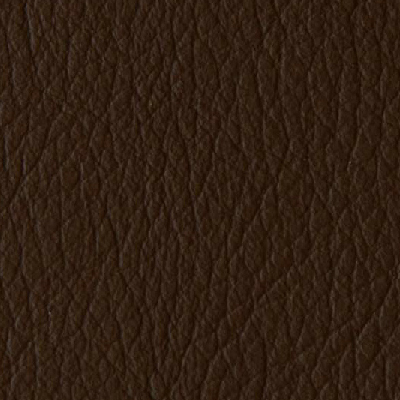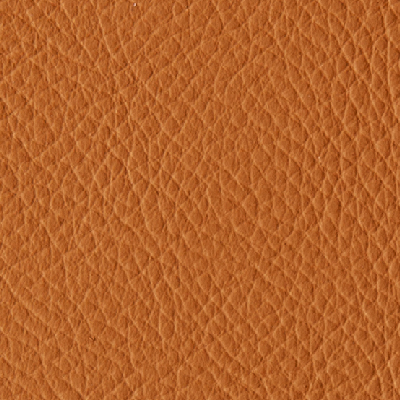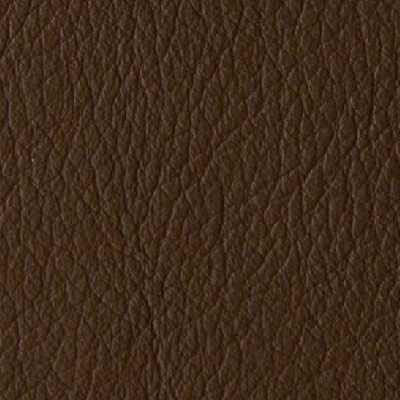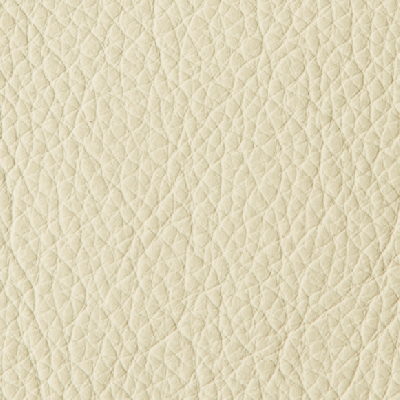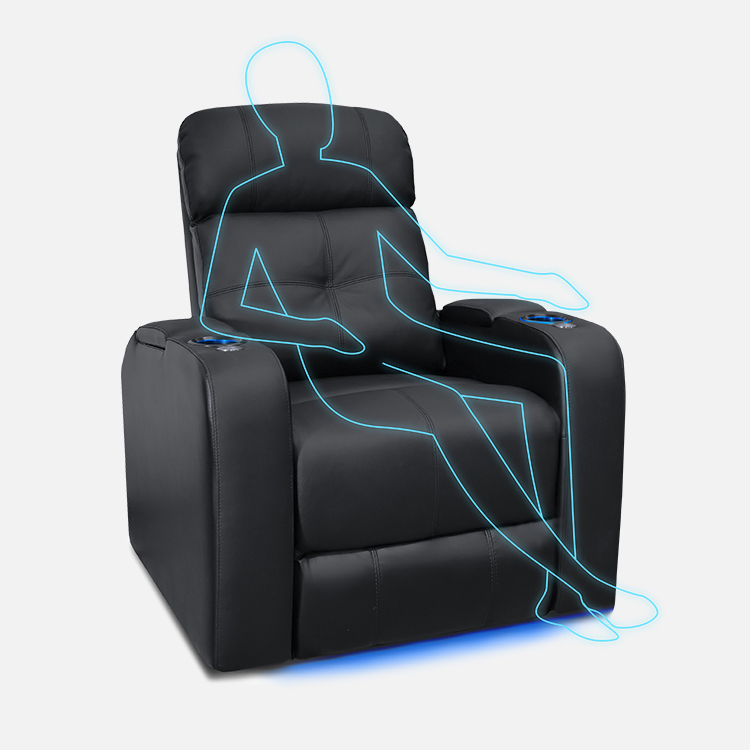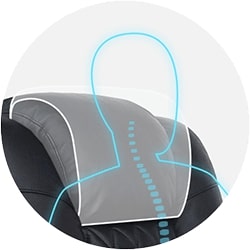 Adjustable Powered Headrest
Customization is the key to a comfortable movie experience. Take control of your comfort with the signature motorized headrest: adjusting your seat to your needs is a breeze!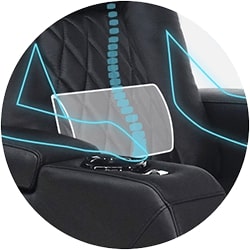 Power Lumbar Support
After a long day, your chair needs to support you in all the right places. The power lumbar support allows you to customize its firmness, supporting the curve of your spine.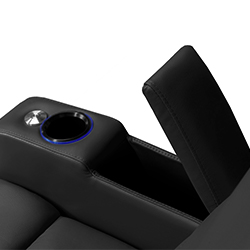 Hide-Away Storage
In your home theater, you want a place close at hand to keep all of your remotes, snacks and other devices. The convenient hideaway storage keeps everything within easy reach.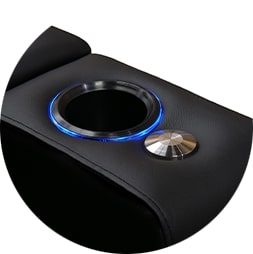 LED Cup Holder
Built-in super-sleek LED cup holders with ambient soft glow, and a USB port is included in the Tactile Control System to charge your phones and tablets.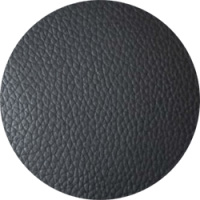 Top Grain Italian Leather 9000
Smooth and durable, enjoy the comfort and durability of Italian leather. All seating surfaces are dressed in the finest quality Italian leather, that will only get better with time.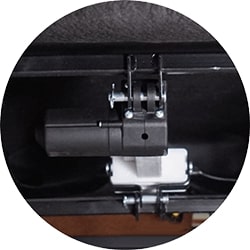 Smooth Motorized Recline
Enjoy a smooth transition from any position with our signature motorized recline system. With a gentle touch of the discreet switch, the electric drive effortlessly reclines.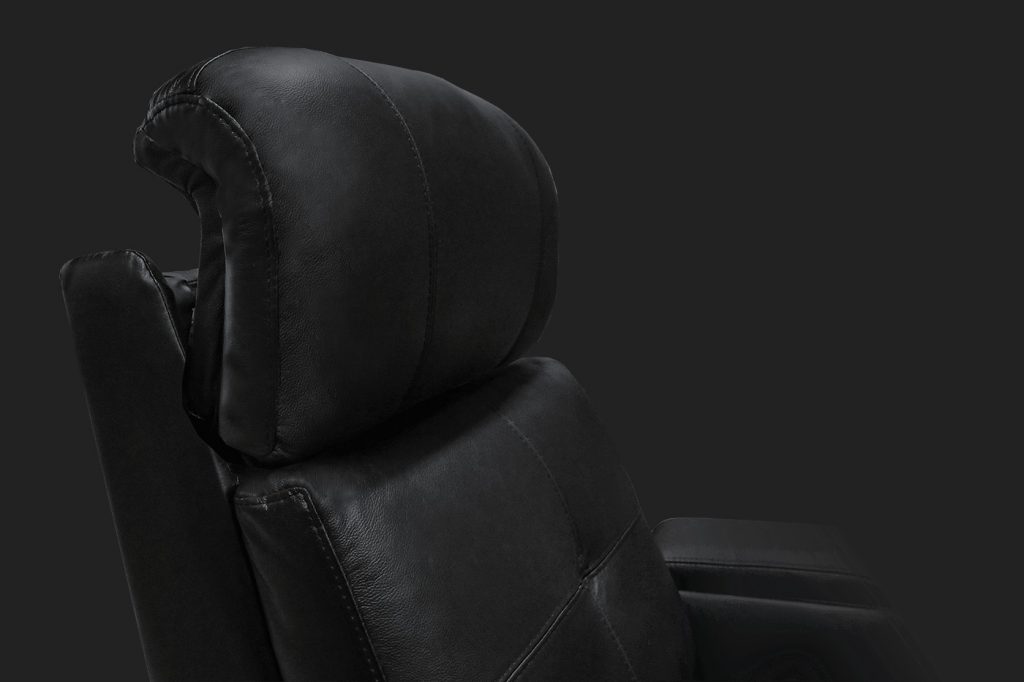 ADJUSTABLE POWER HEADREST
Verona series now come with motorized headrest. You can adjust the headrest to have the perfect viewing experience at any position.
At Your Convenience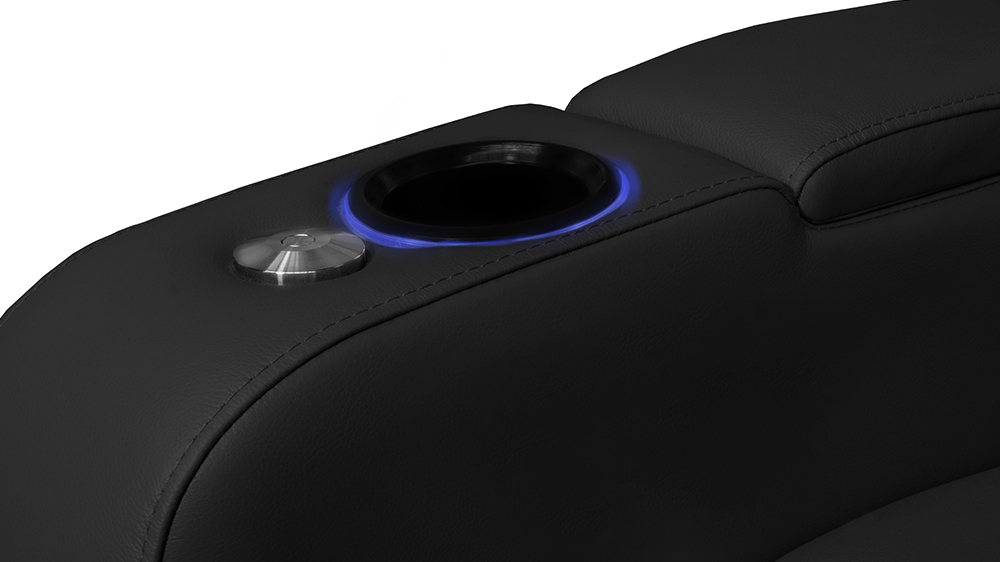 With a USB charging port, accessory mounting point, LED lights and motorized controls, always close at hand on your home theater seating, your next movie night doesn't get much easier.
Leggett & Platt Mechanism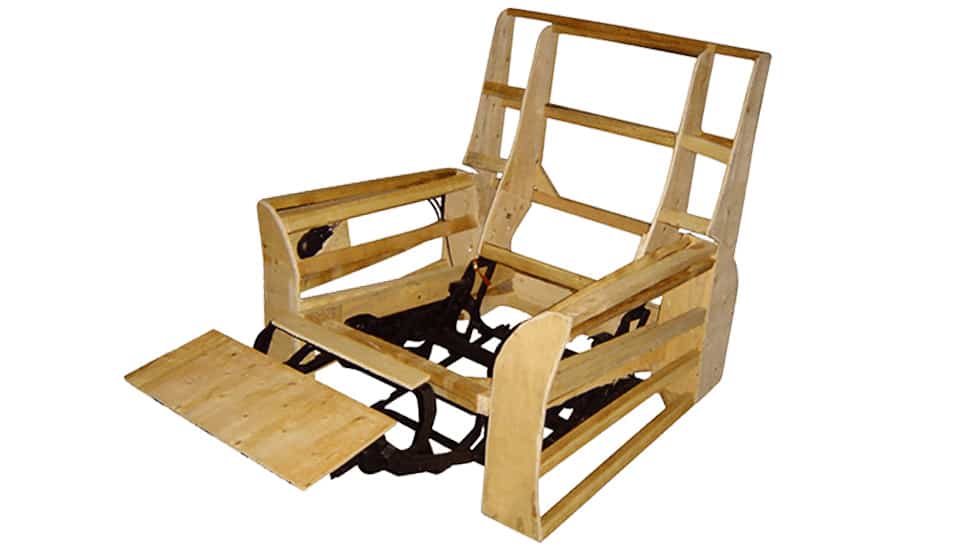 Ensure your home theater keeps up with your lifestyle. The steel and wood construction of our seating options offers durable furniture that will stand the test of time.
Full Spectrum of Colors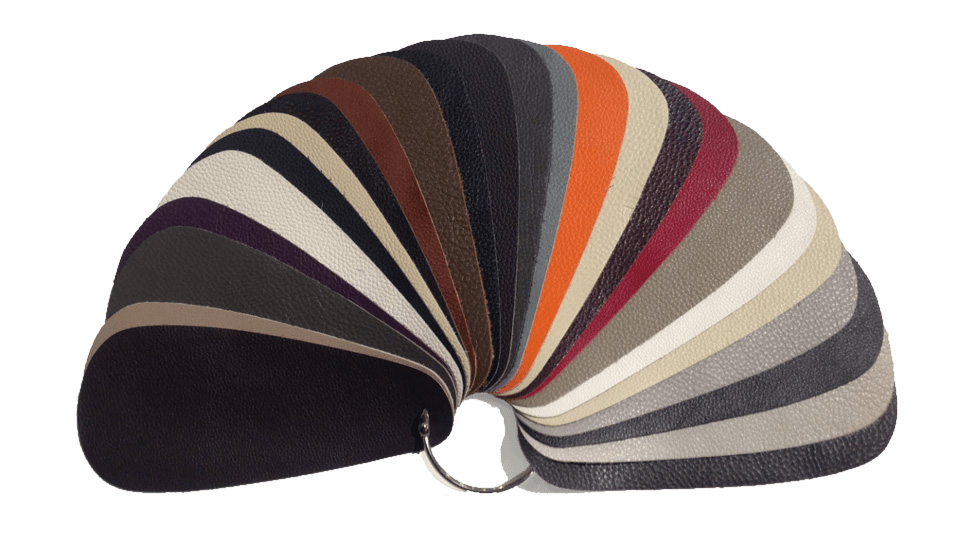 Make your home theater truly yours and customize every last detail. We offer a wide range of options to ensure your seating perfectly complements your style.
Wall-Hugging Recliner Design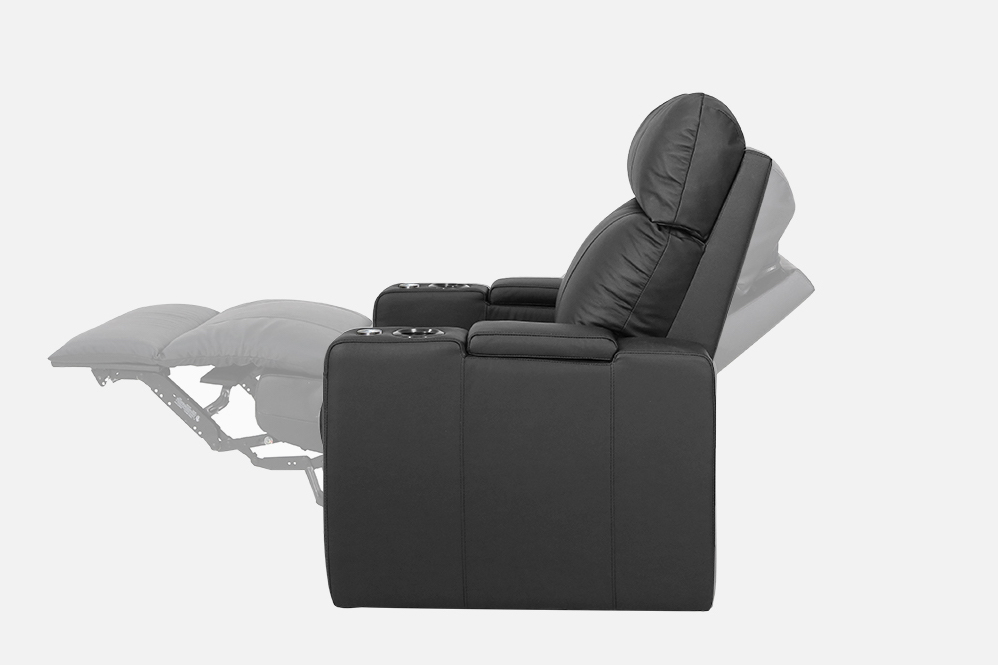 Never waste an inch with our signature wall hugging design. Engineered to make the most out of any space while provide an expansive feeling, even when fully reclined!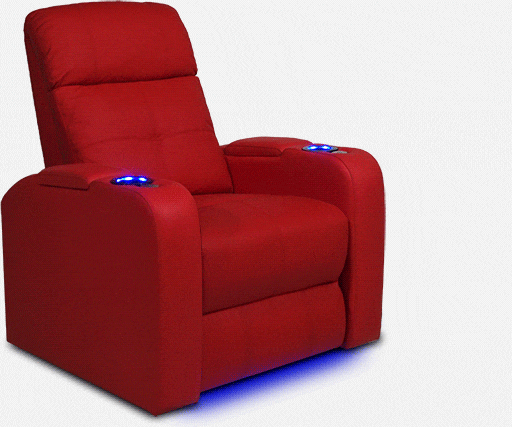 Single
Height
42 in / 107 cm
Width
34 in / 86.5 cm
Depth
36 in / 91.5cm
Depth – Extended
66 in / 167.5 cm

Row of 2
Height
42 in / 107 cm
Width
61¾ in / 157 cm
Depth
36 in / 91.5cm
Depth – Extended
66 in / 167.5 cm

Row of 3
Height
42 in / 107 cm
Width
89½ in / 227.5 cm
Depth
36 in / 91.5cm
Depth – Extended
66 in / 167.5 cm

Row of 4
Height
42 in / 107 cm
Width
117¼ in / 298 cm
Depth
36 in / 91.5cm
Depth – Extended
66 in / 167.5 cm

Row of 5
Height
42 in / 107 cm
Width
145 in / 368.5 cm
Depth
36 in / 91.5cm
Depth – Extended
66 in / 167.5 cm

Loveseat
Height
42 in / 107 cm
Width
55½ in / 141 cm
Depth
36 in / 91.5cm
Depth – Extended
66 in / 167.5 cm

Set of 3
Height
42 in / 107 cm
Width
77 in / 195.5 cm
Depth
36 in / 91.5cm
Depth – Extended
66 in / 167.5 cm

Set of 4
Height
42 in / 107 cm
Width
98½ in / 250.5 cm
Depth
36 in / 91.5cm
Depth – Extended
66 in / 167.5 cm

Curved Row of 2
Height
42 in / 107 cm
Width
67¾ in / 172 cm
Depth
37¼ in / 94.5cm
Depth – Extended
67¼ in / 171 cm

Curved Row of 3
Height
42 in / 107 cm
Width
101½ in / 258 cm
Depth
40 in / 101.5cm
Depth – Extended
70 in / 179 cm

Curved Row of 4
Height
42 in / 107 cm
Width
134 in / 340.5 cm
Depth
43 in / 109.5cm
Depth – Extended
73 in / 185.5 cm
Curved Row of 5
Height
42 in / 107 cm
Width
166¾ in / 423.5 cm
Depth
47½ in / 121cm
Depth – Extended
77½ in / 198 cm

Curved Loveseat Center
Height
42 in / 107 cm
Width
123½ in / 314 cm
Depth
40 in / 101.5cm
Depth – Extended
70 in / 178 cm

Loveseat Right
Height
42 in / 107 cm
Width
88¼ in / 211.5 cm
Depth
36 in / 91.5cm
Depth – Extended
66 in / 167.5 cm
Loveseat Left
Height
42 in / 107 cm
Width
88¼ in / 211.5 cm
Depth
36 in / 91.5cm
Depth – Extended
66 in / 167.5 cm

Double Loveseat
Height
42 in / 107 cm
Width
104¾ in / 266 cm
Depth
36 in / 91.5cm
Depth – Extended
66 in / 167.5 cm

Loveseat Center
Height
42 in / 107 cm
Width
111 in / 282 cm
Depth
36 in / 91.5cm
Depth – Extended
66 in / 167.5 cm

Row of 5 Set of 3 Center
Height
42 in / 107 cm
Width
132½ in / 336.5 cm
Depth
36 in / 91.5cm
Depth – Extended
66 in / 167.5 cm
2 Year Pro-Rated Manufacturer's Warranty
Where to Buy
(Click on flag to view our buy links)