Of all the ways you can customize your choice of media room furniture from Valencia, did you know you can choose between straight or curved rows of seating? You would be surprised at the big differences that can result from adding a slight arc to your rows of multimedia chairs.
Curved home theater seats are an option you may not have thought of when designing your home's media room. It's easy to get stuck in the traditional idea of straight-row, stadium-style theater seating you see in movie theaters and auditoriums, but curved rows of seating have some advantages to consider before you make any decisions. For instance, from a design perspective, curved seating accentuates the natural flow of the room and guides the eye along. From a home theater perspective, everyone gets a good viewing angle when it's movie night—what's not to love? Naturally, there a ton of other reasons to consider curved home theater seating.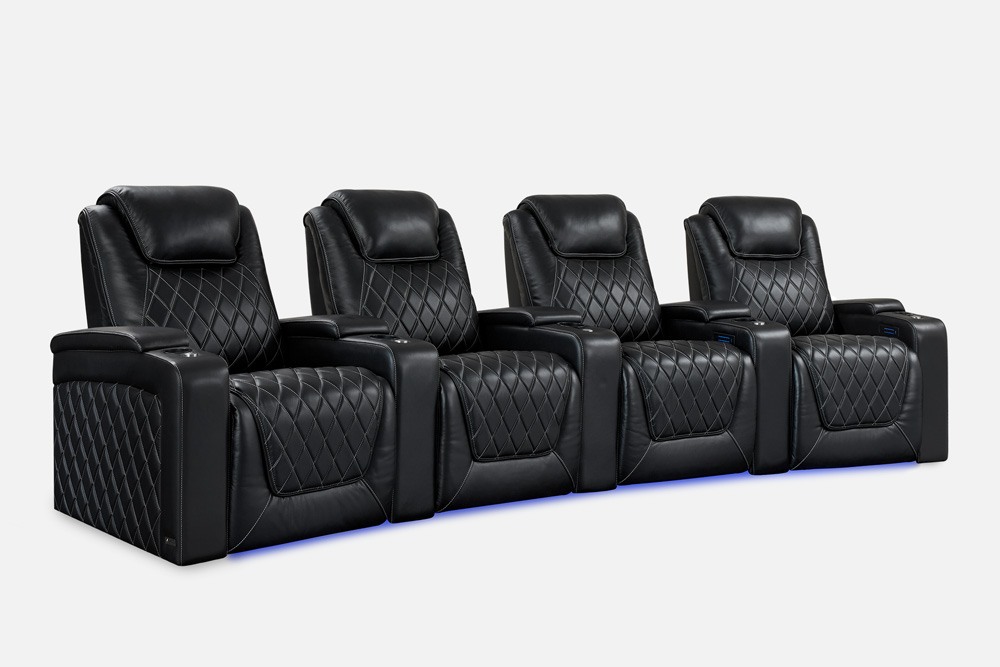 Curved Rows of Seating Offer Better Viewing Angles
We've all been there before at a movie theater—you ran a little bit behind, rushed to the theater, and you weren't able to get a good seat, resulting in you having to crane your neck to see the screen well. With curved rows of home theater seating, this is a thing of the past! Curved rows of 4 or 6 seat home theater recliners give the people at the ends of the row a better viewing angle than straight rows, while also giving you a little more personal space from the person next to you. Especially in smaller home theaters where the first row of seating is pretty close to the projector screen, curving your row of seating ensures everyone has a good view, even up close where viewing angles are narrow. 
Curved Rows of Theater Recliners Create a More Intimate Setting
While you may not want a real, supremely cozy feel if your home theater is a man cave mostly for rowdily-watching sports events, curved home theater seats give the room and the movie experience a cozier vibe than straight rows, and encourage more interaction. After all, with a slight curve to your media room furniture, you'll be able to see everyone's faces better, which will foster more chit-chat and bonding over comedic or emotional movie moments. Arced multimedia seats are a great choice for small private theaters for just a few people, or as a wide front row in a larger media room for entertaining guests.
You Can Mix Up Your Media Room Seating Layout
Changing up and experimenting with different seating layout is another reason curved home theater seating can be a great seating solution for small home theaters and basement media rooms. It's amazing what a slight curve on a row of movie chairs can do for optimizing use of space. Where you thought you might only have room for rows of 3, with a curved row of seats you might be able to fit 4 in a row instead since your seating won't be in a straight line.
If your media room is oddly shaped, you can mix and match the furniture in your home theater. Use curved seating for some rows, straight seating for others, like a 2 seat home theater recliner. The farther you are from the TV or projector, the wider the viewing angle, so consider using straight rows behind a curved one for a media room seating idea.
Curved Rows of Multimedia Seats Scream Luxury
Well, your Valencia home theater recliners scream luxury in any movie room layout. With our premium materials and superior construction, that's a fact. But we all know the significant visual differences that can happen with small changes like curved rows of seats vs straight. Whether you choose a curved row of 6 chairs with a home theater riser platform and multimedia sectional behind it, or do that traditional stadium seating but all curved rows instead of straight, choosing arced home theater seating is a high-end designer aesthetic that is sure to add some extra visual movement and flow to your home theater room.
Whether it's a better home theater viewing experience, finding the coziest movie-watching couch, or the pursuit of an interesting mix of seating options and design, curved home theater seats are worth considering. Check out our 3D customizer and experience the possibilities of seating layouts for your media room, whatever they may be.