Curved furniture has long been trending. From curved bouclé sofas to sectionals, the slight arc is making a comeback in a big way in interior design, and it can be seen gracing the covers and pages of numerous publications. With all of that being said, why not apply this trend to your entertainment room sofas and chairs?  
Of all the ways you can customize your choice of media room furniture from Valencia, did you know you can choose between straight or curved rows of seating? You would be surprised at the big differences that can result from adding a slight arc to your rows of multimedia chairs.
Curved home theater seats are an option you may not have thought of when designing your home's media room. It's easy to get stuck in the traditional idea of straight-row, stadium-style theater seating you see in movie theaters and auditoriums, but curved rows of seating have some advantages to consider before you make any decisions.
Curved theater seating has the unique ability to create potential solutions for tricky room design—if you have an oddly-shaped room that doesn't quite allow for normal rows of entertainment room chairs that butt up against your walls, having that slight curve there can save your room from feeling too cramped. From a design perspective, curved seating also accentuates the natural flow of the room and guides the eye along. From a home theater perspective, everyone gets a good viewing angle when it's movie night—what's not to love? Naturally, there are a ton of other reasons to consider curved home theater seating.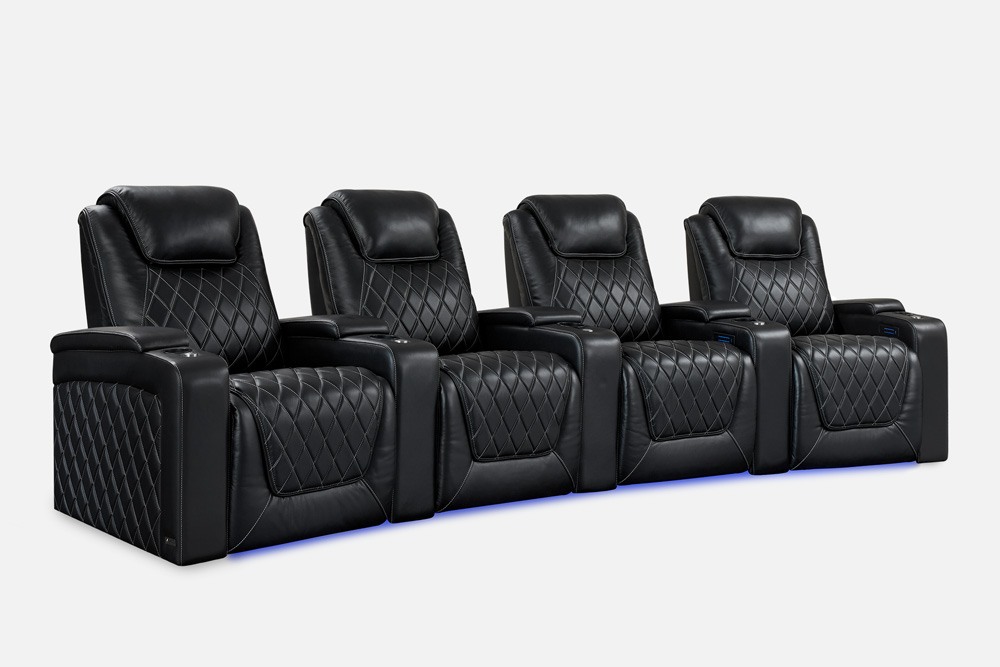 Curved Rows of Seating Offer Better Viewing Angles
We've all been there before at a movie theater—you ran a little bit behind, rushed to the theater, and you weren't able to get a good seat, resulting in you having to crane your neck to see the screen well. It's not a fun experience, and it can quickly take the excitement out of watching that movie you were racing to see when you constantly have to stretch your stiff neck. Thankfully, with curved rows of home theater seating, this is a thing of the past! Surprisingly, given the all-too-common predicament above, humans have known curved seating offers better viewing angles—after all, there's a reason amphitheaters were often built with curved seating, and it was to allow everyone a solid view of the stage.
Curved rows of 4 or 6 seat home theater recliners give the people at the ends of the row a better viewing angle than straight rows, while also giving you a little more personal space from the person next to you. Especially in smaller home theaters where the first row of seating is pretty close to the projector screen, curving your row of seating ensures everyone has a good view, even up close where viewing angles are narrow. At the very least, if you have entertainment room seating for 5 people or more, you'll really want to consider going with curved seating to ensure that everyone gets a good view of the screen and isn't left craning their neck or leaning off to the side to see a better view. For those looking for more guidance on how many entertainment seats their home theater might need, check out our helpful guide on assessing your space and needs.
Curved Rows of Theater Recliners Create a More Intimate Setting
There's something about the slight arc of curved seating that makes everything feel just a little bit more tight-knit and cozy. In a sense, it creates its own space within the room it's in—the modern equivalent to conversation pits from the 70s. While you may not want a real, supremely cozy feel if your home theater is a man cave mostly for rowdily-watching sports events, curved seating for your man cave shouldn't be off the table, because it allows for better connection, even if you're goofing around with your best buds.
Curved home theater seats give the room and the movie experience a cozier vibe than straight rows, and encourage more interaction. It's essentially shape science—curves and rounded features are often seen by us as friendly and inviting. Thus, when applied to things like entertainment room seating, those feelings spur interaction and conversation with those surrounding you. After all, with a slight curve to your media room furniture, you'll be able to see everyone's faces better, which will foster more chit-chat and bonding over comedic or emotional movie moments. Arced multimedia seats are a great choice for small private theaters for just a few people, or as a wide front row in a larger media room for entertaining guests.
The comfort and connection that your curved multimedia seating can provide is unparalleled. When you have a row of 6 chairs for your home theater seating layout, being able to see everyone and chat during your movie-watching experience really can make all the difference. No one wants to be stuck staring straight ahead at a screen or not getting a good viewing angle—leave those experiences for the theater-goers. 
You Can Mix Up Your Media Room Seating Layout
Changing up and experimenting with different seating layouts is another reason curved home theater seating can be a great seating solution for small home theaters and basement media rooms. It's never a bad thing to experiment with your seating layouts—for example, having a normal, straight row of entertainment chairs for 4 people in the front, and then having a longer, curved row of 5 theater chairs in the back on entertainment room platforms not only ensures the people on the ends in the back still have a good angle of the screen, but it also allows everyone in the back to see over the people sitting in the front.
 It's amazing what a slight curve on a row of movie chairs can do for optimizing use of space. In the past, you might have had some entertainment seating that came right up against the wall, but with curved seating, the slight arc actually makes better use of your space and allows for more seating. Where you thought you might only have room for rows of 3, with a curved row of seats you might be able to fit 4 in a row instead since your seating won't be in a straight line.
If your media room is oddly shaped, you can mix and match the furniture in your home theater. Use curved seating for some rows, straight seating for others, like a 2 seat home theater recliner. The farther you are from the TV or projector, the wider the viewing angle, so consider using straight rows behind a curved one for a media room seating idea. If you want to really experiment with your home theater, curved seating gives you tons of options and allows you to get creative. If you don't want your seating front and center, try placing some of your arced theater seating slightly askew and left or right of center of your television—the curvature of the seating layout will still allow everyone to have a good view of the screen. 
When you think about, curved seating is a lot more modular than regular seating in the sense that it opens up so many more possibilities of what you can do with your room.
Curved Rows of Multimedia Seats Scream Luxury
It's no secret that the elegant arches of curved multimedia seats scream luxury… well, your Valencia home theater recliners scream luxury in any movie room layout. With the soft and buttery smooth leather of Gruppo Mastrotto and the attention to detail at every turn and stitch of our manufacturing, you're guaranteed superior quality in every Valencia product. But we all know the significant visual differences that can happen with small changes like curved rows of seats vs straight. 
As we briefly mentioned, curved seating is kind of taking the design world by storm right now, and it's no wonder why. Curved furniture has the unique ability to immediately soften any room it's placed in with its sculptural curves and graceful arcs. To really make your curved theater room seating pop in your space, try keeping it placed away from walls to highlight its form best. 
Whether you choose a curved row of 6 chairs with a home theater riser platform and multimedia sectional behind it, or do that traditional stadium seating but make them all curved rows instead of straight, choosing arced home theater seating is a high-end designer aesthetic that is sure to add some extra visual movement and flow to your home theater room—and who doesn't want that? Adding curved seating to your home theater is a quick and effective way to give it that designer look without putting much budget into new accessories and smaller pieces of décor. And who knows? You might end up loving that style of seating so much that you want to add it to more rooms in your home!
Whether it's a better home theater viewing experience, finding the coziest movie-watching couch, or the pursuit of an interesting mix of seating options and design, curved home theater seats are worth considering. Check out our 3D customizer and experience the possibilities of seating layouts for your media room, whatever they may be.