Ever wonder what it would be like to bring the full movie theater experience to your home? Having that familiar cinema vibe, from the comfort and security of your basement? Here's a step-by-step guide on how to build your ultimate home theater room.
STEP 1: Optimizing Screen Distance and Theater Seating Layout
When measuring your space, keep two factors in mind: is this room multi-functional, or do you want it strictly designated as a theater room? You'll need a room of at least 10'x12' if you prefer a large-scale visual display, such as a projector and screen setup. There are short-throw projectors that might stretch those dimensions a bit, but if your DIY home theater room is smaller than 10'x12', it might be a good idea to think of other theater furniture and audiovisual setup ideas.
Typically, flatscreen TVs cater better to smaller-scale rooms, while projectors are better for larger-scale. In a tight space, get two rooms for the price of one by choosing a seating layout that includes a home theater couch and a movie watching rig that features a 4K TV. You get a den and a media room; all you had to do was compromise on having rows of theater seats in stadium style.
Pro tip: Ideal screen size for a home theater is 100"-150", with the theater chairs placed 8'-20' away from the screen. The ideal space within a screen's viewing cone is 45-50 degrees.
Open-Layout Media Room Setups for Small Spaces
If you're limited on space but still want the theater-like experience, an open-plan media room might be the choice for you. Media rooms can be multi-functional, and often function as another family room in a home. But that doesn't mean an open floor plan can't make the space feel bigger. With an open-plan media room, you're going to want at least a 10' distance between seating and the screen, if you add speakers behind or below to preserve space, 8'-9' will suffice just fine! If you're really fancy, there is the option to mount your screen inside the ceiling, allowing it to be hidden when not in use.
Consider the style of your theater furniture as well. Some models of theater recliners, couches and loveseats are sleek and slim (read: space-saving). Wall-hugging theater seating as well can ensure that a fully-reclined theater seat doesn't make getting around the room difficult.
Ultra-Short-Throw Projectors can also save space. Short-throw projectors use wide-angle lenses and mirrors, and cast a large image onto the screen from a very short distance. With this you will generally use a sleek, in-wall surround sound system.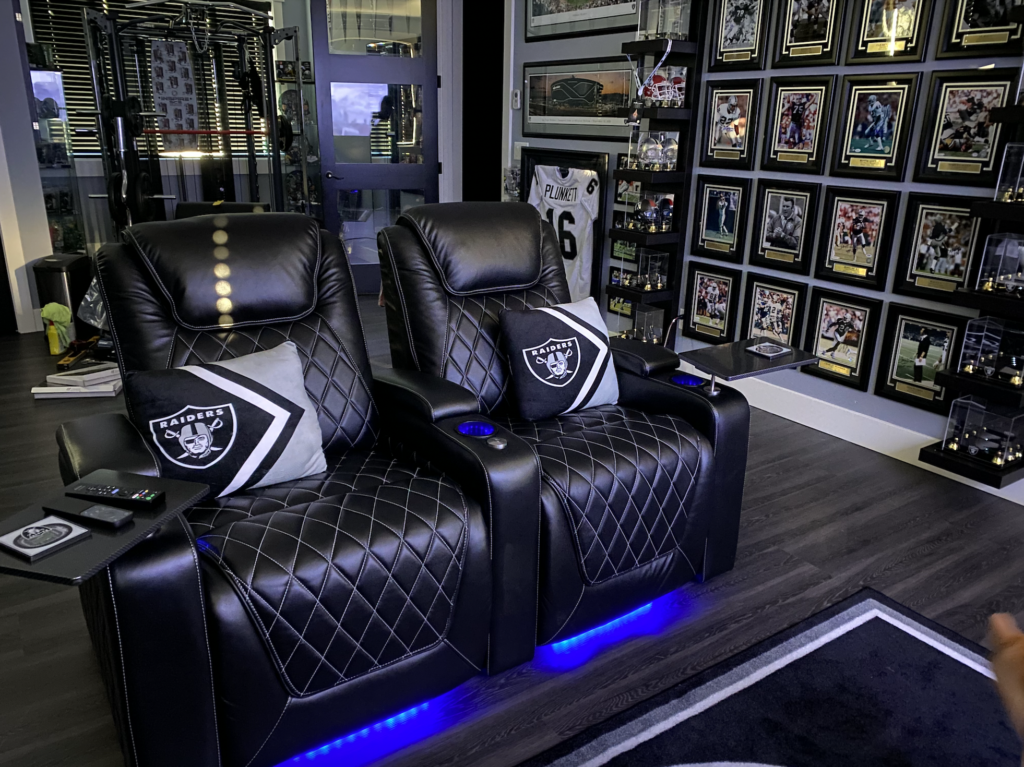 Screen and Theater Furniture Setups for Larger Home Theater Rooms

If you find yourself with more space to work with, you have the luxury of building a dedicated home theater room. Any room that's larger than 12'x12' has potential to become a great private movie theater. Still, to optimize use of space, make sure you measure everything, twice. Factor in how many rows of theater seating is ideal for the space when considering depth and height in the room. Elevated back rows of seating maximize the number of people you can watch a movie with at once.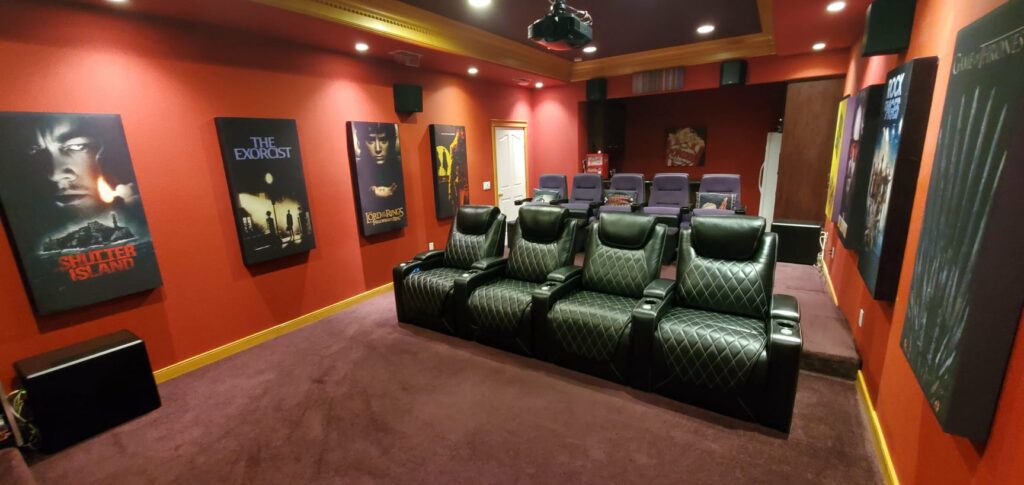 A larger room also requires a proper speaker system (check out the Dolby ATMOS sound system – there's 11+ speakers!) and accurate placement of the theater seating to the speaker and screen positions. Place your rows of Valencia theater seats at least 5'-6' apart to fully recline and enjoy the theater experience in full.
In terms of your ceiling height, ideally you would want at least 8' to work with. This allows the opportunity to install dual level risers comfortably. If you've come to halt, wondering what the heck risers are – they're the platforms back rows of stadium seating are placed on to be elevated from the row in front of them. As an example, a 3-row home theater will need a room that is at least 20' long (24'+ is ideal, though) with a ceiling height of at least 9'.
STEP 2: Choosing the Right Theater Seating for Your Media Room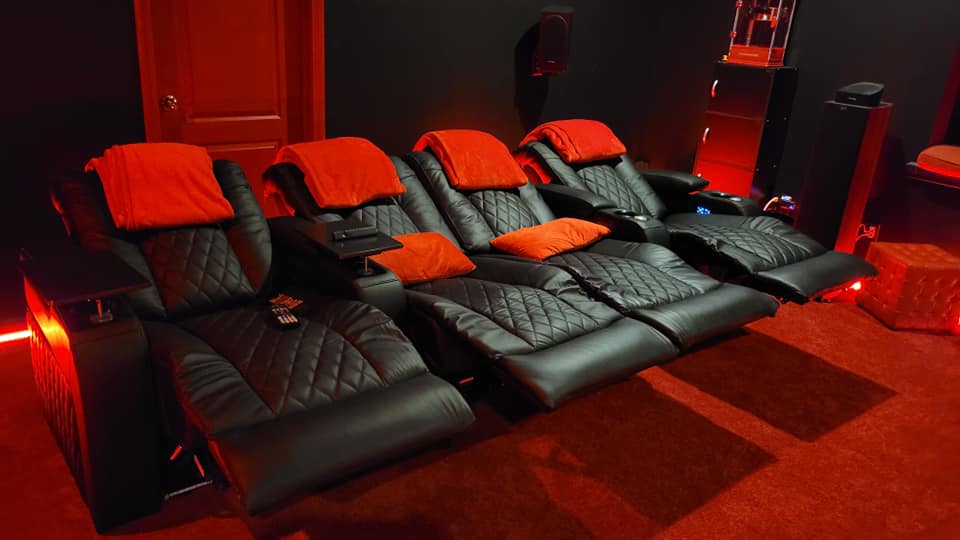 Comfort, functionality and luxurious finishes are key in building the ultimate theater experience. Keep in mind that you will be spending ample time in these chairs, so investing in high quality theater seating is a MUST. Valencia Theater Seating is a top manufacturer of home theater seating. With over 10 years' experience, our home theater furniture is constructed with precision, luxury and longevity in mind. Made of genuine Italian leather, with attractive designs that are infinitely customizable, our movie chairs and couches are truly a necessity in a great home theater or media room. With multiple configuration options, luxury features, theater seat accessories, 17 colors of leather, fabric theater seating options, and more, we can make any home theater furniture idea come to life. Check out Valencia's best seller, the Tuscany here.
STEP 3: Thorough Electrical Setup and Soundproofing
Just as important as what's in your home theater is what's not. Poorly-planned electrical work will forever be a bother when you're tripping over extension cords because there aren't enough outlets. Just the same, failure to soundproof your media room means that a key moment in a movie could be ruined by street noise at any time.
Get Ahead by Planning out Electrical Work First
This step is an important one, as the electrical process is best done ahead of time. Ideally, your ideas for your home theater furniture layout should be informed by your electrical work, and vice versa. Plan both in tandem so you know where outlets will be most convenient, how to conceal wires and cords, and how to protect all the expensive equipment in your media room (including those high-tech theater seats!). 
When doing electrical work on your home theater, keep conscious of these 3 necessities:
1. 1 circuit for the projector.
2. 1-2 circuits, each 15A for subwoofers and audio equipment.
3. 0.5A per theater seat, allowing you to put about 30 seats on one 15A electric circuit.
Several Ways to Soundproof Your Home Theater
If you're working up from the studs, you can use thicker drywall to prevent sound escape. On top of that, there are two types of soundproofing. An example of basic soundproofing would be Rockwool's Safe and Sound insulation. It is a stone wool batt insulation that is designed for interior walls, floors, and ceilings where superior fire resistance and acoustical performance is a necessity. If you want a higher-end option, look no further than Noise Grabber soundproofing products. These vinyl sound barriers are top-tier soundproofing options.
But what if your home theater is also a living space, with windows? Here you've got the issues of soundproofing as well as blocking out light. But you don't want to board up your windows and have a permanently dark family room. Long, heavy blackout curtains can do both while you're watching movies, and quickly be pulled back to enjoy the morning light over a coffee.

All in all, these measures and suggestions will amount to the home theater room of your dreams. This process can be overwhelming and confusing at times, but our guide will allow you to complete this project seamlessly … and then, you can sit back, relax, and enjoy family movie night in comfort and luxury!