More of us than ever are spending a lot of time at home. Like, a lot. Dedicated media rooms are becoming more and more common among the middle class, which has more people working from home now than ever before. As work becomes remote and we're sitting in our couches or home offices for 8+ hours a day, creating another space in our home to relax and unwind in is becoming increasingly important. But not all of us have the square footage on our main floors. Yeah, we could nix the spare bedroom; but then we wouldn't have a spare bedroom. And we can't spare the office because, well, we work there now. So where can you escape to? The basement! Even if your basement is dark and dingy now, it's not that difficult to make it into a killer basement home theater.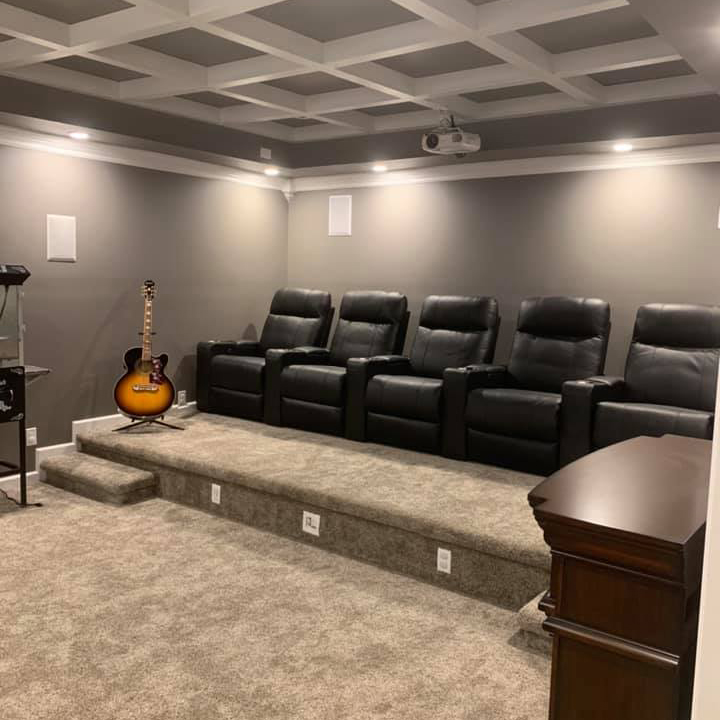 Basement Home Theater Seating Ideas
When you're building your basement home theater, pay attention to the layout of the space. Move the laundry area if need be, or add sound dampening panels to the walls and ceilings. A basement home theater can be a little tricky, what with support beams throughout the space and traditionally low ceilings. But just because DIY stadium seating is out of the question, doesn't mean a simple row of 4 seat theater seating is your only option; not by a long shot.
Once you've figured out your desired layout in a space that's viable, you've got to find a creative solution for getting that movie theater feeling while also getting the most out of the space. Want it to feel cozy without sacrificing that movie theater vibe? Try a home theater sectional sofa. Low on distance between the back wall and the projector screen? Try wall hugger home theater seating to save space. Want a row of 6 seats but need to maximize viewing angles? Try a curved row of 6 seat home theater seating. With home theater loveseat recliners and leather media room recliners, you have way more options than stadium theater seating with an elevated back row.
Here's the other great thing about creating a dedicated basement home theater. Once you narrow down your basement theater seating ideas, you can customize the color and style to your aesthetic. Black leather theater seating isn't nearly the only option anymore. Going for a more homey feeling? Brown theater seating, or even warm grey leather seats are a great option. If you're going for a modern, high end look, white theater seating is clean and bright. If this new basement home theater doubles as a gaming or sports-watching space, two tone leather seats can lend a sporty, active look to the space. Planning on lazy Saturday nights cuddled up with the kids? There's a good reason to look at non-leather theater seating like microfiber. When it comes to ideas for basement theater seating, there are so many ways to customize the layout, style, seat number and colors that most finished basements can become basement home theaters if you can think a bit creatively.
Don't Forget the Details! Other Things to Make Your Basement Home Theater the Best it can be
Obviously home theater seating is integral to your new basement home theater. Every room has layout constraints, and achieving maximum comfort and maximum viewing angles is a big part of any DIY home theater. But there are other things to think about, too. Choosing the right projector and projector screen is one obvious issue. You need enough space between the projector and the screen to get a good picture that isn't distorted. They even make curved projector screens now that lend a more immersive viewing experience. And then you can't forget the sound system. Surround sound in a basement home theater is really cool because it bounces the sound from all directions. And adding bass shakers to your chosen media room furniture? That'll get you even more invested in the movie-watching or gaming experience. Remember that before designing and setting up your sound system, you have to consider where power sources are. You might have to add a few outlets, or ensure that your home's circuit board can handle the load of home theater tech.
Lighting is also key. Typically, installing a ton of recessed can lights is perfect for basement home theaters because they require no overhead room. Make sure they're dimmable so you can make your basement bright and airy, but can still make a dimmed space for optimal movie-watching. And if you really want to top off the space and have the room? A wet bar with a mini fridge and a microwave for popcorn and other snacks is a great idea. You might never come out of that basement home theater ever again!