We provide quality home theater seating with a strong priority for our customer care
Ergonomic Seating
"The most comfortable chairs I have ever sat in. With their adjustable reclining, lumbar support, & headrest, they comfortably fit anyone. At 6'3″ 180lbs I fit quite comfortably. The USB ports in my Tuscany seats are appreciated by my guests who can't put down their phones for five minutes while the tray table accessories are a hit with my kid who likes to snack all the time. I personally suffer from a bulging disc in my lower back and my Tuscany chairs make it not only barrable but enjoyable to sit through an entire Lord of the Rings Extended Cut marathon. I also can't say enough about how these ship. My theater is in the basement and the ease of getting these down the stairs due to shipping in easy to assemble pieces was fantastic. I highly recommend the Valencia Tuscany Chairs to anyone looking to upgrade their theater experience." – Valencia Customer Robert Uzarski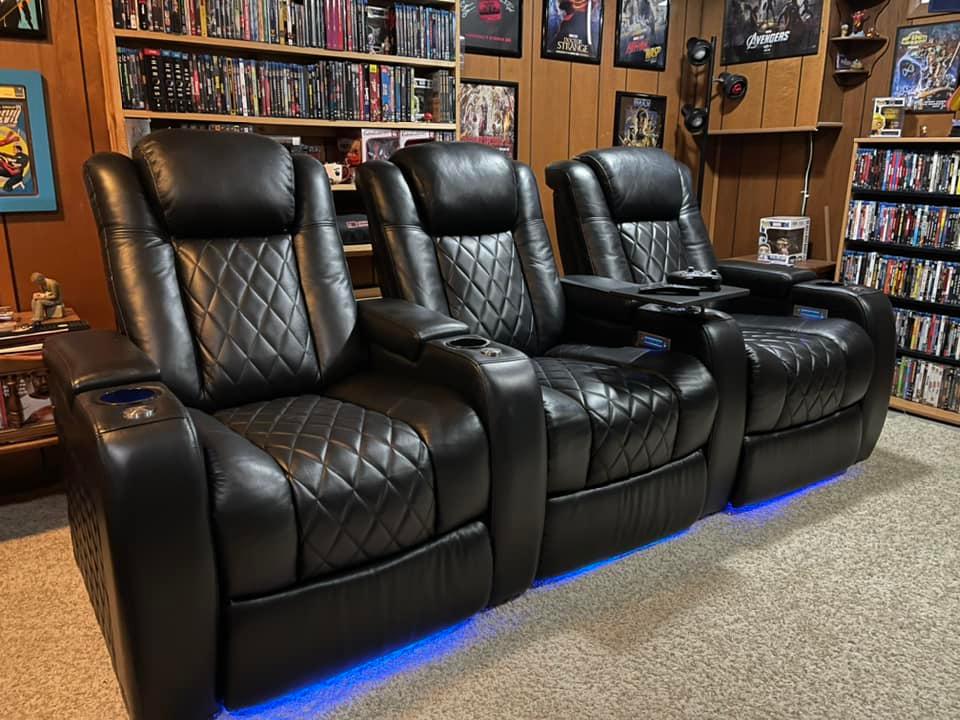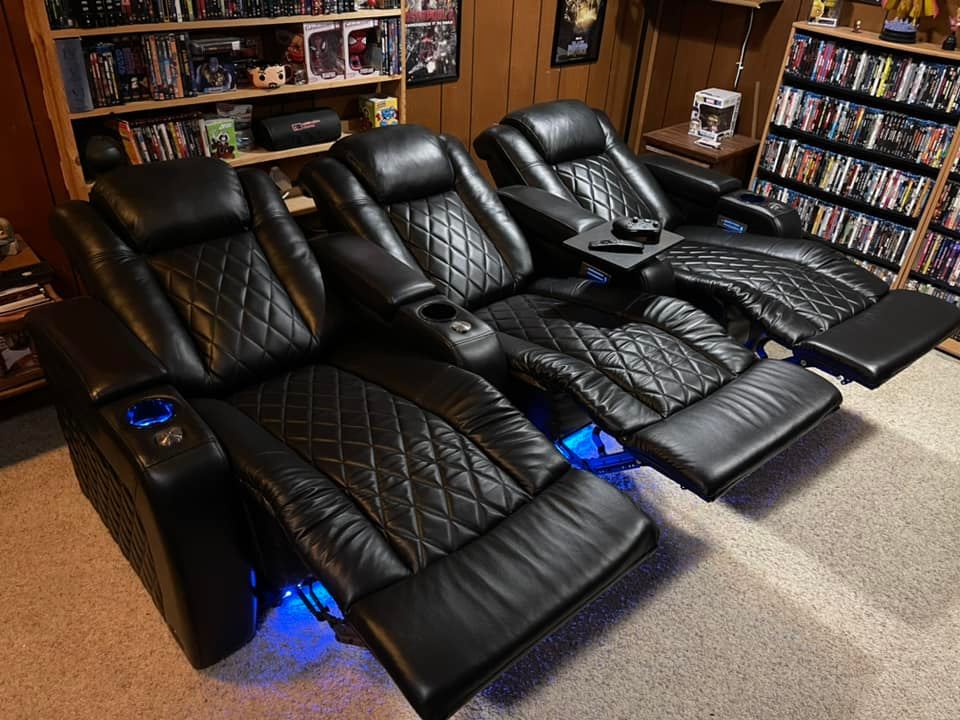 "Ordered these for the new home theater and they are great! Love the comfort and support! Chairs arrived earlier than quoted and were in great shape with no issues. Anoosh is great and communicated the buying process accurately. If you're in the market for theater chairs, don't second guess these! I have no regrets." – Valencia Customer Quinton Pearson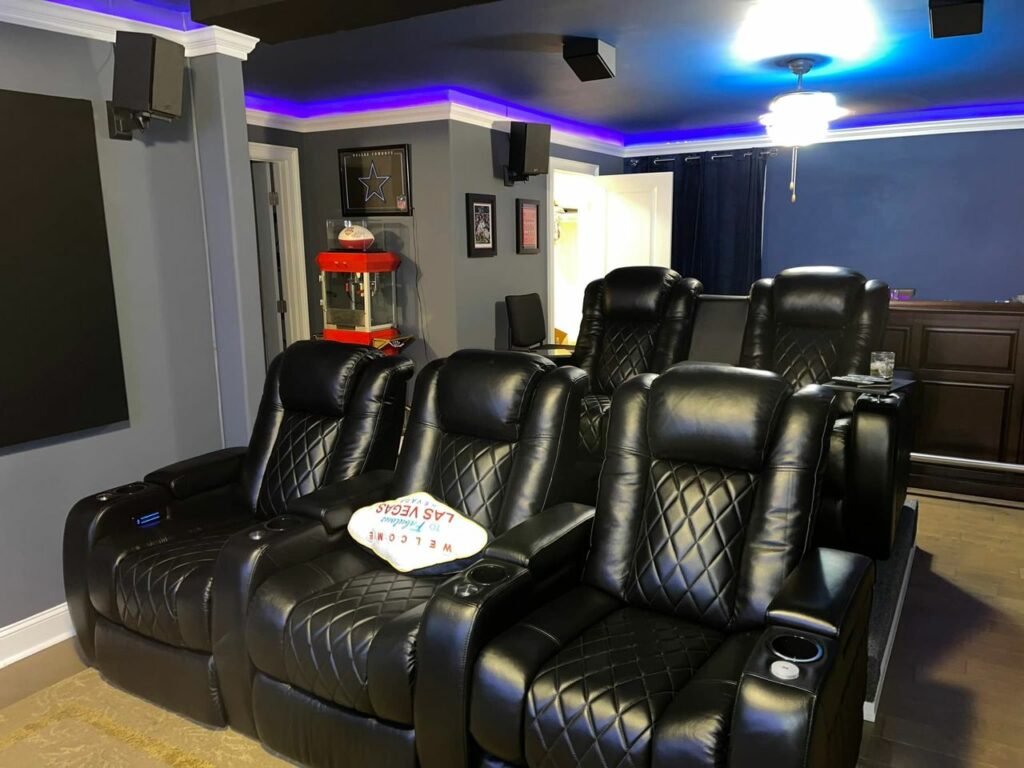 Excellent Customer Service
"Just received my chairs today and they are beautiful. The customer service is great I worked with Anoosh and she answered all my questions from the time I ordered until I received my order." – Valencia Customer Danyell Rogers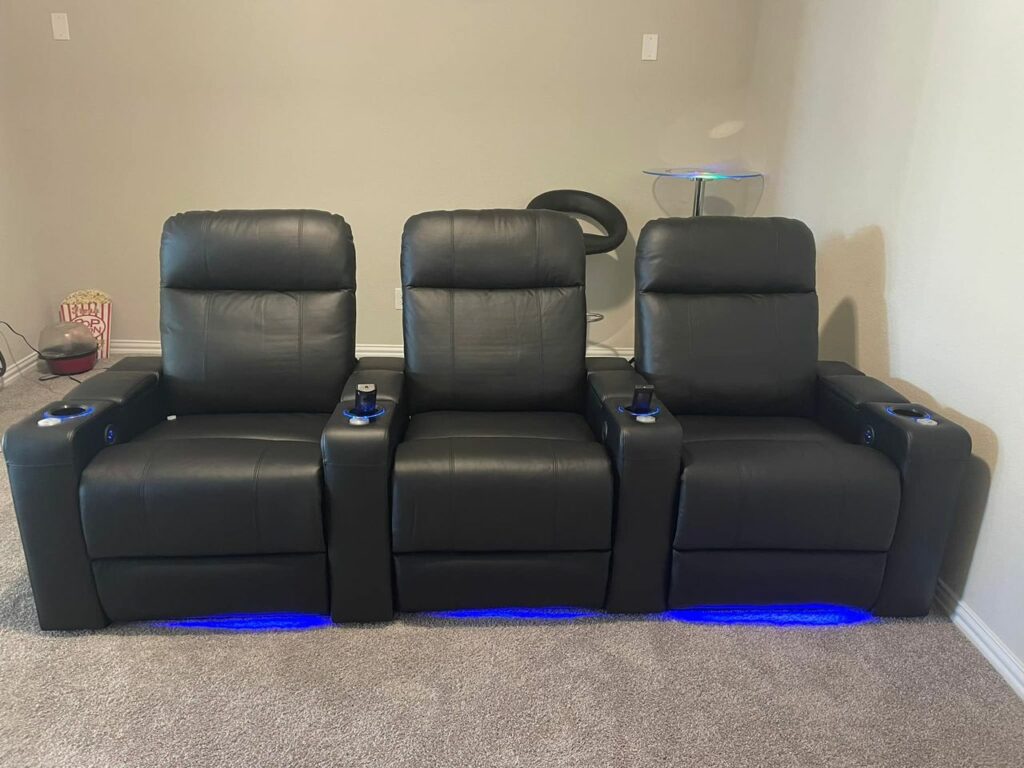 Great Online Ordering
"We received our new chairs yesterday, and they look beautiful in our game room. Better than expected. We tested all the buttons, and everything worked great.
Break down
Customer Service – 5 Stars – Anoosh was amazing. She worked so hard in making everything perfect—also, her pleasant voice and kindness shine. I would hire her as an employee in a heartbeat!
Packaging – Was exceptionally well packed. Others could take training from them about how to pack a product.
Assembly – Straightforward. Took about 20 minutes. And helpful videos were provided.
Product – Amazing quality, better than expected.
This has been the best experience for a more significant purchase I have ever had.
100% recommend!"" – Valencia Customer Bill Holmstrom
Functional & Luxurious Home Theater Seating
"We purchased the Valencia console couch as well as a 4-person reclining couch. These theater chairs are so comfortable; they are clearly made with more care and better products than any other theater recliners we have ever purchased! The stitching and LED lights create an incredible atmosphere for the room while the reclining features, extending headrest and lumbar support make the chairs incredibly comfortable for not only me (as an average-sized female) but also my children and my 6'7″ husband. He loves these couches! Normally he feels oversized and cramped in anything we purchase or I feel like I'm drowning in furniture made for his size. These chairs allow both of us to customize the recline and support to feel like they were made just for us. Such a treat to watch a movie or sporting event in comfort now!
Not only is the furniture top-of-the-line but the customer service is spectacular! We received these shipped to us way earlier than the estimate (unheard of in COVID times!). Anoosh in customer service was incredibly friendly, personable, and helpful throughout the process. She contacted me as soon as the order was placed to confirm all the details and was quick to respond when I thought the delivery was an odd number of boxes. She also went out of her way to FaceTime me to draw out the configurations and send videos for assembly although, in hindsight, when we started the assembly it was so easy to follow the instructions that I probably could've had my 8 year old do it!
All in all, don't hesitate to purchase theater seating from Valencia. Their products and customer service are the best in the industry. We will be back for any future needs!" – Valencia Customer Briana DeBoskey