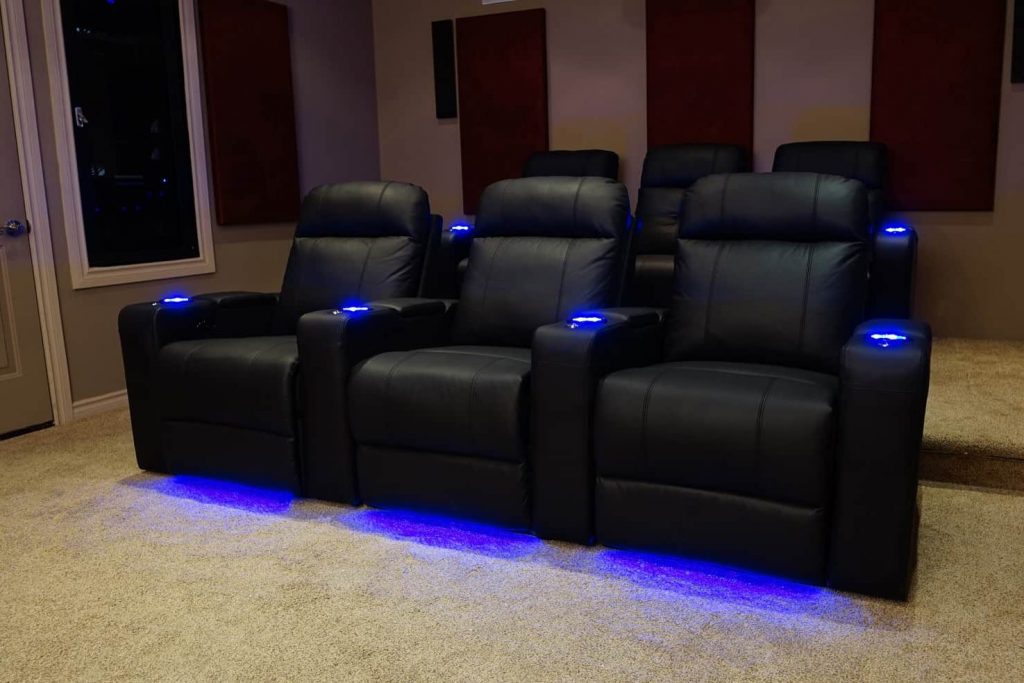 Choosing the right recliners
The trick for an amazing home theater is choosing the right seating, and to make this an even more immersive experience, forget couches and recliners and go for real deal. Before going shopping, plan ahead and check what to look for in your home theater seating.
Size Matters:
When looking for the ideal seats for your Home Theater, start by measuring your room. As easy as this sounds, a lot of people forget to do that, ending up with seats that simply don't fit in the space they have! Avoid stress and extra moving by knowing how many seats you need BEFORE you decide. Make sure you take into account how much room you need between each seat, as well as between the seats and the screen.
Go low, but not too low:
Theater seats are different from "normal" recliners in that they don't recline in the same way. Theater seats are meant to be supportive and comfortable, while still allowing you to watch a movie without craning your neck. The reclining mechanism should be strong enough to last several years, while still being quiet and easy to maneuver for kids and adults alike.
Upholstery and Design
When choosing upholstery and other finishes, think about how you want to use your Home Theater, and how often. If you plan to have kids and dogs running around, it's advisable to select a sturdy material, or if your Home Theater will be for adults only go for more delicate or luxurious finishes. If you've decided on leather, double check the quality as not all leathers are equal.
Add-on Accessories
The beauty of having a Home Theater is the possibility of customization. Luckily, you can not only choose how many seats you can fit, but also the finishes and accessories you need in your seating. Whether that is extra storage space for magazines and remotes, bigger cupholders or even extra LED lighting, and try to consider all of the different ways that you will use your theater room.
Ultimate comfort
Theater seats are an investment, so make sure the style you choose features ergonomic cushions and headrests. Some seats even offer massage features, to make your evenings even more relaxing!