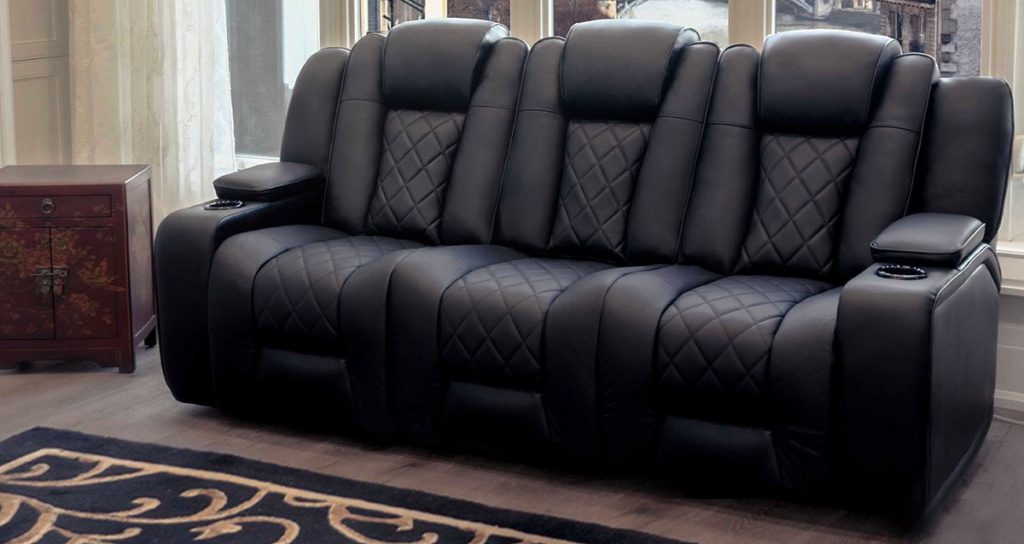 Choosing media room furniture for your home theater seating setup that is stylish, functional and comfortable is as essential as selecting all the audio and visual tech, as well as the room décor. You should therefore have a good idea of exactly what home theater furniture you want by the time you're at the early stages of planning your home theater components. Not only is this smart for budgeting home theater seating, because it is a sizable investment, but there are so many style options in media room furniture nowadays that you can actually design your home theater around your home theater seating! Think about it – even if you have opted for top-end audio-visual equipment like the EluneVision EVO 8K In-Ceiling Motorized Screen paired with a JLC NX5 Projector (that's a mouthful), if you're sitting in terrible theater seating, it's not fun to watch anything on that high quality projection setup.
Here's some food for thought on the main factors you should take into consideration when choosing the right home theater recliners to fit the ideal look and ideal layout of your media room furniture.
How Many People Will be Using Your Home Theater?
Firstly, you need to consider your general watching habits. You just have to think whether you usually watch movies by yourself, with your partner/spouse, or maybe with your entire family. Another aspect which you need to keep into consideration is how often you entertain guests and how spacious the room is where you are planning to set up the home theater. You also need to decide if you are planning on having multiple rows of chairs, because then you have to consider home theater risers to elevate the back row of home theater seating.
Simply answering this question is going to help you understand more about the layouts you might prefer, as well as if you want different options like home theater sectional sofas or loveseats. If the room has got limited space, you can opt for narrow recliners. If you need to maximize the space between the screen and the seats, you can choose wall hugger theater seating. Likewise, if you're planning for multiple rows of recliners, then you should consider adding a home theater platform riser for elevating the second/third/fourth rows.
Size Does Matter with Home Theater Recliners
It's helpful to determine the dimensions of the people who'll be using the media room furniture the most. For instance, something as simple as the height of the chair's headrest will greatly affect the overall movie-watching experience. If you're a larger person, like to curl up in a chair, or can't watch movies without your lapdog, you need a bit more room to be comfortable. We get it, which is why we make all our luxury theater seating models in original and XL. 
Another aspect of the size variable is the dimensions of your home theater. A row of curved home theater seating can optimize viewing space in a shallow room. Wall hugger theater seating can allow you to add another row where you may not have thought you could. If your media room furniture is mostly for family movie night rituals, consider a home theater sectional sofa and get the whole family cozied up without the room stadium-style seating requires. Whatever you decide, know (1) the dimensions of the recliner, (2) the dimensions of the room, including the screen to seat distance, and (3) the walking room available around your chosen home theater furniture. There's nothing worse than getting excited about this custom, luxury theater seating you've designed, only for it to swallow the entire room up when you receive it.
A Home Theater Recliner is Nothing if it's not Constructed Well
Lots of people tend to focus on the style of the home theater chair and forget to consider the hundreds of hours they'll spend in these chairs, watching their favorite movies and sports. You should not be fooled by good-looking recliners in pictures because, at times, there are fancy-looking chairs that are not at all well-made, or don't consider body types or pressure points. You'll never have that issue with a Valencia Theater Seating product. We use the latest technology and the highest quality materials to engineer truly luxury home theater seating. Every one of our luxury theater seating options can be customized with powered headrests, ergonomic armrests and powered lumbar support, that all work together to provide a movie-watching experience that is comfy, quality and relaxing.
The Comfort of the Movie Chairs in Your Home Theater is Key
Choosing the right chair can be daunting, but we try to make it easy. Not only do we consider over 15 different pressure points on the body in our home theater furniture designs, but we only use dense, high-quality foam cushioning that melds to any body's shape. Pair these features with our ergonomic reclining system, powered headrests or powered lumbar support, and we've managed to make every single home theater chair we create completely customizable to your body and your preferences.
It's not necessary to choose attractive home theater seating that's uncomfortable, nor should you choose media room furniture that is comfortable but drab. With different options for material, color, style, arrangements and features, Valencia Home Theater Seating lets you have your cake and eat it, too.