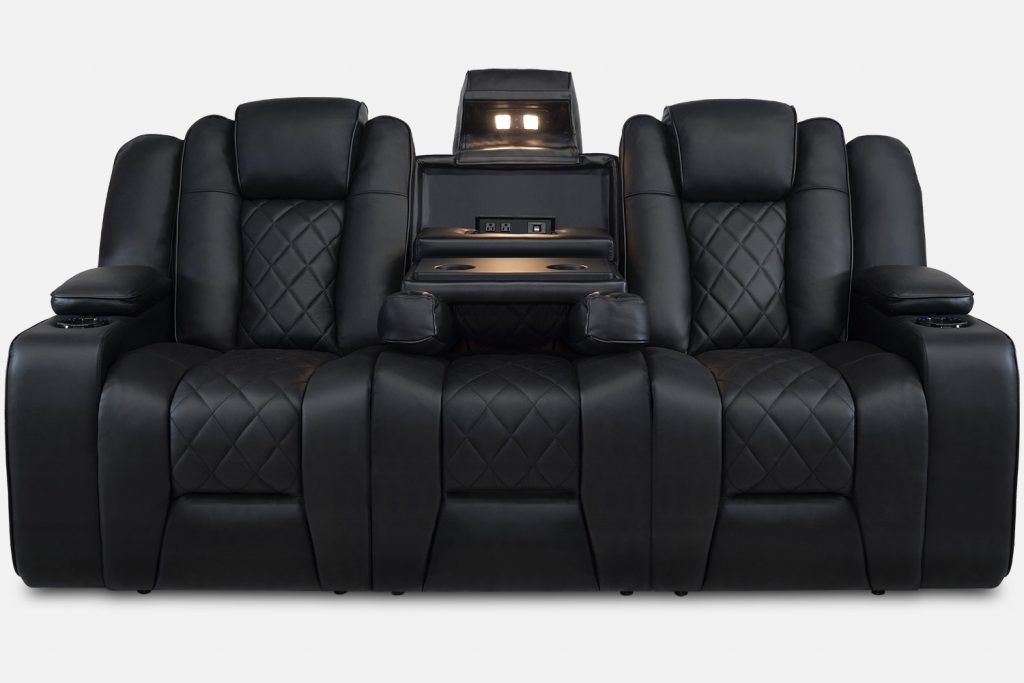 If you have browsed our website or online store you may have ran into some of our products which are considered multimedia seats. These type of seats are different than our standard home theater seats. Multimedia seats are meant to provide a comfortable experience for all media, including books and magazines! This article is here to elaborate on what multimedia seats are and some of the multimedia seats we have available for you to buy!
What Makes Multimedia Seats Special?
Multimedia seats are meant to optimize your enjoyment of all forms of media whether it be TV, movies, or books. How do they do this you ask? The simple answer: you have more features and space. Row of 2 multimedia seats have a center armrest that is much wider than our standard models. This center armrest is called the console. The console provides alot more space for drinks, books, food, or whatever else you need. The console also has substantially more storage.
The real beauty of multimedia seats comes in the form of row of 3 multimedia seats. The chairs are made in a way that they look like a 3 seat love seat, but the center chair can be dropped down to be a console. This console is much wider than the row of 2 console, and has a lot more features. The console has various plugs and USB ports that you can use to charge any of your devices. The Headrest of the middle chair also flips up and has 2 lights to shine light on the other 2 seats. Nothing is worse than trying to read and there is not enough light, but with these built in features this will not be a problem. This console ensures that no matter what you do in these chairs, you will be comfortable.
The Tuscany Console
The Tuscany is one of our flagship models and it comes in a console edition. The Console edition comes with all the standard features of the Tuscany such as a motorized recliner and powered headrest, with all the consoles features. This model of the Tuscany is suitable for a home theater or a living room. It can function as a sofa, while also providing you with an amazing movie viewing experience. With the console light, it provides a place that is very comfortable to read in.
The Oxford
The Oxford is another multimedia seating model. When compared to the Tuscany Console edition, the Oxford has similar features. It has a console as well as a powered headrest, a motorized recliner, and powered lumbar support. The only place where the Oxford differs from the Tuscany is when it comes to its look. The Oxford has the option to be made of premium leather which is cheaper when compared to Nappa leather. You can customize the oxford to be made of Nappa leather but that is more expensive. The Oxford's diamond sticking is also different when compared to the Tuscany, the Oxford has bigger diamonds than the Tuscany. Other than these slight differences the Oxford provides you with the same amazing multimedia experience as the Tuscany.
Ultimately, multimedia seats provide a more robust comfort experience. They give you comfort no matter what you are doing, and are beneficial to any room in your house.