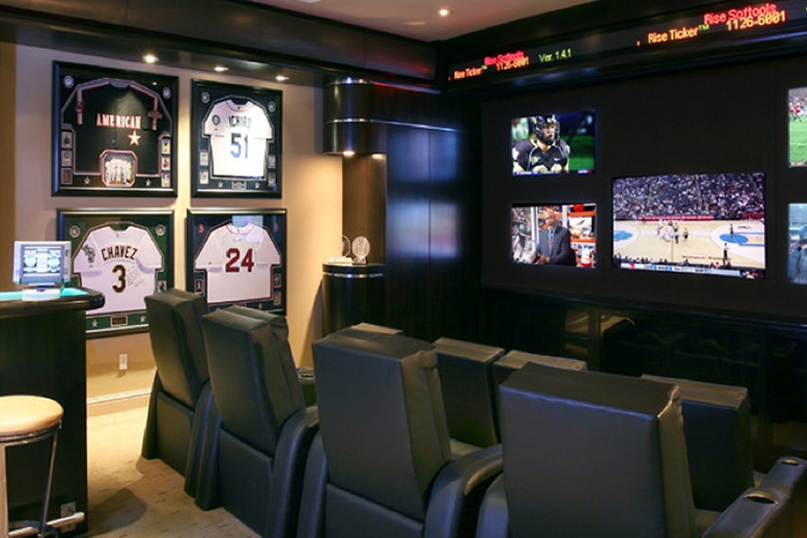 Who doesn't want a man cave? After a long day, having some space to think and have a little fun is everything you need to recharge for the weekend. Decompress, enjoy a movie and a cold beer and feel your worries disappear! However, there are so many options! Here are the must haves for your man cave setup:
Mini bar & snacks
The key to any man cave worthy of the name is having enough snacks and beverages for a couple hours of relaxation (away from the kitchen!). Making sure your space is well stocked with all sorts of snacks will grant you a little break from the routine.
Although there are all sorts of impressive mini bar setups, wine coolers and the like, for starters you only really need either a small fridge or an ice cooler where you can keep your drinks cool and refreshing. For snacks, pick things you already enjoy! It will make for a fun and relaxing evening.
Giant screen
What would a man cave be without a big screen? Whether you want it to be a quiet place for self-reflection or somewhere you and the guys can enjoy games and movies, the screen is key to a man cave's success.
This one comes to personal taste, as well as what you plan on watching: maybe you're after ultimate high-definition for immersive video game nights, or you'd rather have a modest TV and more room for a pool table.
Games
Speaking of pool tables, your man cave needs some fun! Besides the TV, games are one of the most important elements of the room: what else will you do in it? Depending on what you like to play, you can splurge in a big professional pool table, or you could even stock up to have your very own home casino! Invite friends and family (over 18!) to enjoy an evening of fun and beer to lift everyone's spirits.
Comfortable Chairs
You could always use an old sofa discarded by the neighbors, but nothing gives a man cave a lavish touch like plush, comfortable seating. The key in a man cave is getting comfortable, and you're not getting it with an old flattened couch! If you're doing this, you might as well do it the right way! A great seat for a man cave is comfortable, luxurious and designed to stand the test of time. Of course, leather is a must.
Want some inspiration? Check our product page for ideas on seat options that will fit your needs and your space. The sky is the limit!