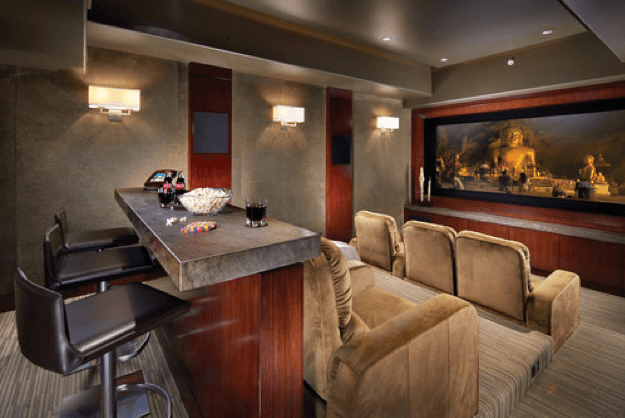 When it comes to planning your home theater system, choosing the perfect sound system and the perfect screen tends to dominate the conversation. While both of these are necessary components of any theater room, the most important part is one that is frequently overlooked.
When designing your dream home theater room, choosing the seating is the first step. That includes figuring out the number of seats you need as well as determining your theater's style. Seating guides many other aspects of your theater planning – from room dimensions, acoustics, and the placement of your speakers and TV screen.
Everybody has their own conception of the perfect home cinema, and theater needs can be very different. Sometimes, you have to think outside the box to meet those needs.
For those times that call for inventive thinking, here are some creative home theater seating ideas that will help inspire and excite you in your process.
Outside In vs. Inside Out
Outside-in and inside-out are two approaches you can use when planning the space that your theater seating can take up.
If your room has fixed dimensions, applying the outside-in method means you consider the size of your room to figure out the most number of seats the room can fit, as well as which type and their configuration.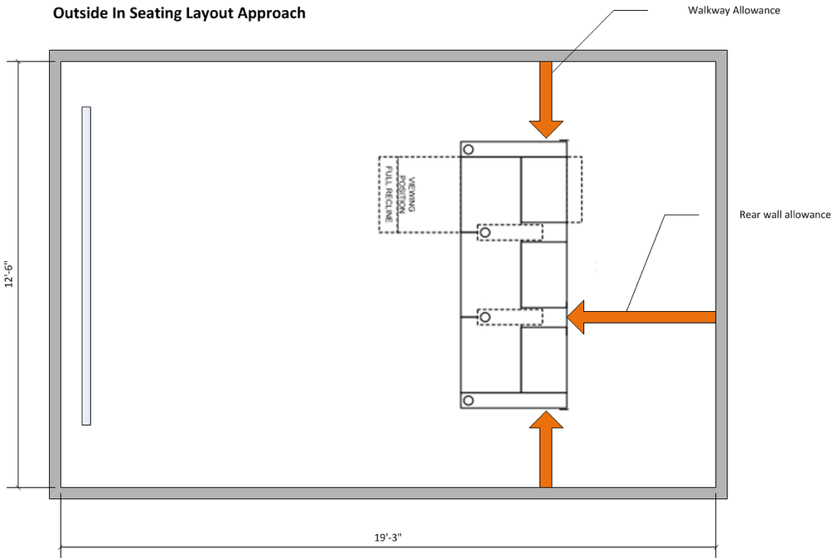 Image source: acousticfrontiers.com
If the room dimensions of your home theater are flexible, like in a new house, you would use the inside-out process. Before considering the fit of the screen or speakers, decide how many and which type of theater chairs you would like, and plan their arrangement before defining the room's dimensions.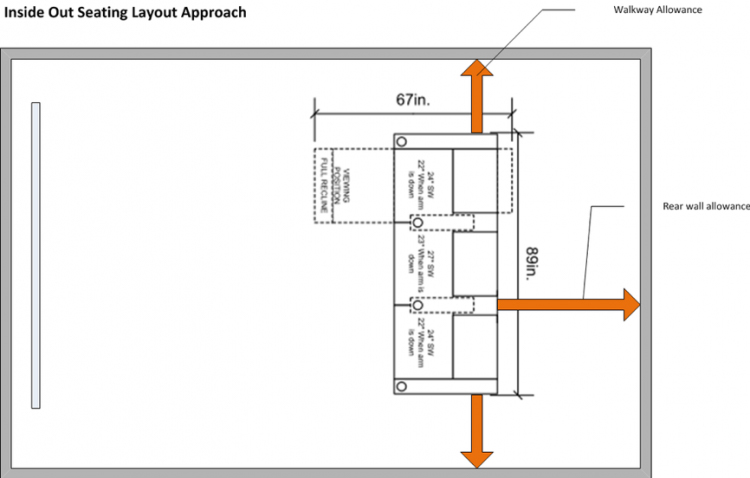 Image source: acousticfrontiers.com
Design for Multiple Occasions
When coming up with plans for home theaters, many people think about using it during big events like the Super Bowl, Stanley Cup or the holidays.
But, it's more important to consider its day-to-day use, and the comfort of those who will use it the most: you, your family, and closest friends.
If too much emphasis is placed on accommodating guests, it's easy to lose sight of the ideal number of seatsfor your home theater.
Luckily, it's possible to plan theater seating that works for both the periodic party and daily use.
First, consider the number of people who will regularly use the theater, perhaps it will be you and three members of your family. In this case, opt for four primary or "good" seats. The right configuration of your seating can make the most of your space and let you fit more primary chairs. A style similar to Syracuse allows for a variety of arrangements to suit the dimensions specific to your home. In addition to versatility in arrangement, the narrow armrests also save room, maximizing the room for primary chairs or maybe multiple secondary seats.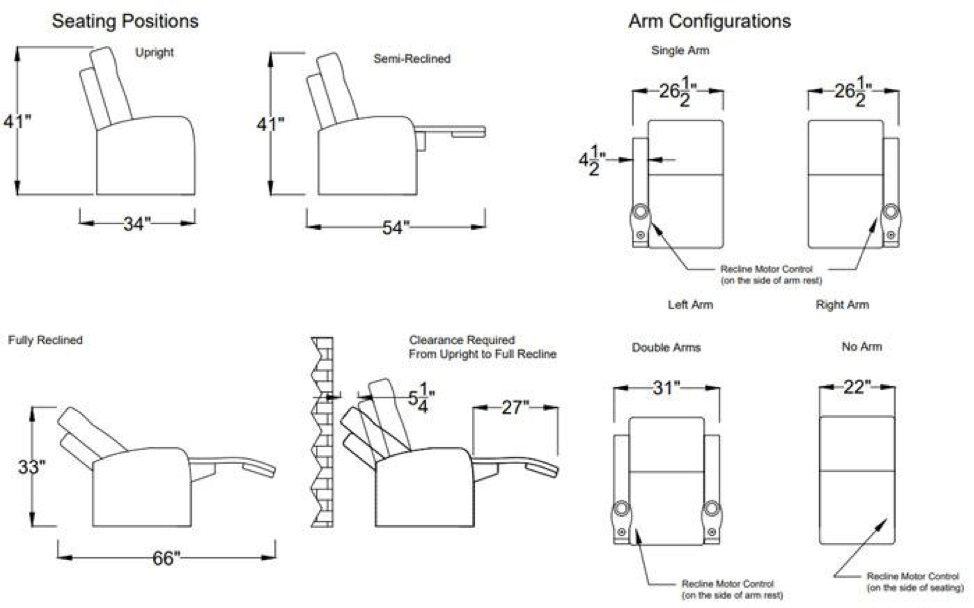 Our products have a variety of single and loveseat options to conform to any room. See our detailed PDF for all the seating configurations available for the Syracuse
Supplement your primary seating with secondary chairs – a couch, a few recliners, or even beanbags. If you have a bar, you may choose to include comfortable stool seating to complement the theater chairs and recliners.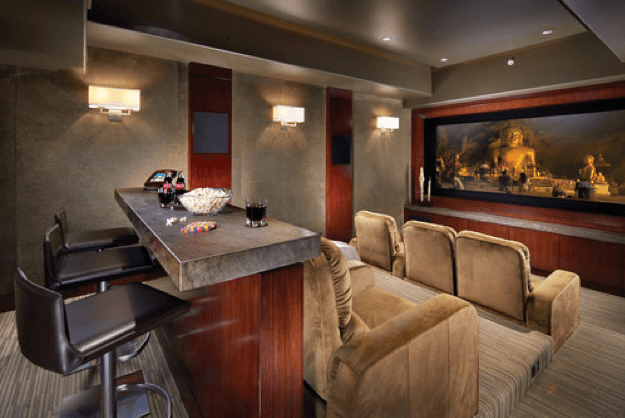 There are many ways to make room for more people! | Image source: acousticfrontiers.com
Optimize Acoustics with the Right Theater Seating
As you continue thinking of home theater seating ideas, you want to consider some principles of design that will ensure every seat is the best in the theater.
First, the layout should ensure a viewing angle of 36-50 degrees for each seat. This is the optimum screen angle for viewers and is based on the same measurements used by commercial theatres. In the same vein, each seat should have an unobstructed view of the screen. It may seem like common sense, but it's crucial to ensure that each seat is the ideal height above the previous one. Risers are an easy way to raise the level of those sitting in the rows behind the first one.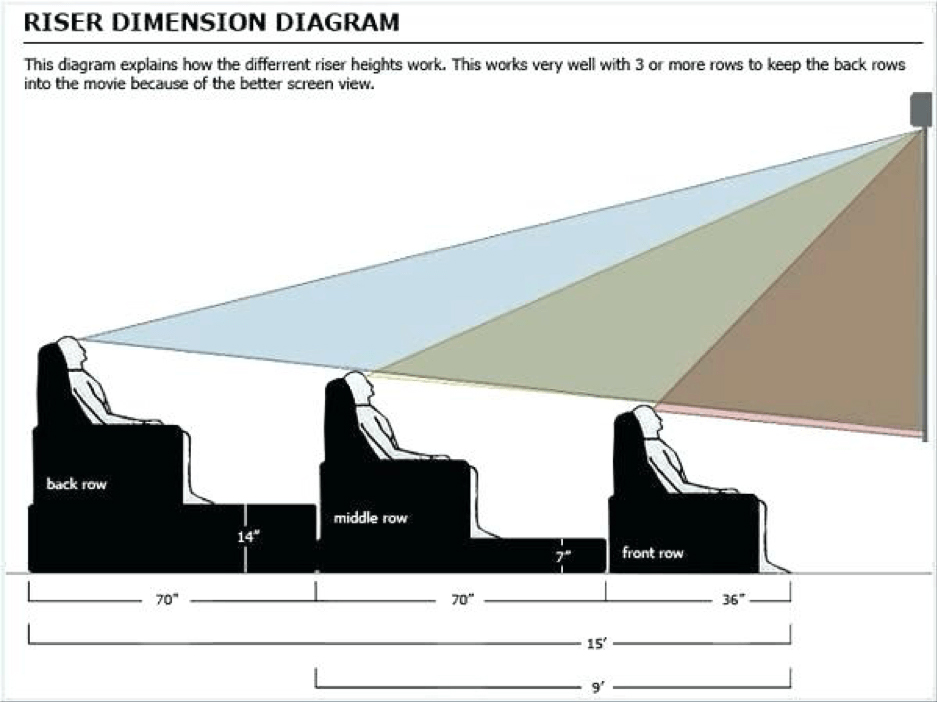 Risers are an easy solution that makes the most of your home theatre room.
Another consideration for the seating arrangement for your room is that each person's head should be at least four feet away from the speakers. If you plan to invest in a quality sound system, this distance will provide the best sound experience. In the case of Valencia seating, distance from the rear wall is not a major concern due to Valencia's wall-hugging design, which ensures that the seats can be placed very close to your rear wall, virtually eliminating the wasting of space in your room.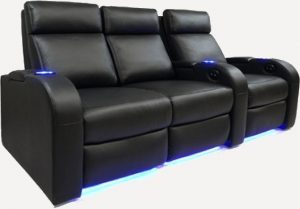 A row of three with a loveseat is stylish and saves space.
A row of three recliners similar to the Florence seat is easy to adapt to these design principles while the style allows you to maximize the space in your theater. If a row of three isn't enough but your space is limited, a potential addition to any row configuration is a matching loveseat.
Practical Placement Plans
As important as it is to maximize seating in your home theater, movement around the room should be as comfortable as the seats themselves. Leave a minimum of 30 inches for walkways and at least 20 inches between seats. That includes fully extended recliners, too!
If you feel limited by what you can do with your room because of restricted space, don't worry. Streamlined designs like the Zurich save space thanks to its boxy shape.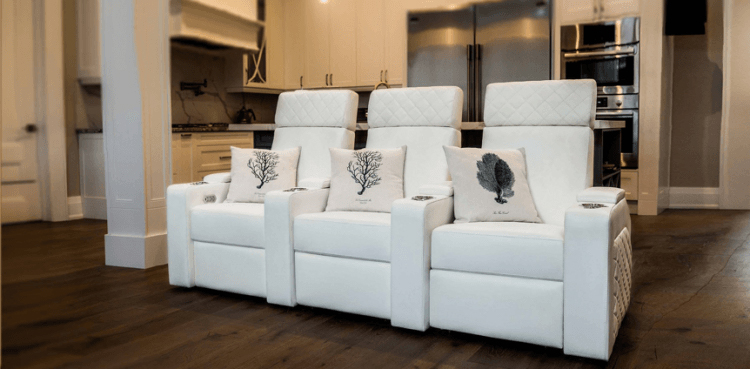 The Zurich style easily works with any room and dimensions.
Opting for a row with a loveseat in the middle can provide plenty of seats for everyone while still leaving enough room for movement.
There's A Seat for Everyone
The most common seating for home theaters are recliners, but keep an open mind for including couches, stadium, and bar seats in your configuration.
The possibilities are unlimited – you are sure to find a seating combination that looks good, feels great and gives you a viewing experience at home that's better than any public theater.

Valencia Theater Seating offers a wide range of home theater chairs, couches, and other seats that can fulfill every hope you have for your home theater while also solving some of the primary logistics of your theater.
Whatever your needs may be, Valencia Theater Seating can help find your ideal home theater seating.
Give us a call at 1-866-455-3932 or send us a message through our website, and we'll help you find your perfect match!