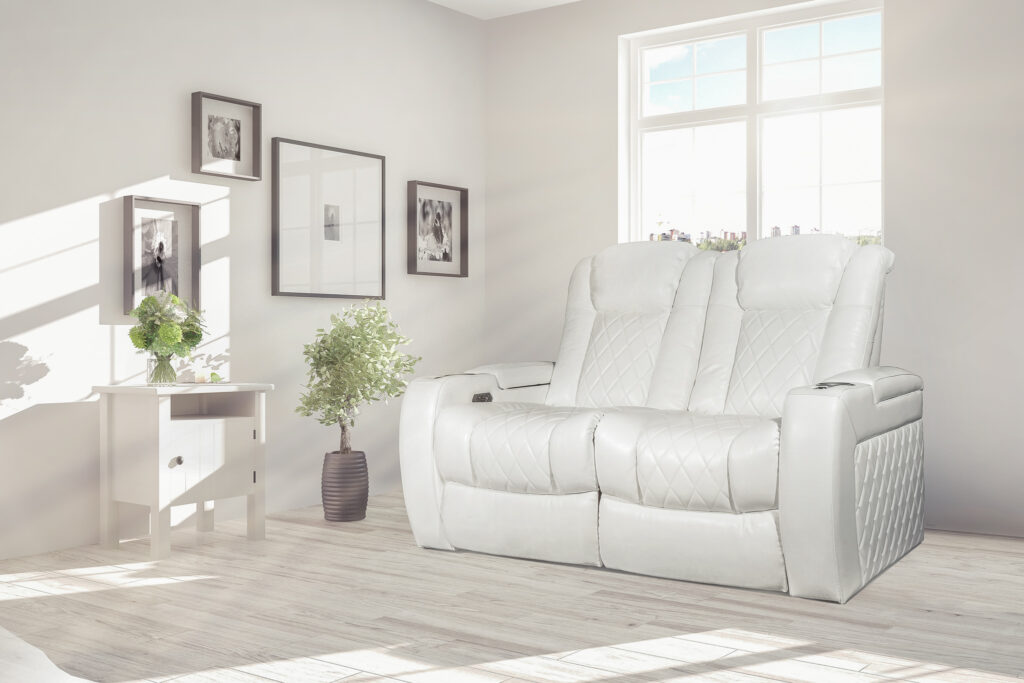 So you've decided to build a DIY home theater. You're excited to have a dedicated movie-watching space in your home, but you're not super keen on totally losing the basement hangout room or man cave vibe of the room you're converting. Maybe you already have an entertainment room sectional couch with a few cool functions like a reclining section or a convertible chaise/ottoman situation. And that's been cool for lazy Sundays, but that giant entertainment room sofa isn't really going to cut it as dedicated home theater seating. But again, you don't want to lose that hangout vibe. 
What to do?
Design your own home theater sectional, sofa, couch or loveseat. Or a combination of several! Home theater recliners don't only come in rows of seating on theater risers anymore – you can get all the comfy and techy perks of home theater furniture, but you keep the living-space feel only a well-loved entertainment room couch can give. They're practical, cozy, and a fantastic way to elevate your space—not to mention, they're some of the most comfortable home theater seating out there. 
While you're doing the rest of your DIY home theater buildout, take a peek at our list of fundamentals to keep in mind while designing and DIYing the home theater of your dreams.
Home Theater Sectional Sofas are a Cozier Approach to Media Room Movie-Watching
Like we said, stadium-style home theater seating isn't for everybody – and that's okay! If your new movie room is for family most of the time, a home theater sectional sofa makes for cozier (but no less feature-packed) movie nights. Every family has a favorite movie-watching couch – it's real. So why not make that favorite hangout spot for you and the kids a luxury, high-tech, full-grain leather home theater couch or sectional? Or both? 
A multimedia sectional sofa and a theater recliner or two let you set up your room nearly the way it was before, when it was just a flat screen TV and an entertainment room sectional, except now it's a cutting-edge audiovisual equipment and fancy high-tech media room furniture. Awesome. With the option to change the seat number (4 and 5 seat theater sofas are always popular) and layout of our theater chairs, you can make loveseats, sofas with dropdown consoles, a sectional couch with bass shakers. It's the best of both worlds.
Choosing Couches for Your Home Theater Allows for Versatility
Another massive pro to choosing a home theater sofa for your entertainment room? Versatility. And it's not just versatility in how the sofas are laid out in the room or the customizable dimensions of the theater seating, but also the features within each theater couch. What do we mean? Well, you could make one of the seats convert to a drop-down console for extra snack space when you don't need all the seats. Or, you could make a row of 4 seats set as a home theater loveseat flanked by a recliner on each end. 
If you're going for more than one home theater sofa – like one couch and one sectional – you can add features like LED lighting and theater accessories to one but not another. Choose bass-equipped theater seating for the sectional you'll be spending the most time on so you don't miss a beat. Or maybe choose soft microfiber theater seating for the couch the kids fall asleep on most often. Options for fabric home theater seating in layouts like sectionals and sofas lend a cozy vibe that still says "living space" without making it look like a full-on movie theater decked out with media room furniture at every turn.
Here's another idea we love that we've seen our customers do a few times that gives off a premier theater seating vibe: Have one front row of home theater recliner chairs and a riser platform behind with a big home theater sectional sofa. It looks really upscale, and it gives everyone the option to watch a movie in whatever furniture is their favorite—since all the theater furniture pieces in your media room are full of cool features like power headrests and lumbar support, every seat will be a favorite.
How to Use our 3D Customizer to Explore Options for Your Home Theater Sofa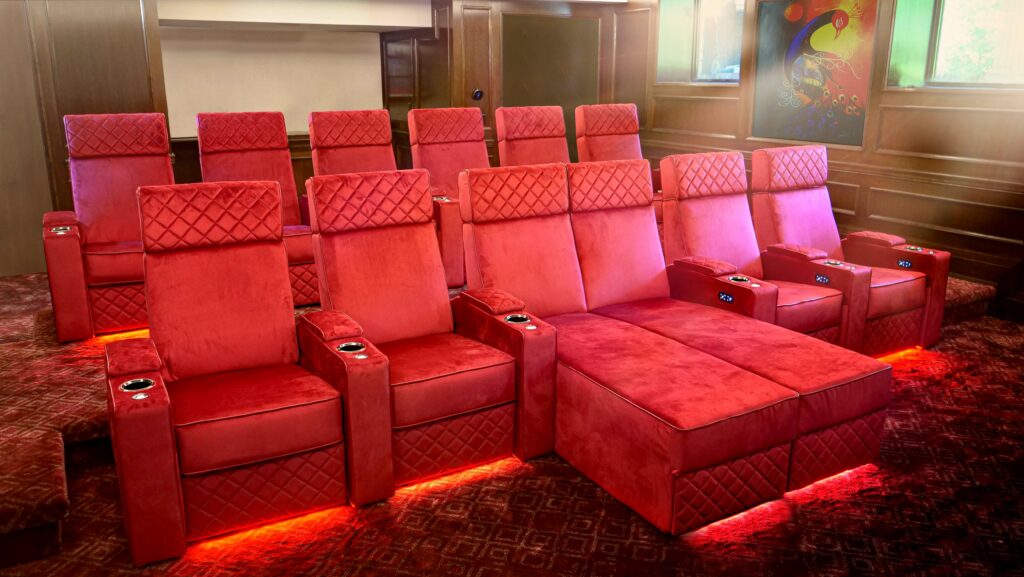 If we've got you thinking home theater couches might secretly be one the best ideas ever, you'll love our "Build Your Own" option for brainstorming your media room furniture. You can choose your desired theater seat model, and then customize the configuration into a home theater sectional, couch, or loveseat that'll be sure to complement the rest of your DIY home theater.
You can also customize literally anything else about the multimedia sofa you want for your home theater seating – leather type, color, LED lighting, bass shakers, and embroidered headrests, just to name a few. We also offer fabric home theater seating (velour and microfiber theater sectionals galore) and a vegan leather seating upholstery option. Choose from the 2D or 3D Customizer to actually get to see what your movie-theater-style couch will look like while you make it your own. Questions? We're here for it – let us know.