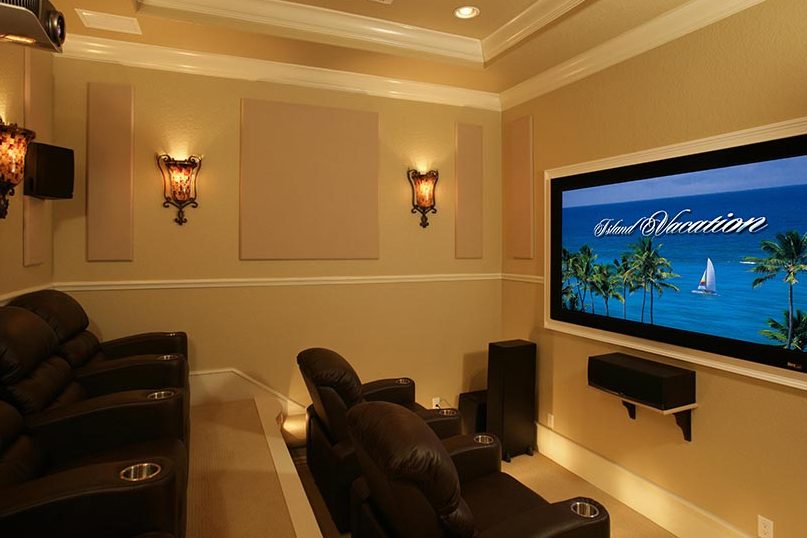 Enjoy a big theater experience even in small spaces
Who wouldn't want a Home Theater Room? A place to relax and unwind after a long day. Somewhere to watch all the latest movies, and have big game night parties with friends and family. Nevertheless, many of us simply don't have the extra room. Just the TV and the speakers take up significant space, and let's not even start about the seats!
Worry no more! Home Theaters CAN and have been built in small spaces. Every day more people everywhere are building their own home theater without having a lot of extra space. Really, you just need speakers, a screen, and a comfy chair.
Businesses everywhere are tending to the needs of small homeowners in need of an amazing home theater room. Nowadays, you don't have to have a large space to enjoy great audio and video.
In fact, small spaces have other advantages. For example, you won't need super-loud speakers, because sound transmits well in small spaces.
Today is all about fitting a big theater in a small room. It's easier than you'd think!
Measure your space: Big or small, this is always a first. You need to know what you're working with. One of the most important measures is the distance between your planned seating and the screen and speakers. Then, use this handy TV viewing distance chart to calculate your optimal viewing distance.
Turn off the lights. For real! This will make it easier to check whether your screen placement works or you'd better place it in the opposite wall. Check if there are any lights that would reflect directly on the screen: these can be either lights in other rooms, or on the street (i.e. Through a window)
Use vertical space: This means mounting everything you can. Even if you're renting, mounting a TV and speakers is easy, and you can easily patch the drywall if and when you decide to move.
Find some good seats: You need comfort as well as space optimization, and in this regard, you're in luck. We have developed ergonomic seats that also feature wall-hugging design, meaning you can fit more seats even in small spaces. Our technology allows you to comfortably fit seats in your small room, without sacrificing reclining or leg space! All of your guests will be comfortable and nobody will even notice it's a small room.
Now you have no excuses. Even the smallest living room or basement can be turned into an amazing Home Theater Room, especially when you have the right seats to begin with. Check out our product page for seat inspiration!