Everyone who creates a dedicated home theater wants to make it as close as possible to a real movie theater experience. Or, honestly, better. Why go out when you can stay in, right? One of the things that characterizes movie theater seating is that raised-row, stadium-style layout every movie theater has. Most of us have favorite spots to sit at a movie theater that depends a lot on what riser we sit on.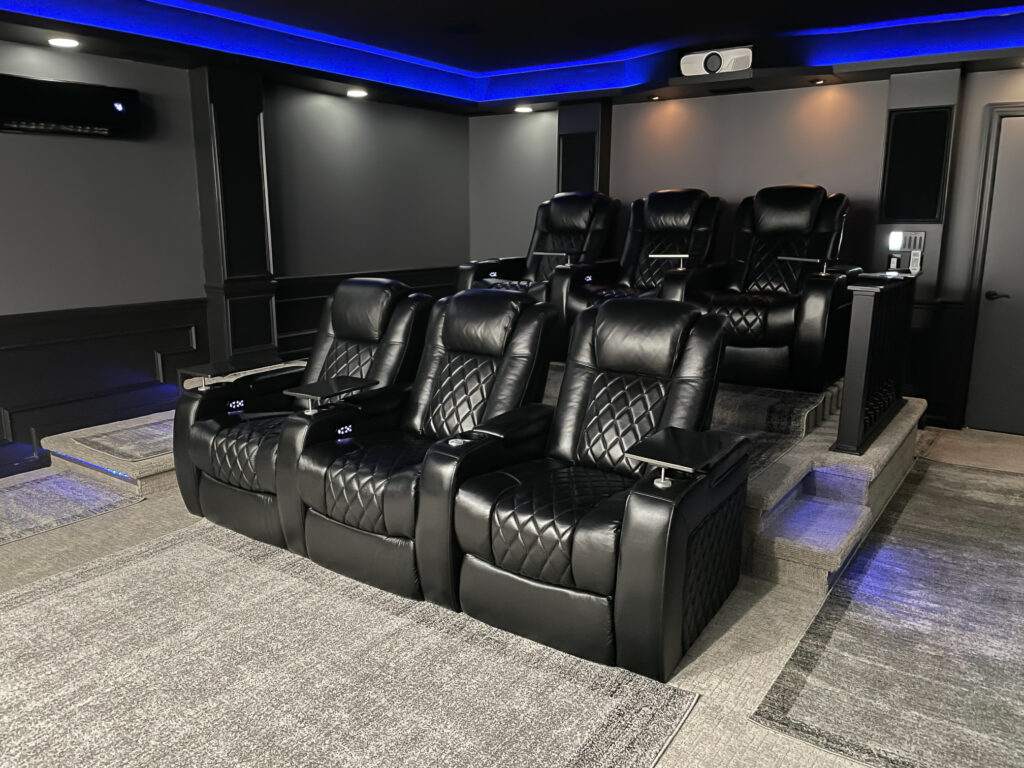 So, how do we bring this vibe home to our own media room furniture? Home theater riser platforms. No, seriously, you can just buy one. Or three. All you need to do is: 
measure the floor space you'll need
measure the height of the ceiling vs the backs of the chairs 
decide how many rows of theater seating you want to add 
make sure each row will have a good viewing angle to the projector screen or TV 
Some simple math and a quick visit to our website to order custom home theater risers is all you need to get the supplies you'll need for your DIY stadium seating sent right to your door.
What Kinds of Home Theater Risers are Available?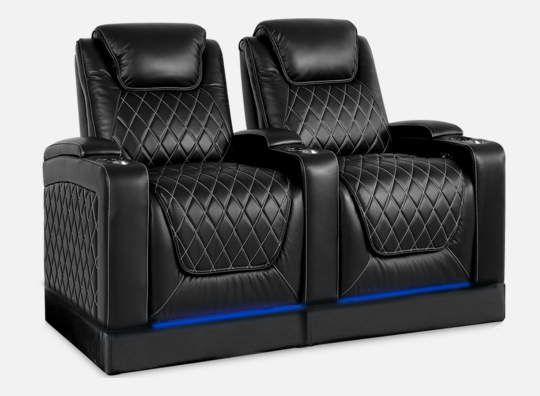 So, what kinds of home theater risers are there? And how do I make it work with my ideas for home theater furniture layouts? The great thing about DIY stadium seating and home theater seating manufacturers is that the same company that makes your seating can also make your home theater risers. So, basically, there are infinite types of home theater risers. You can design several narrow raised rows for 3 seat theater seating, two raised and angled risers for rows of curved home theater seating, or you can even design a huge home theater riser platform to stick an entire entertainment room couch or home theater sectional on. 
As long as you've got the right measurements, know the layout you want and the limitations of the room, you can create any type of home theater stadium seating you want. You can also design your theater seating to sit at different heights for an elevated back row effect without using a home theater riser at all. This is a great option for people who want DIY stadium seating that doesn't actually involve much DIY-ing. It's also a cleaner aesthetic and a more modern take on traditional home theater risers.
Basement Home Theater Seating Ideas: Can you get Stadium Seating with a Low Ceiling?
If you're designing a basement home theater, you might be thinking that this post really doesn't apply to you. But here's the thing – if you have enough room for a mounted projector and screen, you've got enough room for at least one row of DIY stadium seating. In fact, one of the most common heights for a single home theater riser is about 8 inches. And you're sitting in that back row of theater seats, not standing – so how much headroom do you really need? We'd say just enough not to knock your head when you stand up. 
So when you're running through seating ideas for a basement home theater, don't assume basement home theaters and stadium seating are mutually exclusive – in most basements already fit to be living spaces, you could totally pull it off. Just saying.
Home Theater Risers add Architecture to Your Home
That weird, narrow room off the back hall? Or the awkward, closed-off area of the basement? These spaces are great for DIY stadium seating and dedicated home theater spaces. Riser platforms in a home theaters are an architectural feature that brings the space to another level – literally. In cases of more difficult rooms, riser platforms can make the difference in seeing that what you thought was an unusable space actually has great potential for becoming a dedicated media room.