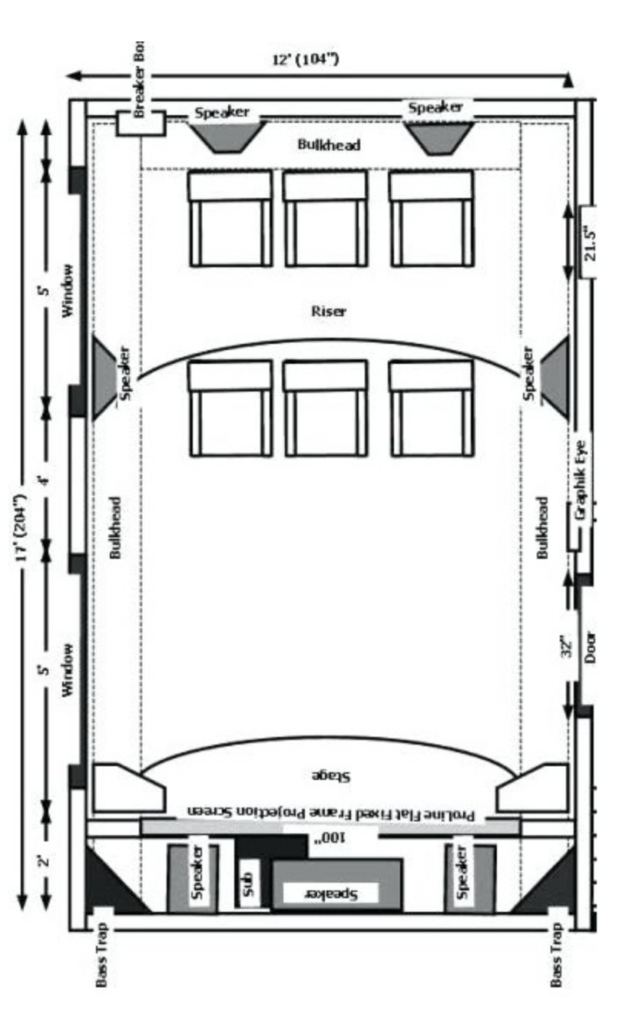 A Complete Guide to Creating the Perfect Home Theater Setup
The possibility of having your very own private home cinema sounds amazing, right? But where do you start Everyone loves a good DIY project, and a DIY home theater is more fun than most. There's a lot that goes into designing your own home theater room, so before any planning happens, think about your vision for your new
home theater
: how big it is, how many people can watch a movie at once, the finishes you might want on the walls, drapes, theater chairs… then write this all down. There's a lot to be said for the value of a casual brainstorming session.
But hold up a minute, because there are a few things you definitely have to keep in mind when designing and building a home theater cinema. We've had thousands of customers share their DIY home theater stories with us over the years, and it's only made us better at the part that we do – the movie seating! 
Here's some of our best advice on planning and executing the perfect home theater room:
Create a Comprehensive Budget for Construction, Tech & Cinema Seating
Create a total-cost budget for your home theater, and then break it down by expense. For example, in a smaller movie-watching room, you might want to invest more in a screen, and get more modest audio equipment. If you've got a multi-use media room, you might spend more on seating like home theater sectionals and chaise lounges. If you flesh out the big costs, you will have a better idea of what you will be spending for each item, and more or less what your total cost will be. 
Crucial elements of a home theater that cost a bit more than elbow grease:
Sound system (speakers, connectivity, surround sound, bass shaker theater seats, etc.)
Projector (picture quality, throw length, ratio dimensions, Wi-Fi capabilities, etc.)
Projector screen (size, dimensions, curved vs. flat, material, picture quality, etc.)
Home theater seating (number, style, layout, features, risers, etc.)
Home theater accessories (control tablet, wine caddies, tray tables, etc.)
Other media room furniture or features (bar and barstools, mini fridge, popcorn maker, etc.)
Since it's a DIY home theater, you don't have to budget for contractor costs. But do keep in mind the time you're going to invest in this labor of love… and those repeated trips to the hardware store because you bought the wrong drywall screws again.
Decide the Dimensions & Plan the Seating Layout
Whether you're building your home theater as an addition, retrofitting a room or two to create a home cinema, understanding the usability of the room's shape and dimensions, as well as the dimensions involved in arranging the theater seating, projector-to-screen distance, speaker arrangement, etc. Consider how many theater chairs, loveseats or sofas you want in your movie room, as well as any room for extras like a minibar, aisle, popcorn machine, or anything else. It's low-key architect stuff.
Here's a few common questions we get asked about layouts for home theater recliners and other media room furniture to help you draw up your blueprints:
How much space do I need between the elevated back row of seating and the wall so the reclining mechanism can fully extend?

All our home theater seating models are "wall hugger" designs, so you only need 4-6" behind the chairs to allow them to fully recline. Cool, right?

How much space do I allow between rows and for aisles?

We'd recommend a minimum of 24-28". Stick some tape on the ground to represent the proposed layout for your DIY theater seating and see what dimensions work most comfortably for you.

How much space do I need between the first row of theater seating and the projector screen?

Your first row of home theater seats should be at least 9' away from the projector screen, with the back row at a max of 25' from the projector screen.

How can I maximize the number of seats in my home theater setup?

The cool thing about DIY theater seating is you can design the layout yourself and customize the seat number and arrangement of our products the way you want. Have a shallow room? Order a row of 4 seat curved theater seating, or a big home theater sectional sofa. Have a long and narrow room? Do DIY stadium seating with home theater risers and/or theater seating models from our Riser Series. Curved theater seating and stadium style theater seating are both great solutions for optimal use of floor space.


Start Your Search for the Right Audiovisual Tech
This is where you get all the goodies. Considering your budget and what part of the viewing experience is your priority, the goal is to choose the best equipment without blowing the budget. From a screen to the speakers and the electrical outlets, think about all the specifications you want before making any purchases. With a little bit of luck, you can find experts in your area that can counsel you on what brands might be better for your needs and the space you have.
Things to think about when it comes to installing audiovisual tech in your home theater room:
What type of projector do you want? Do you need a short throw projector?
What's the connectivity setup going to be like? (Read: where are all those wires going to go? How many outlets does the room have? Does it need more?)
Are you going with wired or wireless speakers? Sound bars are cool, too.
What level of "immersive" are we going for with the movie-watching experience? Do you want bass shaker theater seats?
Finalize the Seating Layout & Choose Your Home Theater Furniture
All those measurements you took and lines you redrew 4 times on your floorplan? Now's the time to put them to use. By now you know how the projector, sound system and screen are going to interact, and in what configuration. So next, you can brainstorm ideas for the seating layout in your home theater. Every room is different – you don't have to go with elevated rows of stadium-style seating if you don't want to. Go classic or get creative – it's up to you.
Forget that old lumpy couch; if you're already building a home theater, go all-in and get some real theater seats. And not the thin-cushioned, old-fabric, sticky kind you see in your local cinema! Home theater recliners can be much more comfortable than those (and way fancier, too). Pick a model that offers support and is stylish at the same time; you will be amazed at the amount of options available! 
Take a look at our gallery of projects from past theater seating DIY'ers. There are dozens of options in any space for what you want your media room furniture to look like; it's all about your vision. And luckily, with Valencia, you never have to worry about comfort or quality – that's standard in every home theater seat we make.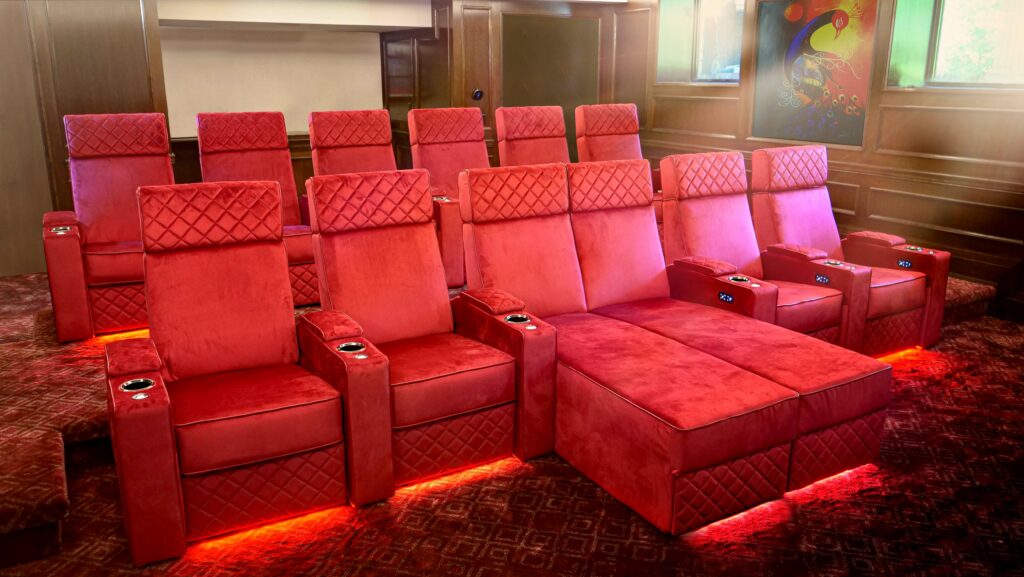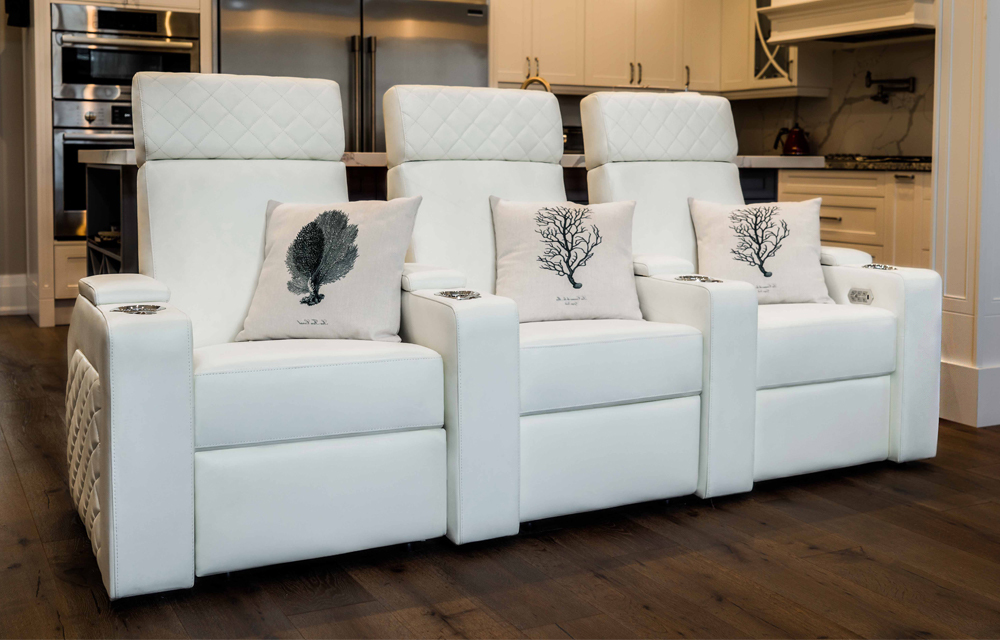 Design Your Desired Details & Finishes for Your Home Movie Theater
This is where you can really express your style and taste. Whether you want a modern take on a movie room or would rather enjoy a traditional theater vibe, the ability to customize your home theater seating layout. The diverse selection of furniture styles, fabrics and setups we have to offer, the model of home theater seating you choose, the features, layout, and colors will all help bring your design ideas together. Instead of your home theater seating being simply a utilitarian installation, you can make it the focal point of the room. If you can create a cohesive look for the whole room, no one will even know your home theater was a DIY project. They may even ask you who you hired to do it!
Start Putting Your Home Cinema Together & Get to the Movie-Watching!
Now that you have everything planned out and the equipment selected, it's time to go all in and get this done. Whether you want to do it yourself or would rather have an expert do the dirty work instead, all of this will make setting up your home cinema as easy as it can get! Just remember that, whether your home theater is DIY or you do end up hiring a contractor after all, the planning stages are absolutely key to a successful media room redo. As they say, "measure twice, cut once." But… maybe measure more than twice. Just to make sure.