How To Create a Great Home Theater Experience
When you want to get a better experience by watching a movie in a home theater, you need to have 5 components included in your home theater setup. Just by taking care of these components, you will be able to get the best home theater experience. These components as specified as follows:
Home Theater Seating
To get the best experience of a home theater, seating is mandatory.The best home theater seating would also provide LED cup holders, which enables you to comfortably have your snacks during the watch. Without such seating, you cannot get the luxurious effect that a perfect home theater can provide.
Lumbar support
Not everyone can prefer the same position of the seat while watching the film. So, lumbar support would provide you with the perfect position of your choice. Such an adjustment can surely give a good and luxurious feeling to anyone. It would bring an uncomfortable feeling if the seat cannot provide you with the seating position you desire. But it doesn't mean that the position provided by default without any lumbar support is just hated by everyone. Because after all, it would be the customer's choice who may like it or dislike it. But it is recommended to buy the theater seats with lumbar support for a better experience.
Motorized headrest
Power recliners of a home theater seating would allow you to lean back your head, which provides you with the best view. Some people have an issue of getting neck problems by watching a movie for a long time. The motorized headrest would solve the issue by providing the flexibility of adjusting the head position. So, an adjustable headrest adds much luxury in enjoying the film in the home theater.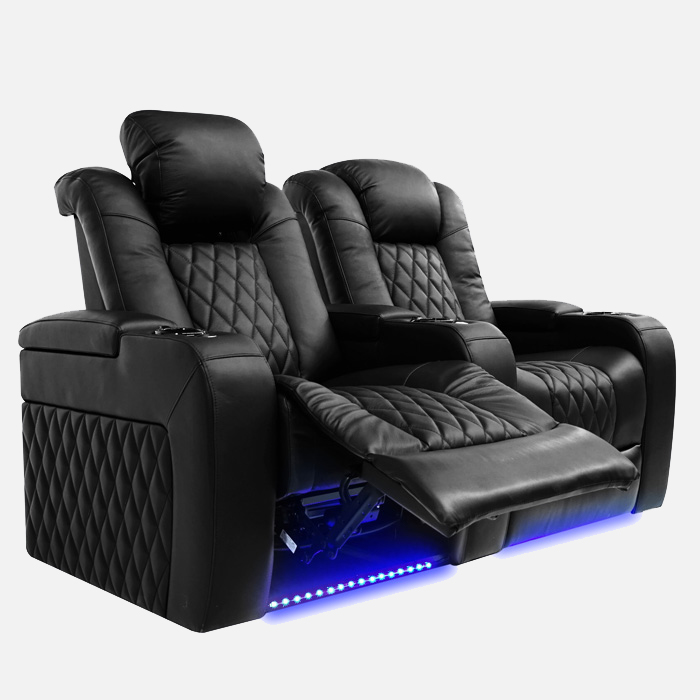 Having a projector with 4K feature
You can get the best possible picture quality you can get for the best home theater setup by using a 4K projector. The factors which help to determine the picture quality include the ambient lighting control, room characteristics and home theater screen. 4K feature provides the highest picture quality, you can ever experience. Hence, it is easy to choose the type of home theater projector because you know the feature of the best picture quality to be the 4K. In your home theater, it is pretty easy to eliminate all ambient light. You can do that by determining how much light you require to use in the room for a movie.
Starlight ceiling
The custom effects on the ceiling are provided by the starlight ceiling of your home theater. The overall look and set up feels incomplete without these mesmerizing Starlight ceiling having LED strips. They will give an ultimate effect to the ceiling, which provides an amazing experience irrespective of day or night.
So, these were the major components that will make a good home theater experience.