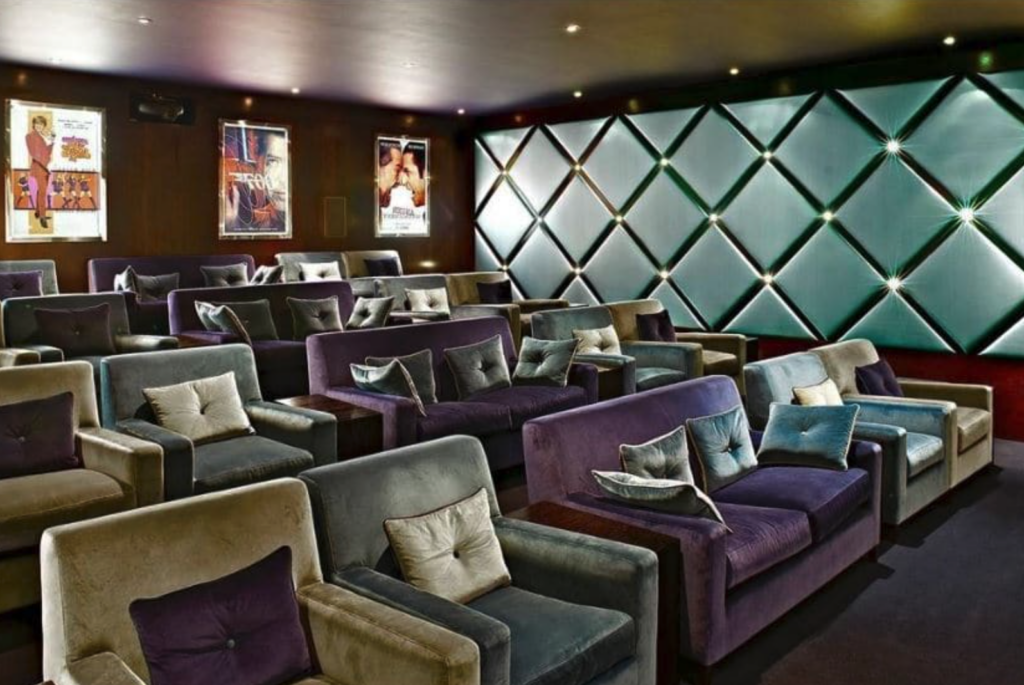 The seating you choose for your home theater project is one of the biggest design, convenience and comfort factors in the room. Besides the audiovisual equipment, the furniture in your home theater is a big chunk of your budget. There's a lot of planning that goes into the seating alone, with regard to layout, number of seats and seat configuration. Even more if you want to design media room furniture that's customized for your space. 
There are several name brands of home theater seating you can order from online. You know what you want, but how do you really know what you're getting when the seating shows up at your home? The theater seat store you purchase your media room furniture from will determine the style, options, features and quality of the seating. This is our guide to the major companies in the home theater seating market:
Hallmarks of Valencia Theater Seating Home Theater Furniture
Valencia Theater Seating
 is all about luxury Italian leather and top-level ergonomics in their home theater furniture products. Founded in 1995, this artisan home theater seating company has made a name for itself with celebrities, professional gamers and pro sports players. Some features of Valencia's furniture pieces for home theaters include:
22 seating models with XL options

Solid wood, steel and high-density cushion foam construction

17 colors choices of luxury, full-grain Nappa leather

Luxury power features, including headrest, reclining, LED lighting, consoles, and bass shakers

Dozens of layout and configuration options aside from traditional rows of stadium-style recliners on

riser platforms

, including theater-style couches, loveseats, sectionals

Customizable lumbar support, ergonomic construction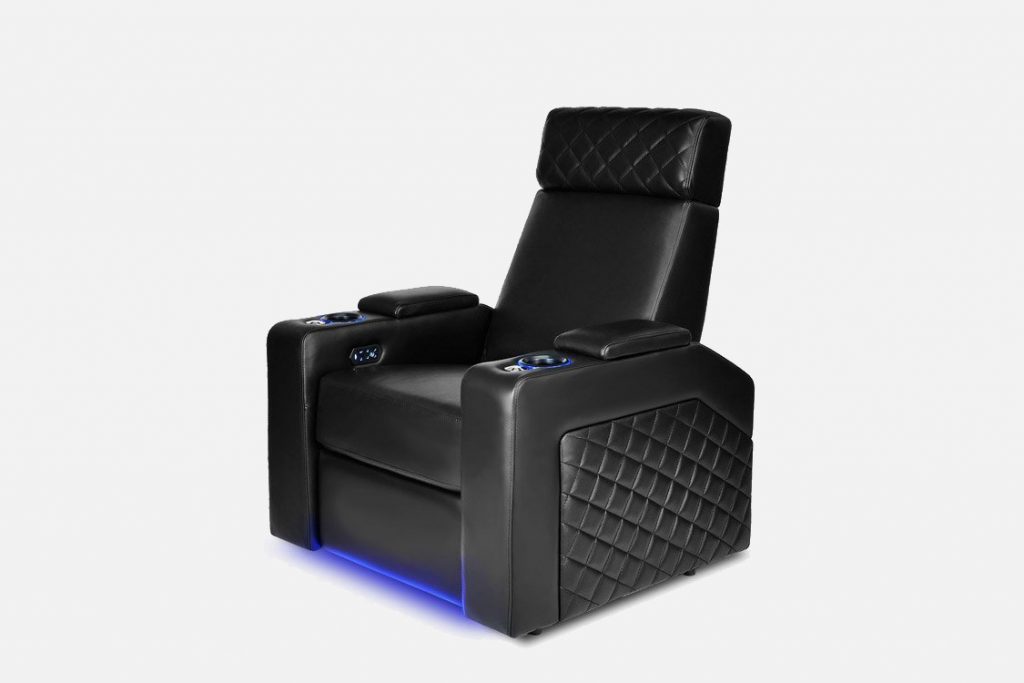 Valencia also provides customers with a
virtual 3D build feature
directly on their website where you can design your own custom theater furniture. From any of their over 20 model options, you can customize leather or fabric upholstery, piping and embroidery, luxury power options, bass shakers, platforms, seat layout, and more.
Details of La-Z-Boy's Line of Media Room Furniture
La-Z-Boy is arguably the most recognizable household name brand of living room recliners. Colloquially, the name itself has almost become a synonym for "recliner." They've expanded from living room furniture into entertainment room and home theater chairs. Their theater furniture features:
Leather and microfiber options for upholstery
Lower seat height to accommodate theaters with rear speakers
Tempur-Pedic option for cushion construction
Budget friendly base models of media seating
A few drawbacks to La-Z-Boy theater seating, however, include the inability to do two tone leather seats, limited configuration options, and a lack of lumbar support, according to some customers.
Octane Seating for Home Theater Rooms
Octane is a large manufacturer and wholesale distributor of theater chairs. While they partner with retailers nationwide, they also create home theater furniture. Some distinct features of Octane Theater Seating are:
Modular, standalone reclining theater chairs for easy arrangement and setup
Wall-hugging reclining design
Large on-hand selection of models
Solid construction and lumbar support
Arguably, Octane's most popular model is Magnolia theater seating, which means this model is available in several colors and configurations in stores. On the other side of the coin, issues some people have with Octane's products are their limited color customization options, an inability to turn off LED base lighting on the seating, and lack of option for full-grain leather upholstery.
Features of Fortress' Home Theater Seating
Fortress has been in the luxury furniture market for over 75 years, and expanded to home theater chairs in the '90's. Their craftsmanship has allowed them to offer high-end chairs for executives and board directors of large corporations for decades. Their line of home theater furniture offers:
7 types of leather with multiple color options for each
Durable treated hardwood and steel construction
30 standard models with size customization options for large/tall people
Budget-friendly stock models
A couple drawbacks to Fortress' home theater seating, however, are the price tag for seats with customizations, and a sometimes lengthy wait for customized pieces of multimedia furniture.
Palliser Theater Seating & Other Home Furniture
Palliser is a large manufacturer and distributor of all kinds of home seating, including living room furniture, entertainment room furniture, bedroom furniture, and home theater seating. This gives them the distinct advantage of the resources that come with being a large manufacturer:
Over 200 leather and fabric options
Many choice for seat layout and configuration
Several upgrades for home theater accessories available
Full spectrum of options available from retailers
While it's cool that you can create custom theater seating in multiple retail locations in-person and online, this is also a drawback, as there is no way to directly design and order a seat from their website. Palliser theater seating options are also arguably limited in terms of models and range of styles.
A Look at Seatcraft's Theater Seating Products
Seatcraft was founded in the late '70's as an automotive seating manufacturer. They specialize in van seats, RV seats and other RV furniture. As a result, when they expanded their reach into the home theater seating industry, they brought along skill in leather-stitching and upholstery. Some features of Seatcraft's brand are:
17 seating models
Custom upholstery options, including two tone, color block leather seating designs
Home theater chaise lounges, sofas and loveseats
Multimedia sectionals with charging stations
One perceived shortcoming of Seatcraft's home theater recliner lines is the amount of space you need between a seat and the wall in order for the multimedia chair to fully recline. Some customers also complain that the limited leather/PU options make for movie chairs that aren't breathable.
Elite Home Theater Seating
Elite Home Theater Seating has built their brand on craftsmanship, design and quality. Like Valencia, their company is completely devoted to the niche market of home theater furniture. Also like Valencia, Elite's strengths are in luxury leather theater seating. Some hallmarks of Elite's seating are:
17 model options
Seat dimensions custom-sized according to your body measurements
Lumbar support and headrests that keep you angled towards the screen
Options for home theater accessory add-ons like tablet holders
Where Elite focuses on the style and quality of the big things, some say their main shortcoming is overlooking certain details. Some customers are unimpressed by the standard style of their cup holders and the plastic reclining button, citing that they don't stand up to the luxury price tag of the theater seating.
How do the Different Theater Seat Stores Stack up?
Depending on your needs, wants and budget, there are quality options to choose from for your media room furniture, whether it be a home theater sectional sofa, stadium-style rows of seating for a church, sporty man cave seating, or anything in between.
At Valencia, we promise top-notch customer service, diverse design and style, unmatched craftsmanship and comfort, and Italian-sourced, full-grain luxury leather you can't find at other theater seating manufacturers. Take a look at our online store for our full selection of models, including our Bespoke Series, and access to our virtual 3D build your own seating feature.
And if you'd like to do more research on how the main players in the home theater seating industry compare, check out these "Best of" lists for home theater seating – you'll spot some of our most popular models in each one: